sweet
Get flash to fully experience Pearltrees
Last week, the book that I had been waiting to read for years - Jeni's Splendid Ice Creams at Home by Jeni Britton Bauer - finally arrived on my door step. Yes, years. When I first encountered Jeni's Splendid Ice Creams in Columbus, OH several years ago, I knew it was something special.
Crispy chocolate wafer cookies with cream filling – otherwise known as DIY Oreos. I don't know about you, but Oreos hold a special place in my heart. With all the baking as I do, store bought cookies are simply not something we ever purchase. Except, of course, for Oreos. There is just something about the classic sandwich cookie that I can't resist. Though I generally buy them for the purpose of mixing into some awesome baked good or ice cream , I always end up popping one or two into my mouth while I'm working.
Imagine the prettiest, richest, most delicious, decadent slice of fudgey chocolate cake that you can, covered in whipped clouds of vanilla-malt frosting, and lots and lots of chocolate sprinkles. ... that was supposed to be today's post. I'm sorry.
In the vast world that is the internet, sometimes you connect with a group of people with shared interests and it's magical. Since starting this blog that place for me has been Twitter. Before becoming a food blogger, I didn't really "get" Twitter. However, it's been a place that has put me in touch with so many wonderful people who have been an incredibly resource to me as I wade these new blogging waters. I've even been fortunate enough to meet some of these people in real life and I hope to meet others in the near future. So there had been a chat going on back and forth between a couple of these people on Twitter about how wonderful it would be if we could all get together and bake together.
Yesterday was the first day of summer. Three more days of school and for my kids, summer officially starts. Beach camp, sleep away camp, art camp, baseball camp, days at all the Los Angeles museums, road trips, days spent in our p.j.'s, and lots and lots of long bike rides. I love not being on a schedule.
I first made Tres Leches cake about five years ago, when my baby was still a baby and I was trying to find something yummy to make for my friend Ana for her birthday. Ana's from Mexico and taught me how to make pico de gallo and guacamole, and I asked her what her favorite kind of cake was. " Tres Leches ," she said in her sweet Spanish accent. " Tres Leches ?"
Happy Wednesday, beautiful people. Factoid for you: Getting my car serviced stresses me. To deal, I totally made Churro Tots. Throw in stress eating and calls to dad, and it some how made everything okay.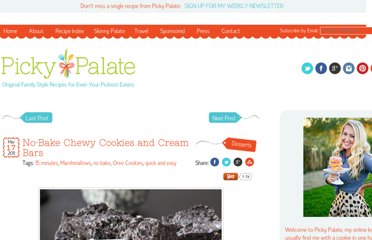 Oh how I love a treat that can be whipped up in about 15 minutes. My boys and their buddies couldn't get enough of these Chewy Oreo Bars we had as an after school snack this week. Sometimes my spontaneous recipe creations turn out to be the most fun, lol!
Are you sick of all my Oreo recipes yet? No? Good, me either!!
Ingredients 1 3/4 cups unbleached all-purpose flour 1 teaspoon baking soda 1/2 teaspoon salt 6 large very ripe bananas, peeled of course 1 stick unsalted butter, melted and cooled slightly 2 large eggs 3/4 cup packed light brown sugar 1 teaspoon vanilla extract 2 teaspoons banana extract 1/2 cup walnuts, toasted and coarsely chopped 2 teaspoons coarse granulated sugar (demerara or muscovado) Instructions Preheat oven to 350F. Prepare your muffin tin with muffin liners. Whisk flour, baking soda, and salt together in large bowl.
Chocolate Chip Cookie Dough Dip It's time for a little confession. I realize this may get me shunned (especially in my hometown of Pittsburgh!), but….I don't like football. I don't like to watch it, I never liked playing football with my friends, I don't even like playing catch with a football.
We have certainly established my love for muffins, so it's not surprising to find another muffin recipe here. However, I have yet to share a banana bread recipe, which is a little surprising to me because it is one of my favorite things. There are two distinct types of banana bread, the dark banana flecked kind and the light slightly sweeter kind, this is the latter of the two.