Theo picks for happiness
Syncretism. Syncretism /ˈsɪŋkrətɪzəm/ is the combining of different, often seemingly contradictory beliefs, while melding practices of various schools of thought.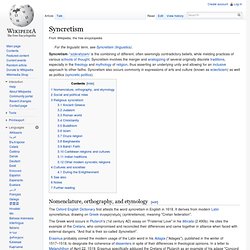 Syncretism involves the merger and analogizing of several originally discrete traditions, especially in the theology and mythology of religion, thus asserting an underlying unity and allowing for an inclusive approach to other faiths. Syncretism also occurs commonly in expressions of arts and culture (known as eclecticism) as well as politics (syncretic politics). Nomenclature, orthography, and etymology[edit] Konkokyo. Crest of Konkokyo Konkōkyō (金光教, Konkō-kyō?)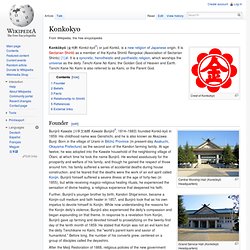 Or just Konkō, is a new religion of Japanese origin. It is Sectarian Shintō as a member of the Kyoha Shintō Rengokai (Association of Sectarian Shinto) [1]. It is a syncretic, henotheistic and pantheistic religion, which worships the universe as the deity Tenchi Kane No Kami, the Golden God of Heaven and Earth. Tenchi Kane No Kami is also referred to as Kami, or the Parent God.
Francis of Assisi. Saint Francis of Assisi (Italian: San Francesco d'Assisi, born Giovanni di Pietro di Bernardone, but nicknamed Francesco ("the Frenchman") by his father, 1181/1182 – October 3, 1226)[1][3] was an Italian Catholic friar and preacher.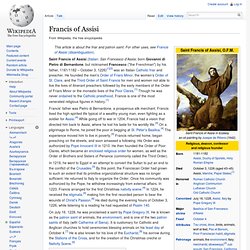 He founded the men's Order of Friars Minor, the women's Order of St. Clare, and the Third Order of Saint Francis for men and women not able to live the lives of itinerant preachers followed by the early members of the Order of Friars Minor or the monastic lives of the Poor Clares.[1] Though he was never ordained to the Catholic priesthood, Francis is one of the most venerated religious figures in history.[1] Transcendence (philosophy) In philosophy, the adjective transcendental and the noun transcendence convey the basic ground concept from the word's literal meaning (from Latin), of climbing or going beyond, albeit with varying connotations in its different historical and cultural stages.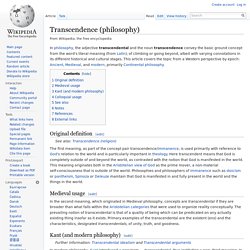 This article covers the topic from a Western and Islamic perspective by epoch: Ancient, Medieval, and modern, primarily Continental philosophy. The first meaning, as part of the concept pair transcendence/immanence, is used primarily with reference to God's relation to the world and is particularly important in theology. Here transcendent means that God is completely outside of and beyond the world, as contrasted with the notion that God is manifested in the world.
This meaning originates both in the Aristotelian view of God as the prime mover, a non-material self-consciousness that is outside of the world. Transcendence (religion) In religion, transcendence refers to the aspect of God's nature and power which is wholly independent of the material universe, beyond all physical laws.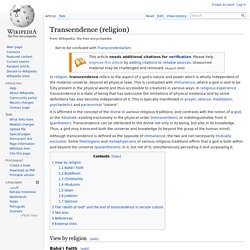 This is contrasted with immanence, where God is fully present in the physical world and thus accessible to creatures in various ways. In religious experience transcendence is a state of being that has overcome the limitations of physical existence and by some definitions has also become independent of it. Anabaptist. Anabaptists (from Neo-Latin anabaptista,[1] from the Greek ἀναβαπτισμός: ἀνά- "over again" and βαπτισμός "baptism"[2]) are Christians of the Radical Reformation of 16th century Europe.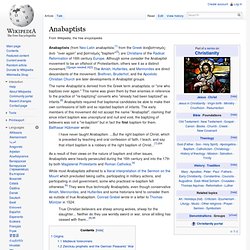 Although some consider the Anabaptist movement to be an offshoot of Protestantism, others see it as a distinct movement. [page needed] [4][5] The Amish, Hutterites, and Mennonites are direct descendants of the movement. Brethren, Bruderhof, and the Apostolic Christian Church are later developments in Anabaptist groups. Heaven and Hell (Swedenborg) Heaven and Hell is the common English title of a book written by Emanuel Swedenborg in Latin, published in 1758.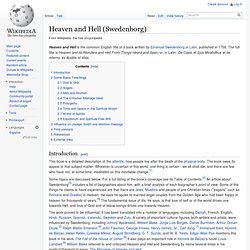 The full title is Heaven and its Wonders and Hell From Things Heard and Seen, or, in Latin: De Caelo et Ejus Mirabilibus et de inferno, ex Auditis et Visis. This book is a detailed description of the afterlife, how people live after the death of the physical body. Emanuel Swedenborg. Emanuel Swedenborg ( Swedenborg had a prolific career as an inventor and scientist.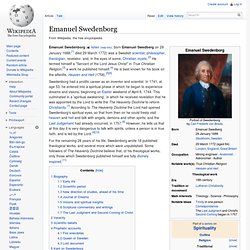 In 1741, at age 53, he entered into a spiritual phase in which he began to experience dreams and visions, beginning on Easter weekend of April 6, 1744. This culminated in a 'spiritual awakening', in which he received revelation that he was appointed by the Lord to write the The Heavenly Doctrine to reform Christianity.[7] According to The Heavenly Doctrine the Lord had opened Swedenborg's spiritual eyes, so that from then on he could freely visit heaven and hell and talk with angels, demons and other spirits; and the Last Judgement had already occurred, in 1757.[8] However, he tells us that at this day it is very dangerous to talk with spirits, unless a person is in true faith, and is led by the Lord.[9][10] For the remaining 28 years of his life, Swedenborg wrote 18 published theological works, and several more which were unpublished.
Gregory Bateson. Gregory Bateson (9 May 1904 – 4 July 1980) was an English anthropologist, social scientist, linguist, visual anthropologist, semiotician and cyberneticist whose work intersected that of many other fields.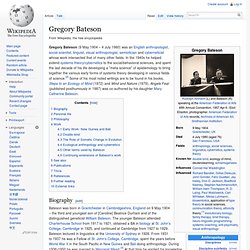 In the 1940s he helped extend systems theory/cybernetics to the social/behavioral sciences, and spent the last decade of his life developing a "meta-science" of epistemology to bring together the various early forms of systems theory developing in various fields of science.[2] Some of his most noted writings are to be found in his books, Steps to an Ecology of Mind (1972) and Mind and Nature (1979). Angels Fear (published posthumously in 1987) was co-authored by his daughter Mary Catherine Bateson.
Biography[edit] Bateson was born in Grantchester in Cambridgeshire, England on 9 May 1904 – the third and youngest son of [Caroline] Beatrice Durham and of the distinguished geneticist William Bateson. Leopold Kohr. Leopold Kohr (5 October 1909 in Oberndorf bei Salzburg, Austria – 26 February 1994 in Gloucester, England) was an economist, jurist and political scientist known both for his opposition to the "cult of bigness" in social organization and as one of those who inspired the small is beautiful movement.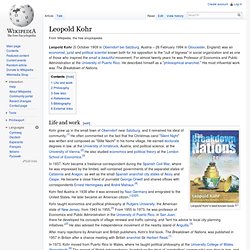 For almost twenty years he was Professor of Economics and Public Administration at the University of Puerto Rico. He described himself as a "philosophical anarchist. " His most influential work was The Breakdown of Nations. Life and work[edit] Meister Eckhart. Eckhart came into prominence during the Avignon Papacy, at a time of increased tensions between the Franciscan Order and Eckhart's Dominican Order of Preachers. In later life he was accused of heresy and brought up before the local Franciscan-led Inquisition, and tried as a heretic by Pope John XXII. [note 2] He probably died before his verdict was received. [citation needed][note 3] Giovanni Pico della Mirandola. Family[edit] Born twenty-three years into his parents' marriage, Giovanni had two much older brothers, both of whom outlived him: Count Galeotto I (1442–1499) continued the dynasty, while Antonio (1444–1501) became a general in the Imperial army.[4] The Pico family would reign as dukes until Mirandola, an ally of Louis XIV of France, was conquered by his rival, Joseph I, Holy Roman Emperor, in 1708 and annexed to Modena by Duke Rinaldo d'Este, the exiled male line becoming extinct in 1747.[5] Giovanni's maternal family was singularly distinguished in the arts and scholarship of the Italian Renaissance.
His cousin and contemporary was the poet Matteo Maria Boiardo, who grew up under the influence of his own uncle, the Florentine patron of the arts and scholar-poet, Tito Vespasiano Strozzi.[6] Viktor Schauberger. Viktor Schauberger (30 June 1885, Holzschlag, Upper Austria[1] – 25 September 1958, Linz, Austria[2]) was an Austrian forest caretaker, naturalist, philosopher, inventor and biomimicry experimenter. Schauberger developed his own ideas based on what he observed in nature. In Implosion magazine, a magazine released by Schauberger's family, he said that aeronautical and marine engineers had incorrectly designed the propeller. He stated: "As best demonstrated by Nature in the case of the aerofoil maple-seed, today's propeller is a pressure-screw and therefore a braking screw, whose purpose is to allow the heavy maple-seed to fall parachute-like slowly towards the ground and to be carried away sideways by the wind in the process.
No bird has such a whirling thing on its head, nor a fish on its tail. PizzaSalad- Thousand Oaks California: Vegetarian-Friendly Restaurant Reviews and Ratings - HappyCow. I had read about this place on happycow, and here's my PizzaSalad review. We were driving thru this part of the 101 Freeway going to LA and made a point to stop here. It was worth it. The place is quite nice for a pizzeria. Small, clean, relaxed, and colorful. Paracelsus. Paracelsus (/ˌpærəˈsɛlsəs/; born Philippus Aureolus Theophrastus Bombastus von Hohenheim, 11 November or 17 December 1493 – 24 September 1541) was a Swiss German[3] Renaissance physician, botanist, alchemist, astrologer, and general occultist.[4] He founded the discipline of toxicology.[5] He is also known as a revolutionary for insisting upon using observations of nature, rather than looking to ancient texts, in open and radical defiance of medical practice of his day.[5] He is also credited for giving zinc its name, calling it zincum.[6][7] Modern psychology often also credits him for being the first to note that some diseases are rooted in psychological illness.[8] His personality was stubborn and independent.
He grew progressively more frustrated and bitter as he became more embattled as a reformer.[9] The Sheep. Paula Burch's How to Hand Dye.
Green food. Kitesurf socal. Pure land. WunderMap Interactive Radar & Weather Stations.
---