G+ stats analytics
All my + Shows all your G+ posts history ! Circle of Trust « D3. Circle of Trust How asymmetric is your relationship network at Google Plus?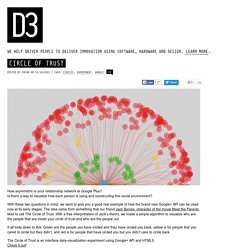 Is there a way to visualize how each person is using and constructing this social environment? With these two questions in mind, we want to give you a good real example of how the brand new Google+ API can be used now at its early stages. Google+ business profiles to include analytics & more. If businesses can contain themselves for just a few more months, they'll have much better Google+ tools than the ones that currently exist.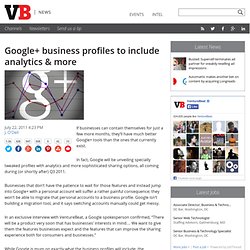 In fact, Google will be unveiling specially tweaked profiles with analytics and more sophisticated sharing options, all coming during (or shortly after) Q3 2011. Businesses that don't have the patience to wait for those features and instead jump into Google+ with a personal account will suffer a rather painful consequence; they won't be able to migrate that personal accounts to a business profile.
Google isn't building a migration tool, and it says switching accounts manually could get messy. Help make Google+ better! Chart Tools - Google Code. PlusClout Brings Clout Score To Google+ Google+ Statistics - Google Plus Round 2. The Top 100 Google+ users.
---