Future mind , brain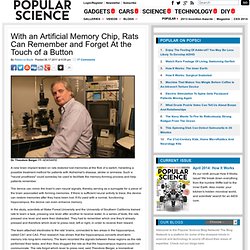 With an Artificial Memory Chip, Rats Can Remember and Forget At the Touch of a Button
Dr. Theodore Berger PR NEWSWIRE A new brain implant tested on rats restored lost memories at the flick of a switch, heralding a possible treatment method for patients with Alzheimer's disease, stroke or amnesia. Such a "neural prosthesis" could someday be used to facilitate the memory-forming process and help patients remember. The device can mimic the brain's own neural signals, thereby serving as a surrogate for a piece of the brain associated with forming memories. If there is sufficient neural activity to trace, the device can restore memories after they have been lost.
Neuroscience: Brain buzz : Nature News
The New Artificial Life (Alife) Database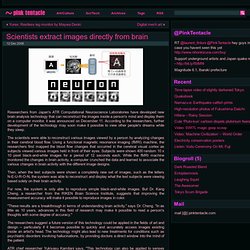 Researchers from Japan's ATR Computational Neuroscience Laboratories have developed new brain analysis technology that can reconstruct the images inside a person's mind and display them on a computer monitor, it was announced on December 11. According to the researchers, further development of the technology may soon make it possible to view other people's dreams while they sleep. The scientists were able to reconstruct various images viewed by a person by analyzing changes in their cerebral blood flow. Using a functional magnetic resonance imaging (fMRI) machine, the researchers first mapped the blood flow changes that occurred in the cerebral visual cortex as subjects viewed various images held in front of their eyes. Subjects were shown 400 random 10 x 10 pixel black-and-white images for a period of 12 seconds each.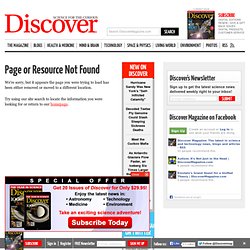 George Church: doing something new is a risk but so is doing nothing. Synthetic biology relies on risk assessment. #synberc Drew Endy: Biology is the ultimate distributed manufacturing plant.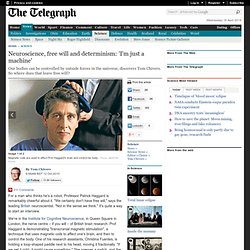 What does this mean in terms of free will? "We don't have free will, in the spiritual sense. What you're seeing is the last output stage of a machine.
Sixth Sense Technology TED
TED sixth sense technology