Art Types
Amazing Anamorphic Illusions! 10 Most loved Street Art Photos. Himitsuhana | Photography surreal conceptual. Main Page.
Art nouveau and Deco. Vaello's Artwork. Rackham Fairy and Fairy Tale Art (Arthur Rackham) TATOO. Junk Art. Architectural Arts. Painting.
Animation. Fractals. Optical Illusions. Street Artists. Street Art. Wooster Collective. Graffiti and street-art resource. Cool Star Wars Graffiti. Star Wars has embedded itself in to public consciousness throughout the world.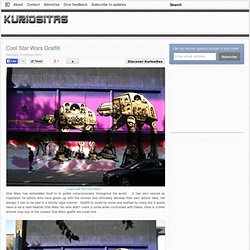 It has also served as inspiration for artists who have grown up with the movies and ultimately develop their own artistic take, not always it has to be said in a strictly legal manner. Graffiti is loved by some and loathed by many but it would have to be a hard hearted Star Wars fan who didn't crack a smile when confronted with these. Here is a brief whistle stop tour of the coolest Star Wars graffiti we could find.
Graffiti Art & Graphic Design | Home | neckcns.com. Brilliant Street Art by Mobstr [20 pics] Sep 14, 2010 Hailing from the United Kingdom (Newcastle to be exact), street artist Mobstr employs a combination of stencils and cheeky quips to challenge the way we view public space.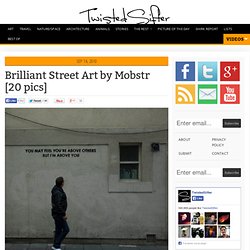 Whether he's co-opting billboards, battling the local authorities or just having a little fun, Mobstr's work is sure to bring a grin to any fan of street art. Enjoy a sample of his terrific work below and be sure to check out his FLICKR PAGE for more provocative work. What is public space and why do you work in it? Street Art Comes Alive! (20 pics + video) South African artist Robin Rhode takes street art to a whole new level by adding in performances.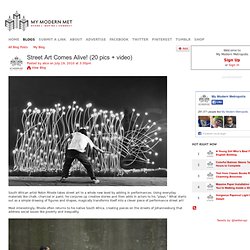 Using everyday materials like chalk, charcoal or paint, he conjures up creative stories and then adds in actors to his "plays. " What starts out as a simple drawing of figures and shapes, magically transforms itself into a clever piece of performance street art! Most interestingly, Rhode often returns to his native South Africa, creating pieces on the streets of Johannesburg that address social issues like poverty and inequality.
Watch this video to get to know the artist. Source: Perry Rubenstein Gallery.
Art Nouveau. Ethnic Art. Design. Ceramics. 3D ART. Sculptural+figure art. Contemporary ART. Fantasy ART.
---