More Buildings
Amusement parks walk the fine line between fun-ish and semi-creepy. Maybe it's the combination of sketchy rides, circus folk, questionable attractions, and way too many screaming kids, but there's something a little unsettling about them. Add an ill-advised theme into the mix, and you've got a real summer-time winner.
Castle on the Water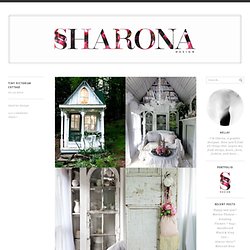 tiny victorian cottage Tiny Victorian Cottage [via The New York Times " Home&Garden "] The most adorable little victorian cottage ever. Sandra Foster turned a Catskills hunting cabin into the romantic Victorian cottage she had always wanted, using vintage columns, flooring and wavy glass windows, and doing the carpentry herself. This cottage is only accessible via a stone crossing over a stream.
Spotted on MBP, here is a completely renovated apartment located in a historic building in Melbourne, Australia. This three bedroom, two bathroom residence is on sale and according to the agent, "this superlative warehouse conversion in "Leicester House", an historic 1880′s building, provides privacy and vast spaces. It features soaring warehouse ceilings, huge original arched timber windows, exposed red brick walls, imposing brick archways of 65 cm depth and high gloss timber floors. By day it is imposing and by night dramatic." The exposed brick walls and the high concrete ceilings make this apartment feel like a loft.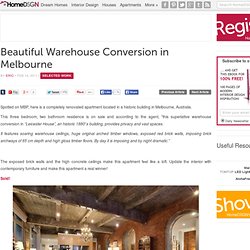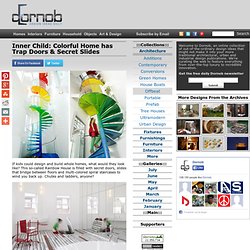 If kids could design and build whole homes, what would they look like? This so-called Rainbow House is filled with secret doors, slides that bridge between floors and multi-colored spiral staircases to wind you back up. Chutes and ladders, anyone? Dubbed a "magical oasis' by its creators ( AB Rogers and DA Studio , the busy and noisy road next to the building is matched by equally rambunctious and interactive interior decor.
Adaptive reuse projects generally call to mind industrial warehouses and factories turned into trendy studios, or shabby-chic restaurants and bars, but the transformation of the St. Nicholas Church in Kyloe, Northumberland, England has taken this concept of renewal and grounded it much closer to home. The church was purchased not too long ago by Sally Onions and Ian Bottomley, who went the unconventional route when scouting for their newest digs. Far from a Norman Foster style box , or even a classic and quaint Victorian house , the duo instead opted to transform an 18th century basilica into the sanctuary they now call "home." <a href="http://ad.doubleclick.net/jump/Inhabitat/architecture;article=articlename;kw=content1;sz=300x250;ord=123456789?" target="_blank" ><img src="http://ad.doubleclick.net/ad/Inhabitat/architecture;article=articlename;kw=content1;sz=300x250;ord=123456789?"
Dilapidated 18th Century Church Transformed Into a Private Home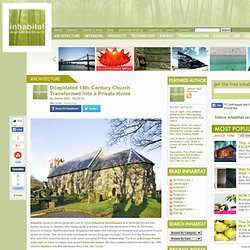 Designer Dining: 10 Magnificent Modern Restaurant Designs Restaurant Design – When dining out, the atmosphere is often as important as the food. While a great design will never save a bad meal, it can make a great culinary experience truly legendary.
Restaurant Design: 10 Amazing Temples of Cuisine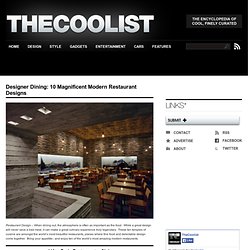 Real-life Oracle Tower apartment in New York goes on rent for $50k per month
It's almost tragic for comic lovers, that most of what they read about doesn't have replications in reality, baring a few exceptions. One of Real Life Oracle Tower apartment them is the Oracle Tower in New York, which is stated to go up on the realty market for a monthly rent of $50,000.
MOUNTAIN VILLAGE by ~truegarden on deviantART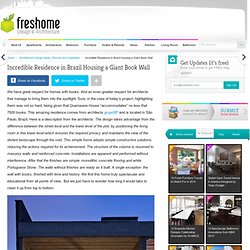 We have great respect for homes with books. And an even greater respect for architects that manage to bring them into the spotlight. Sure, in the case of today's project, highlighting them was not so hard, being given that Querosene House "accommodates" no less that 7500 books. This amazing residence comes from architects grupoSP and is located in São Paulo, Brazil. Here is a description from the architects: The design takes advantage from the difference between the street level and the lower level of the plot, by positioning the living room in this lower level which ensures the required privacy and maintains the view of the distant landscape through the void. This simple home adopts simple constructive solutions, reducing the actions required for its achievement.
Incredible Residence in Brazil Housing a Giant Book Wall
Gorgeous Hawaii Villa with Fantastic Oceanviews for Sale
This next beautiful estate is located on the Island of Maui, Hawaii, between Kaanapali and Kapalua. Designed by Californian architecture studio Arri LeCron , the amazing property covers over 9,200 square feet, deliciously compartmented into 7 bedrooms each with a luxurious bath, wet bar and attached oceanfront ohana, 3 half bathrooms, a large open living space with a fully equipped kitchen with separate enclosed butler's kitchen, sport bar with pool and games tables on a floating mezzanine, a spa and waterfalls and a garage that can fit three cars. An extra guest house of 529 square feet, with astonishing views of the Ocean, awaits visitors with a luxurious bedroom and bathroom. An oceanfront pool completes the luxurious features of the residence. The residence was named Jewel of Kahana due to its uniqueness and luxurious features.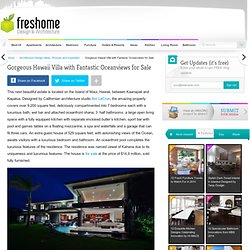 Exotic Residence in Singapore : The Fish House
The Fish House is an exotic residence designed by Guz Architects and located in Singapore. The main idea behind this home was to ensure a connection with nature and with the surrounding landscapes in particular. The Fish House is said to be a "modern tropical bungalow" that is perfectly integrated in its climate and environment, as its architecture and open spaces encourage natural ventilation and its floor to ceiling windows allow unobstructed views of the sea.
Soma Warehouse Loft
TrendHome: Warehouse Loft in SoMa [San Francisco] TrendHome-Loft-Space- SoMa-9 – Trendland: Fashion Blog & Trend Magazine
Everyone loves a home with a view! This incredible apartment in Darling Point, Sydney has a privileged location which allows its inhabitants to enjoy stunning views of the harbor and Opera House. This apartment takes up the whole 16′th floor of a circular tower, which makes things… panoramic. Here is some information from Stanic Harding Architecture , the designers of this modern project: " Our desire was to alter the space to maximize its potential.
Astonishing One Floor Apartment with Breathtaking Panoramic Views
Work is Beautiful: 10 Amazing Offices Around the World It's a sad truth, but most of us spend our work days in terribly uninspiring environments. Those fluorescent panels, cookie cutter cubicles and motivational posters may be soulless, but design sensibility often carries a premium that is slashed from the bottom line of Big Business. There are some progressive companies, however, who push the envelope of design to provide their employees with a truly invigorating work environment.
Office Design Excellence: 10 Amazing Office Designs Around the World
Best offices to work in
Ever thought how working for a really big company would be like ? We were thinking at the same thing, so we decided to do a little research and yes, judging by what we found, it would be awesome! The environment they offer is made so that the employee feel like home, having all they need and more important it boosts creativity making people enjoy time at the office . Like you would suspect, most of the companies are from the IT industry and yes, Facebook , Twitter , Google or Skype and even Cartoon Network or Pixar are here. Selgas Cano Architecture (Madrid, Spain) Cartoon Network
Google's Productivity Secret
Bank of Moscow's Offices