Magic - Cards - Con
ExoMagic » Choose your destination - The future of magic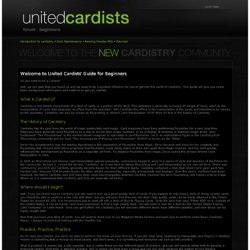 So you want to be a Cardist? Well, we are glad that you found us and we want to be a positive influence for you to get into the world of Cardistry. This guide will give you some basic background information and material to get you started.
Cardistry
Playing cards are the new Kickstarter pens. A new deck comes out every other week that we end up drooling over (which is bad cause now all the edges are getting mushy).
Black Playing Cards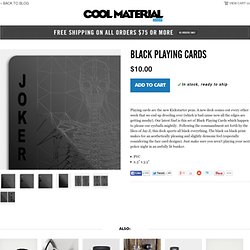 A lot of people think James L Clark is being tough on Duane Lundgren and the others who run magic torrent sites. Let's take a moment to look at what these guys are doing to magic. Art of Misdirection (AOM) is a "torrent site" , which means it invites members to join and upload copies of magic DVDs that they have purchased, and add them to the pool. Then they can download as many copies of other DVDs from that pool as they like. ExoMagic was doing this too, until James L Clark intervened. He has also closed down half a dozen similar sites since then.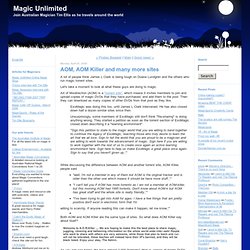 AOM, AOM Killer and many more sites - Magic Unlimited
A Beginner's Guide to Learning Magic Tricks - theory11.com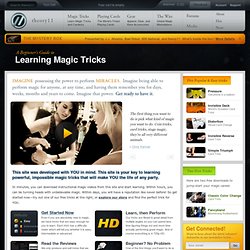 IMAGINE possessing the power to perform MIRACLES. Imagine being able to perform magic for anyone, at any time, and having them remember you for days, weeks, months and years to come. Imagine that power. Get ready to have it. The first thing you want to do is pick what kind of magic you want to do. Coin tricks, card tricks, stage magic, they're all very different animals.
Magic Tricks at Penguin Magic Shop
Mentalism
Theatrical poster for a mind-reading performance, 1900 Mentalism is a performing art in which its practitioners, known as mentalists , appear to demonstrate highly developed mental or intuitive abilities. Performances may appear to include telepathy , clairvoyance , divination , precognition , psychokinesis , mediumship , mind control , memory feats and rapid mathematics. Hypnosis may also be used as a stage tool. Mentalists are sometimes referred to as psychic entertainers. [ edit ] Background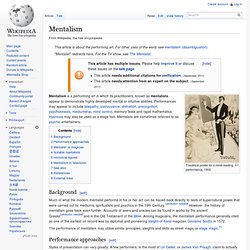 an example search result How moreofit Searches Each website has a unique tag signature -- a set of words that users have described the website as.
10 Popular Sites Like Theory11 (Updated: Nov 16th, 2011) | moreofit.com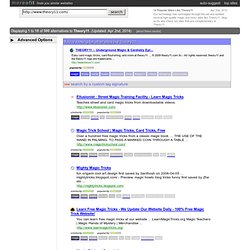 How to Knuckle-Roll a Coin Like Doc Holliday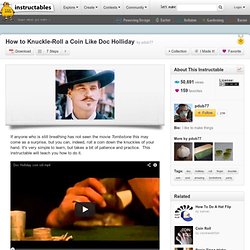 If anyone who is still breathing has not seen the movie Tombstone this may come as a surprise, but you can, indeed, roll a coin down the knuckles of your hand. It's very simple to learn, but takes a bit of patience and practice. This instructable will teach you how to do it.
All you need to get started is a deck of cards and somewhere to throw them. I would suggest somewhere indoors where you won't knock stuff over and break it. Any cards will do, I used cheap crappy paper ones and expensive plastic coated ones and didn't notice a lot of difference. The main things to keep in mind are: *Don't try to throw the card! This sounds silly but this is exactly the mistake I was making.
Card Throwing - The simple "trick" to do this right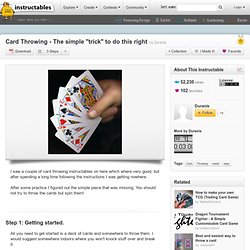 Get 7 points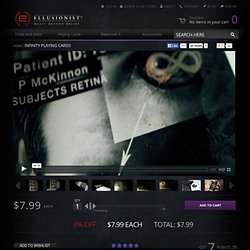 Infinity Playing Cards | Ellusionist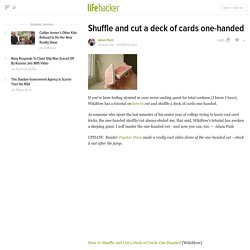 Shuffle and cut a deck of cards one-handed
If you've been feeling stymied in your never-ending quest for total coolness (I know I have), WikiHow has a tutorial on how to cut and shuffle a deck of cards one-handed. As someone who spent the last semester of his senior year of college trying to learn cool card tricks, the one-handed shuffle/cut always eluded me; that said, WikiHow's tutorial has awoken a sleeping giant. I will master the one-handed cut - and now you can, too. — Adam Pash UPDATE: Reader Popstar Dave made a really cool video demo of the one-handed cut - check it out after the jump.
Bicycle® Playing Cards - Card Games and Rules, Games and Family Fun from Bicycle
The World Wide Website of Ricky Jay
The most popular magic category. A little practice will help you to perform cool card tricks and easy card magic tricks. Learn magician misdirection sleights and have fun as you discover some cool dealer secrets and handling skills revealed to help impress and entertain your audience every time with our tips and our easy card trick videos
Card Magic Tricks Revealed - Cool Card Trick Secrets
SOMA - World Champion of Magic
The Expert at the Card Table: The Classic Treatise on Card Manipulation (9780486285979): S. W. Erdnase
What To Read by Jason England - theory11.com
Fancyband by Chris Kenner - theory11.com
more info We reserve our right to approve or decline any review at any time, subject to moderation by theory11 based on our Terms of Use and the following criteria: The review is professionally written with proper spelling, grammar, and punctuation. Whether positive or negative, the review is respectful to the artist or creator. The review provides meaningful insight on the product in reference and is factually accurate, not misleading or confusing. 5 Daryl Chew • Singapore • 03/27/13
Card Manipulation 101 by Dan Sperry - theory11.com
Recommended books for beginners
Don't look at the video's as a trade off. If you get one good routine, personalize it, it was worth the price of the Video. There are so many directions an individual can learn from, from the massive amounts of materials out in the world.
Over lunch with Simon Lovell, a fascinating former card shark, Allison Schrager learns all sorts of things about how swindlers operate ... Special to MORE INTELLIGENT LIFE "I can spot someone's weakness a mile away.
Ultraviolet Playing Cards
There are a lot of awesome products that end up on Kickstarter.
Mark Mason's JB Magic, Official USA Website, Including a wide range of quality magic tricks including coin tricks and card tricks