Graphic Design
Find cool stuff!
Design Seeds® | find your palette. #e6dbd1 #b8b5b2 #6e7073 #b7a4bf.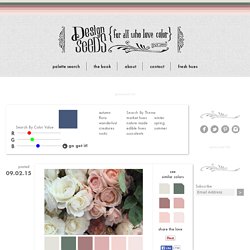 Free All-in-One Graphic Design Starter Kit. Graphic design has an amazing community.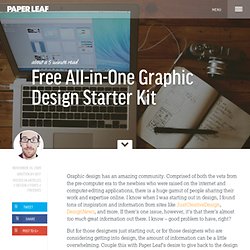 Comprised of both the vets from the pre-computer era to the newbies who were raised on the internet and computer-editing applications, there is a huge gamut of people sharing their work and expertise online. I know when I was starting out in design, I found tons of inspiration and information from sites like JustCreativeDesign, DesignNewz, and more. Damask Invitations, 35700+ Damask Announcements & Invites. 10 Easy Tips To Create Your Own Cool Icons With Photoshop. Even if you're not a software developer, learning to create your own icons is a tremendously useful skill.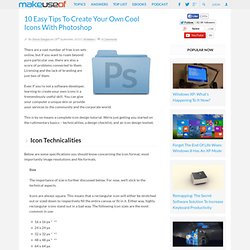 You can give your computer a unique skin or provide your services to the community and the corporate world. This is by no means a complete icon design tutorial. We're just getting you started on the rudimentary basics – technicalities, a design checklist, and an icon design toolset. Icon Technicalities Below are some specifications you should know concerning the icon format, most importantly image resolutions and file formats. The Toolbox: a directory of useful single-page sites and apps. Free photos and vectors to download | Freepik. Wordmark.it. Popular free fonts (Page 3. 30 Beautiful Handwritten Fonts. Handwritten fonts are basically simulating a manuscript, or hand-drawn text.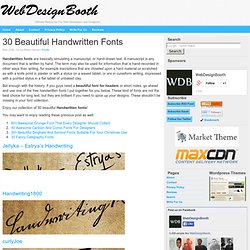 A manuscript is any document that is written by hand. The term may also be used for information that is hand-recorded in other ways than writing, for example inscriptions that are chiseled upon a hard material or scratched as with a knife point in plaster or with a stylus on a waxed tablet, or are in cuneiform writing, impressed with a pointed stylus in a flat tablet of unbaked clay. But enough with the history. If you guys need a beautiful font for headers or short notes, go ahead and use one of the free handwritten fonts I put together for you below.
45 Outstanding Free Vintage Fonts. Oct 11 2009 In his famous 1908 essay, 'Ornament and Crime,' modern architect Adolf Loos wrote: "The evolution of culture marches with the elimination of ornament from useful objects."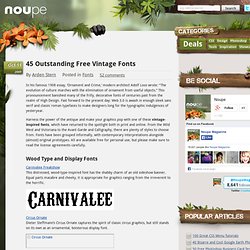 This pronouncement banished many of the frilly, decorative fonts of centuries past from the realm of High Design. Fast forward to the present day: Web 3.0 is awash in enough sleek sans serif and classic roman typefaces to make designers long for the typographic indulgences of yesteryear. Harness the power of the antique and make your graphics pop with one of these vintage-inspired fonts, which have returned to the spotlight both in print and online. A Non-Designer's Guide to Typefaces and Layout. I KNOW, right?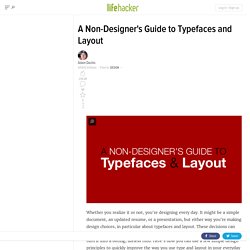 Not to mention, that color combo "vibrates", which gives the impression that someone forgot to anti-alias the blue text. Fail, Lifehacker. stuff is getting so careless and weird on this website, I would almost consider offering my editing/proofreading services for free, except that I don't work for free. take some of your own medicine, Lifehacker, and go use Adobe Kuler, because, as you said yourself, "combinations of color won't always look great.
Picking poor combinations can lead to messy and unappealing designs" ... you forgot to add, "LIKE THIS"! Top 10 Pro Tips and Tools for Budding Web Developers and Designers. The MTF Collection Provides Many Fun, Free Fonts to Liven Up Your Designs, Presentations, and More. 26 Beautiful Free Retro Fonts. Palette.com. Abduzeedo | Graphic Design Inspiration and Photoshop Tutorials. Ban comic sans » Fonts. CREATIU | Cool Sites, Cool Videos, Design Schools, Trends. Fundamentals of Graphic Design: Making Meaning with Words and Images. Welcome.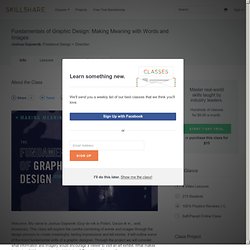 My name is Joshua Gajownik (Guy-äv-nik in Polish, Ga-jon-ik in…well, American). This class will explore the careful combining of words and images through the design process to create meaningful, lasting impressions and tell stories. It will outline some of the most fundamental skills of a graphic designer. Through the project we will consider what information and imagery would encourage a viewer to visit an art exhibit. Graphic Design Blog, Tips and Jobs. Mind-Blowing Illustrations by Loopy Dave. Slide Design for Developers. So I gave this talk called How GitHub Uses GitHub to Build GitHub.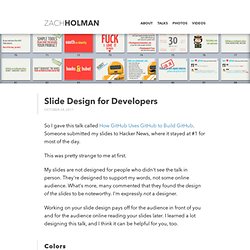 Someone submitted my slides to Hacker News, where it stayed at #1 for most of the day. This was pretty strange to me at first. My slides are not designed for people who didn't see the talk in person. They're designed to support my words, not some online audience. What's more, many commented that they found the design of the slides to be noteworthy. 60 Highly Clever Minimal Logo Designs. Depending on the flavor of your business, your logo may appear big and flashy, bold and colorful or just plain simple and clever.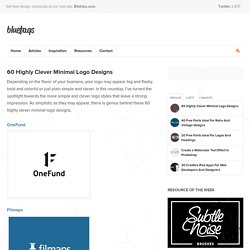 In this roundup, I've turned the spotlight towards the more simple and clever logo styles that leave a strong impression. As simplistic as they may appear, there is genius behind these 60 highly clever minimal logo designs. OneFund Filmaps.
---