Minniemau5
Minnie Pfitzner
╔═══╗ ♪ ║███║ ♫ ║ (●) ♫ ╚═══╝♪♪ Mυsιc ♫♩♪ ♬ ♩ Gεмιηι ♊ Pεacε☮ Tяavεℓ ✈ As I relax in the night, My mind wanders afar. I long for your presence, As I gaze at the stars. As I feel near my lowest, Caught up in despair, . . . stop . . . reminded . . . The sound of your voice And the feel of your hair! I smile at the sky, Enjoy the moon's glare. My mind set at ease, As I think of you there <3
Silk — Interactive generative art
DIY Geometric Necklace Pendant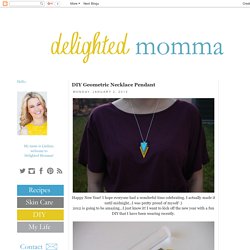 Happy New Year! I hope everyone had a wonderful time celebrating. I actually made it until midnight...I was pretty proud of myself :) 2012 is going to be amazing...I just know it! I want to kick off the new year with a fun DIY that I have been wearing recently. What you will need: 3 different colors of polymer clay Some kind of roller (a large marker will also do the trick) Razor blade Cotton cord Krazy glue Toothpick or object to poke a hole in clay Soften and condition the clay with your hands before starting.
SleepTiming & Wake up refreshed!
Creative Date Ideas
GameBoy Color Games | Gamenert | Only The Best Free Online Games
page 6 | craftgawker - StumbleUpon
Carbonmade : Your online portfolio. - StumbleUpon
Tattoos
This and That / Oh, hello there beautiful.
How to Totally Troll someones Computer [pic] | Two Sexy Geeks - Tech, Gadget and Geek News - StumbleUpon
TrickedOutTimeline - Create the coolest Facebook Timelines, Cover Photos and Profile Photos, and wow your friends! - StumbleUpon
Tastefully Offensive | Premium Funny: Shakespeare Insult Kit - StumbleUpon