Intelligence and Learning
Get flash to fully experience Pearltrees
The Dunning–Kruger effect is a cognitive bias in which unskilled individuals suffer from illusory superiority , mistakenly rating their ability much higher than average.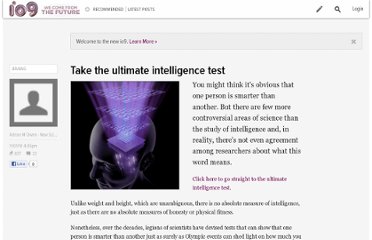 This is very interesting. I'm a psychologist, and I remember very strongly one class I took with an amazing professor; we were discussing the notion of IQ as equivalent to intelligence, and he pointed out the very important fact that IQ is a man-made construct.
Sidis Archives Homepage The HighQ Community "The height of cleverness is to be able to conceal it."
Feb. 8, 2011 — A new study in the journal Cognition overturns a decades-old theory about the nature of attention and demonstrates that even brief diversions from a task can dramatically improve one's ability to focus on that task for prolonged periods. The study zeroes in on a phenomenon known to anyone who's ever had trouble doing the same task for a long time: After a while, you begin to lose your focus and your performance on the task declines. Some researchers believe that this "vigilance decrement," as they describe it, is the result of a drop in one's "attentional resources," said University of Illinois psychology professor Alejandro Lleras, who led the new study.
Feb. 7, 2011 — The human brain works incredibly fast. However, visual impressions are so complex that their processing takes several hundred milliseconds before they enter our consciousness.
The Formula for Change was created by Richard Beckhard and David Gleicher , refined by Kathie Dannemiller and is sometimes called Gleicher's Formula .