Web 2.0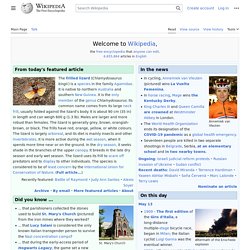 Other areas of Wikipedia Community portal – Bulletin board, projects, resources and activities covering a wide range of Wikipedia areas.Help desk – Ask questions about using Wikipedia.Local embassy – For Wikipedia-related communication in languages other than English.Reference desk – Serving as virtual librarians, Wikipedia volunteers tackle your questions on a wide range of subjects.Site news – Announcements, updates, articles and press releases on Wikipedia and the Wikimedia Foundation.Village pump – For discussions about Wikipedia itself, including areas for technical issues and policies. Wikipedia's sister projects
Wikipedia
Twitter
Reflection, rumination, and remarks I am the new kid on the block as far as Web 2.0 is concerned. At the start of this adventure I had to look up Web 2.0 on Wikipedia (my virtual and always consistent friend). I had a neglected FaceBook account and hadn't really tried anything else.
Virtually Hands Free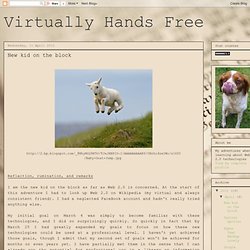 Yammer
RMIT 21 Lunges
What is Web 2.0? The phrase "Web 2.0" refers to a new generation of web technologies that enable and encourage users to collaborate and interact online. Rather than receiving one way information from the web (e.g. reading content on a website), Web 2.0 enables users to interact with the web through editing, commenting on and uploading content. This is a very narrow definition, and you will most likely come across other definitions as you go through this program. You've probably heard of blogs, wikis, podcasts and RSS feeds, or websites like YouTube, MySpace, Facebook and Wikipedia? These are just a few examples of Web 2.0.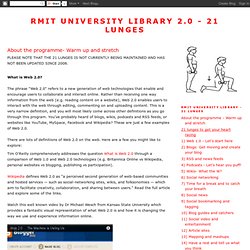 Beginning: Things 1-23 In Beginning Things on 08/17/2011 at 14:41 This site is no longer being updated.
23 Things for Archivists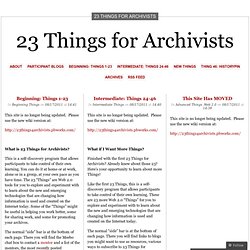 EI for Leaders Portal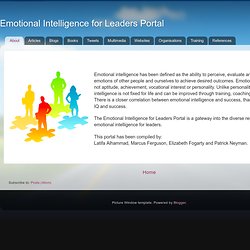 Emotional intelligence has been defined as the ability to perceive, evaluate and manage the emotions of other people and ourselves to achieve desired outcomes. Emotional intelligence is not aptitude, achievement, vocational interest or personality. Unlike personality, emotional intelligence is not fixed for life and can be improved through training, coaching and experience.
Facebook
Google Docs
Google Reader
Gmail
LibraryThing
Pinterest