Intelligences multiples
Get flash to fully experience Pearltrees
Summary: Multiple Intelligences Theory posits that there are seven ways people understand in the world, described by Gardner as seven intelligences . Originator: Howard Gardner in 1983.
Un article de Wikipédia, l'encyclopédie libre. La théorie des intelligences multiples suggère qu'il existe plusieurs types d' intelligence chez l'enfant d'âge scolaire et aussi, par extension, chez l' Homme . Cette théorie fut pour la première fois proposée par Howard Gardner en 1983 .
Nathalie Bulle et Julien Gautier vous proposent ici une série d'articles et d'extraits présentant la pensée du psychologue et pédagogue russe Lev Vygotski (1896-1934), dont les travaux nous semblent essentiels pour aborder les questions de l'enseignement scolaire. Vous trouverez en bas de cette page plusieurs liens vers des extraits de son œuvre majeure, Pensée et langage , ainsi que des éléments d'analyse de sa pensée. Lev Semionovitch Vygotski est né le 5 novembre 1896 dans la ville d'Orcha, en Biélorussie.
How can applying M.I. theory help students learn better? Students begin to understand how they are intelligent. In Gardner's view, learning is both a social and psychological process.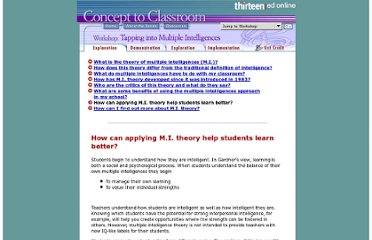 When I lesson plan with teachers, out of earshot from their fellow teachers and their principals, I can't tell you how often I'm asked, "what exactly does it look like?"
The Theory of Multiple Intelligences Originally prepared by: Lynn Gilman (Fall 2001) Revised: Outline