Cooking equipment
The 12 inch cast icon skillet by Finex USA. Fridge Locker™ Pros: easy to assemble, very sturdy, carrying handle, secure, set your own combination Cons: small items can slip through the holes In our retail store I do a lot of work with our inventory in the basement-- boxing, binning, tagging, and likewise.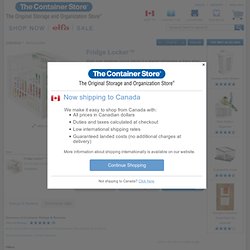 In the past I had kept an open-basket stash of common items I needed for my job such as pens, permanent markers, scissors, tape, and a tagger.
Coffee
Grills. Misc Kitchen Tech. Appliances. Knives. Cookware. Books. Funny Aprons | Humorous Aprons. OXO Tools. Double Barrel Marshmallow Shooter.
---