Sites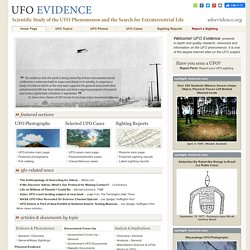 January, 5, 2000 - Columbia, Illinois, United States Passed over my Res. Viewed from bedroom window. Clearly visible, triangular and blocky shaped like a military landing craft. Seem to also recall regular red left wing running light, green right wing running light and a blue light. The back of the craft was rectangular and brightly lighted.
Ufologia
Los míticos fundadores de la ciudad de Roma, Rómulo, y nos ha sido transmitida por Julio Obsequens, un oscuro cronista del siglo IV de nuestra Era de en su obra ¨Prodigiorum Libellus¨ (¨El libro de los prodigios): ¨Un día que Rómulo, padre y fundador de Roma, arengaba a sus tropas en los alrededores del pantano de Caprea, estalló de pronto una ruidosa tempestad, durante la cual se encontró rodeado de una nube tan espesa, que todos los que estaban presentes lo perdieron de vista, y desde ese momento nadie volvió a verlo sobre la tierra. Rómulo fue entonces promovido al rango de los dioses con el nombre de Quirinos¨. Recordar el caso del regimiento inglés...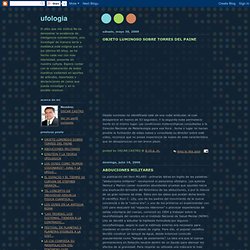 AION - CHILE
> > > > > > > "SUSCRIBETE a la WEB para Recibir las ULTIMAS NOTICIAS en tu E-MAIL" < < < < < < < Las Razas Extraterrestres que nos visitan No se puede decir exactamente el número de razas extraterrestres que visitan o han visitado alguna vez la Tierra, tomando en consideración los testimonios de las personas que han tenido algún tipo de contacto y las pocas fotografías que se tienen de seres extraterrestres, se calcula que al menos 50 diferentes tipos de razas extraterrestres nos visitan.
Revelacion OVNI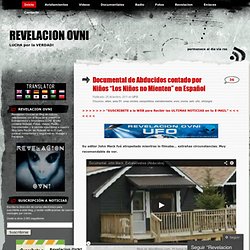 Aliens and UFOs Discussion Forum Topic List
Ufo Pics
An unidentified falling object descends from orbit in Finland is consumed in raging flames as it slowly falls to earth. This loooks more like combustion of flammable material than flames from atmospheric entry.. but then iam not an expert in the field of combustion so i could be wrong. Whatever this object is, it looks very large as well as spectacular. I wonder if anyone can comment to addmore light to this video and help to investigate if there were any Satellites or Man made space debris falling in Finland in 2007.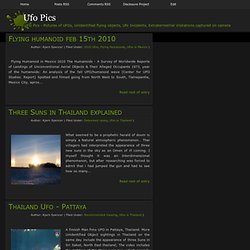 Fair Use Notice: This web site contains some copyrighted material whose use has not been authorized by the copyright owners. We believe that this not-for-profit, educational use on the Web constitutes a fair use of the copyrighted material (as provided for in section 107 of the US Copyright Law.) If you wish to use this copyrighted material for purposes that go beyond fair use, you must obtain permission from the copyright owner. We will immediately comply with any copyright owner who wants their material removed or modified. All articles and images contained on the UFO Casebook which are not created by the UFO Casebook are attributed to the original owner/creator.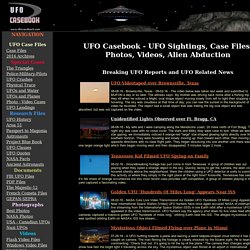 The Disclosure Project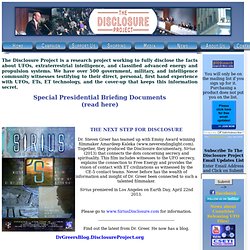 On Wednesday, May 9th, 2001, over twenty military, intelligence, government, corporate and scientific witnesses came forward at the National Press Club in Washington, DC to establish the reality of UFOs or extraterrestrial vehicles, extraterrestrial life forms, and resulting advanced energy and propulsion technologies. The weight of this first-hand testimony, along with supporting government documentation and other evidence, will establish without any doubt the reality of these phenomena. Learn more » Watch the May 9, 2001 Press Conference Watch the 2 Hour Witness Interview DVD
Definition: CE-5 is a term describing a fifth category of close encounters with Extraterrestrial Intelligence (ETI), characterized by mutual, bilateral communication rather than unilateral contact. The CE-5 Initiative has as its central focus bilateral ETI-human communication based on mutual respect and universal principles of exchange and contact. CE types 1-4 are essentially passive, reactive and ETI initiated. A CE-5 is distinguished from these by conscious, voluntary and proactive human-initiated or cooperative contacts with ETI. Evidence exists indicating that CE-5s have successfully occurred in the past, and the inevitable maturing of the human/ETI relationship requires greater research and outreach efforts into this possibility.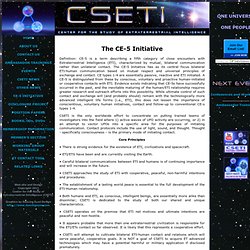 Center for the Study of Extraterrestrial Intelligence (CSETI) - CE-5 Initiative