Twitter
Universities
12 Tips to Engage People on Twitter
Are you a newcomer to Twitter? Do you need a little help crafting tweets to engage people in meaningful conversations? You can start a conversation on Twitter in many different ways, but they all come back this: be yourself and find the right tone to engage with people you want to get to know better.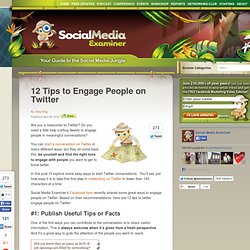 50+ Ways to Search Twitter
Privateequity Twitter Users
Most of you know that Twitter can be used for much more than just announcing what you ate for breakfast. Many of you already know Twitter's value in business, but you can still take it further and use it to land gigs, market your business, grow your network and gain free publicity — all in 140 characters or less. It's true that Twitter is what you make of it. Some people publicize their daily activities, some make it about link love, some share quotes all day long.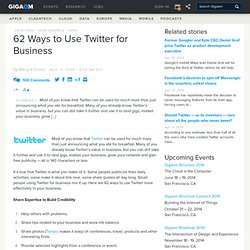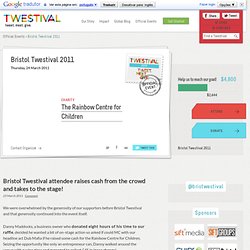 Bristol Twestival
Bristol Twestival attendee raises cash from the crowd and takes to the stage! 25 March 2011 We were overwhelmed by the generosity of our supporters before Bristol Twestival and that generosity continued into the event itself. Danny Maddocks, a business owner who donated eight hours of his time to our raffle, decided he wanted a bit of on-stage action so asked if could MC with our headline act Dub Mafia if he raised some cash for the Rainbow Centre for Children. Seizing the opportunity like only an entrepreneur can, Danny walked around the venue with a wine glass and managed to collect £45 in loose change! Dub Mafia were true to their word and Danny joined the band on stage.
This is a guest post from Edward Boches and has been reprinted from his blog with permission. If you are a CEO, it's time to get on Twitter. If you know a CEO, do him or her a favor and tell him to get on Twitter.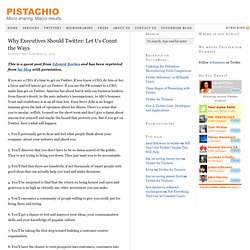 Why Executives Should Twitter: Let Us Count the Ways
A beginner's guide to building a presence on Twitter | Community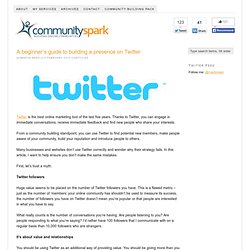 Twitter is the best online marketing tool of the last five years. Thanks to Twitter, you can engage in immediate conversations, receive immediate feedback and find new people who share your interests. From a community building standpoint, you can use Twitter to find potential new members, make people aware of your community, build your reputation and introduce people to others. Many businesses and websites don't use Twitter correctly and wonder why their strategy fails.
Spirituality & Practice: Spiritual Practice Feature: 25 Reas
It's pretty common. A small business owner comes to us looking for help promoting his or her business. We suggest using Twitter as a way to find new leads, build relationships and as an overall way to cost effectively market their business.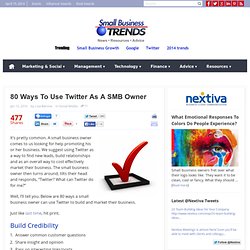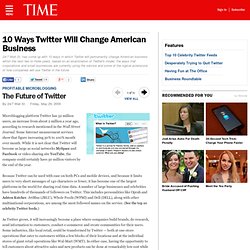 The Future of Twitter - 10 Ways Twitter Will Change American Bus
Microblogging platform Twitter has 32 million users, an increase from about 2 million a year ago, according to research mentioned in the Wall Street Journal. Some Internet measurement services show that figure increasing 50% to 100% month over month. While it is not clear that Twitter will become as large as social networks MySpace and Facebook or video-sharing site YouTube, the company could certainly have 50 million visitors by the end of the year. Because Twitter can be used with ease on both PCs and mobile devices, and because it limits users to very short messages of 140 characters or fewer, it has become one of the largest platforms in the world for sharing real-time data. A number of large businesses and celebrities have hundreds of thousands of followers on Twitter. This includes personalities like Oprah and Ashton Kutcher.
Welcome to our first guide – The Fast Forward Blog Guide to Twitter . The guide is full of stories about people like you. We hope if you need to convince your friend, your boss or your client to join you on Twitter , that we may be of some help.
The FASTforward Blog Guide to Twitter: In
Brands deaf to the opportunity of Twitter | News | Marketing Wee 10 Tips to to Double Your Facebook Likes When social media started raising its head as a business marketing tool, there were just a handful of social networks. Facebook, Twitter and LinkedIn were the main protagonists. Today we have a plethora of social networks and visual networks such as Instagram, Pinterest and Vine to distract us amongst thousands. With over 1.3 billion users Facebook is the largest social media network that you can't ignore. This means that you need to keep learning how to use its rapidly evolving ecosystem.
How business does Twitter
Business Teachers