Entrepreneurship
Enterprise Forum - Mindshare - Other Entrepreneurial Organizatio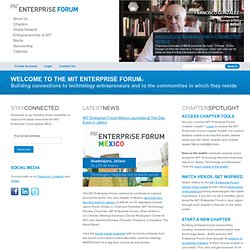 Building entrepreneurial communities, creating connections to commercialize new technology faster-- that's what the MIT Enterprise Forum does through its network of worldwide chapters . Is there a local chapter in your area? If so, why not get involved! If not and you're serious about entrepreneurship, being a community catalyst and global connector, we'd love to talk to you about the possibility of starting a chapter in your area. Start by contacting us !
Home » The New Entrepreneur: Research Review » Blog » The New Entrepreneur: Research Review The New Entrepreneur: Research Review Posted on: March 9, 2010 Posted in: Blog Posted by: slgavin Good, inspiring presentation from http://www.trendsspotting.com
The New Entrepreneur: Research Review | Scott Gavin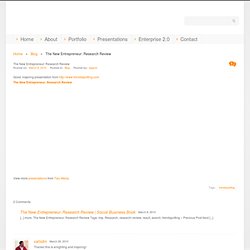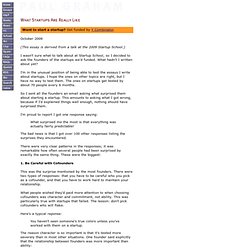 October 2009 (This essay is derived from a talk at the 2009 Startup School.)
Reframe It
Entrepreneurship requires four areas of mastery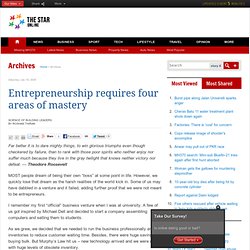 Far better it is to dare mighty things, to win glorious triumphs even though checkered by failure, than to rank with those poor spirits who neither enjoy nor suffer much because they live in the gray twilight that knows neither victory nor defeat. — Theodore Roosevelt MOST people dream of being their own "boss" at some point in life. However, we quickly lose that dream as the harsh realities of the world kick in.
The MIT Enterprise Forum is just one of a number of organizations at MIT devoted to entrepreneurship and the growth of new business ventures. MIT Entrepreneurship Center The MIT Entrepreneurship Center team provides content, context, and contacts that enable entrepreneurs to design and launch successful new ventures based on innovative technologies. They help MIT students, alumni, and colleagues access an array of educational programs, networking opportunities, technologies, and resources, both at MIT and around the world. Members of the MIT E-Center community form a global network to actively advise and assist each other for mutual benefit, enabling them to set and meet their highest expectations.
Enterprise Forum - Entrepreneurship