Aggregator
Search Businesses for Sale, Research and Value a Business, Buy a. Cadmus - Updates since you last checked in. Fuel your fascination. iCurrent - A Personalized News Aggregator | iCurrent.
Private capital (1157) TopNews United States. Business News. Mediagazer. TopNews United States. Microsoft is "Betting" its Future on Cloud Computing | While many other technology giants like IBM and Google have publicly acknowledged that cloud computing will soon have a vital role to play in the future of technology, Microsoft Corp., says that it is actually "betting" its future on cloud computing.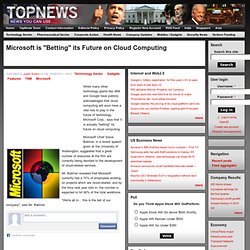 Microsoft Chief Steve Ballmer, in a recent speech given at the University of Washington, suggested that a great number of resources at the firm are currently being devoted to the development of cloud-related services. Mr. Ballmer revealed that Microsoft currently has a 70% of employees working on projects which are cloud-related, and by the time next year rolls in, the number is expected to hit 90% of the total workforce. "We're all in... this is the bet of our company", said Mr. Home. Aggreget. Gist.
---