Aggregator
Search Businesses for Sale, Research and Value a Business, Buy a
TopNews United States
Business News
Mediagazer
Mediagazer presents the day's must-read media news on a single page. The media business is in tumult: from the production side to the distribution side, new technologies are upending the industry. Keeping up with these changes is time-consuming, as essential media coverage is scattered across numerous web sites at any given moment. Mediagazer simplifies this task by organizing the key coverage in one place. We've combined sophisticated automated aggregation technologies with direct editorial input from knowledgeable human editors to present the one indispensable narrative of an industry in transition.
TopNews United States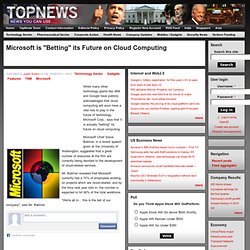 While many other technology giants like IBM and Google have publicly acknowledged that cloud computing will soon have a vital role to play in the future of technology, Microsoft Corp., says that it is actually "betting" its future on cloud computing. Microsoft Chief Steve Ballmer, in a recent speech given at the University of Washington, suggested that a great number of resources at the firm are currently being devoted to the development of cloud-related services. Mr. Ballmer revealed that Microsoft currently has a 70% of employees working on projects which are cloud-related, and by the time next year rolls in, the number is expected to hit 90% of the total workforce. "We're all in... this is the bet of our company", said Mr.
Microsoft is "Betting" its Future on Cloud Computing |
Home
Aggreget