Lucid Dreaming
Out of Body Experiences. Out of body experiences (OBEs or OOBEs) involve the vivid sensation of moving outside your physical body and sometimes traveling far beyond it.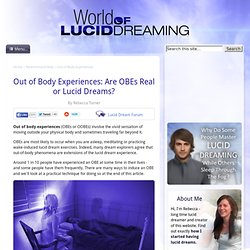 OBEs are most likely to occur when you are asleep, meditating or practicing wake-induced lucid dream exercises. Indeed, many dream explorers agree that out-of-body phenomena are extensions of the lucid dream experience. Around 1 in 10 people have experienced an OBE at some time in their lives - and some people have them frequently. There are many ways to induce an OBE and we'll look at a practical technique for doing so at the end of this article. The Link Between OBEs and Lucid Dreams. Easy 2-Step Lucid Dream Method. Throughout the day, ask yourself if you are dreaming whenever you notice the dot.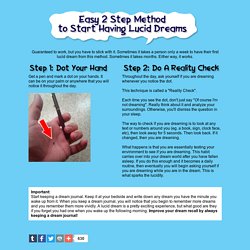 This technique is called a "Reality Check". Each time you see the dot, don't just say "Of course I'm not dreaming". Lucid Dreaming/Using. Dream stabilization[edit] Once you are able to dream lucidly, you may find that it is difficult to stay in the dream; for example, you may wake instantly or the dream may start "fading" which is characterized by loss or degradation of any of the senses, especially vision.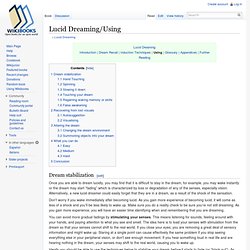 Alternatively, a new lucid dreamer could easily forget that they are in a dream, as a result of the shock of the sensation. Don't worry if you wake immediately after becoming lucid. Lucid Dreaming. By lucid dreaming, you can gain complete control over the one place that no one will ever care about: your imagination.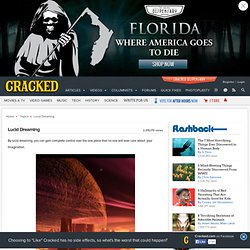 Just The Facts Lucid dreaming is a scientifically proven phenomenon. While some get into lucid dreaming in order to treat chronic nightmares, or to experience all facets of the human experience, approximately 99.8% of people use it as a tool for cheap and interactive 3D porn. A lucid dream is a dream in which the dreamer is aware that he or she is dreaming, and he or she can even choose to control and manipulate his or her dream. Lucid Dream Guru - Master the Art of Lucid Dreaming.
---