Father's day gift ideas
Bass Pro Shops | Fishing, Hunting, Camping, Boating, Archery and More. Top 10 Picks For Father's Day Gifts. We now offer international shipping through global provider, Borderfree.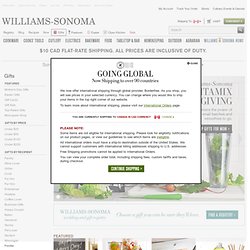 As you shop, you will see prices in your selected currency. You can change where you would like to ship your items in the top right corner of our website. Cookware, Cooking Utensils, Kitchen Decor & Gourmet Foods. Anti fatigue mats | Kitchen Mats | Garage Mats | WellnessMats. Breitling. Official StressEraser - From $119 - Lowest Price! - SHIMANO – Cycling, Fishing, Rowing. Victorinox Swiss Army. Shoes. Suunto Watches | Fast Free Shipping | Real Reviews.
Fathers day contest
Top grilling tips Video. The Food Lab's Top 10 Tips for Grilling Season. Spring is upon us, which for me used to mean more excuses to try and get out of work early to start grilling.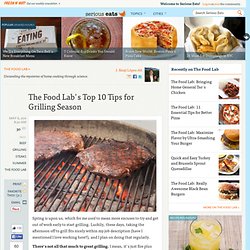 Luckily, these days, taking the afternoon off to grill fits nicely within my job description (have I mentioned I love working here?) , and I plan on doing that regularly. There's not all that much to great grilling. I mean, it's just fire plus meat (and the occasional piece of greenery), right? But there's some subtlety involved, and a few rules that are worth remembering in order to make the most of your flame.
Bobby Flay's Top Ten Grilling Tips : Recipes and Cooking. 1.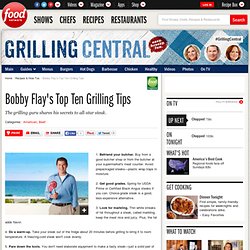 Befriend your butcher. Buy from a good butcher shop or from the butcher at your supermarket's meat counter. Avoid prepackaged steaks—plastic wrap traps in moisture. 2. Get good grades. Top 10 Safety Tips for Barbecue & Grilling. Everything has risks.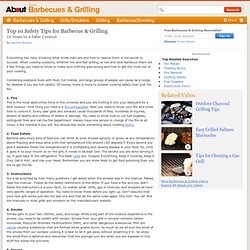 Knowing what those risks are and how to reduce them is the secret to success. When cooking outdoors, whether hot and fast grilling, or low and slow barbecue there are a few things you need to know to make sure nothing goes wrong and how to get the most out of your cooking. Combining explosive fuels with food, hot metals, and large groups of people can cause be a recipe for disaster if you are not careful. Top 10 Steak Grilling Tips | Steak-Enthusiast.com. If you're new here, you may want to subscribe to my RSS feed.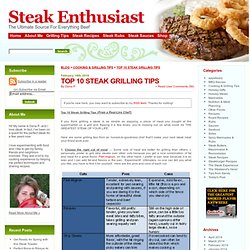 Thanks for visiting! Top 10 Steak Grilling Tips (From a Real-Live Chef!) If you think grilling a steak is as simple as slapping a piece of meat you bought at the supermarket on a grill and flipping it a few times, you're missing out on what could be THE GREATEST STEAK OF YOUR LIFE. Here are some grilling tips from an honest-to-goodness chef that'll make your next steak meal your finest work ever. 1. The Top 10 Grilling Tips. When it comes to backyard grilling, there are several ways to add extra flavor to your food.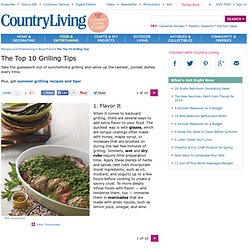 The quickest way is with glazes, which are syrupy coatings often made with honey, maple syrup, or molasses that are brushed on during the last few minutes of grilling. Similarly, wet and dry rubs require little preparation time. Product Search Results. Kitchen Tour: Sara Moulton's Everyday Family Kitchen | Apartment Therapy The Kitchn. After fourteen years in a Manhattan kitchen untouched by renovation, Sara Moulton recently took an axe to it all and started from scratch.
It might shock you to learn she still cooks on an electric stove (no gas in the building) and didn't enlarge the footprint one inch. Better yet, she cooks five nights a week for her family of four and develops all of her recipes there. I spent a recent afternoon in her apartment chatting about what makes an ideal kitchen and helping her make Chicken Saltimbocca from her new book, Sara Moulton's Everyday Family Dinners. Food Blog - Best Food Blogs - Gourmet Food Blog. *Terroir, a French word pronounced tur-WAH, is the unique combination of geographic location, climate and microclimate, soil and temperature that creates the individual personality of an agricultural product.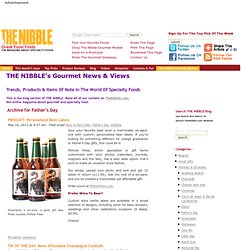 As in the growing of grapes for wine or beans for coffee, terroir dramatically affects the flavor profiles of the product. A blended Scotch is created by mixing the distillations (Scotches) from multiple single malt producers. By selecting particular single malts, the blender can achieve the exact flavor combination desired, with more balance and complexity. Examples include honey and floral flavors from Highland Scotches, fruity flavors from Speyside, vanilla flavors from Lowland Scotches and peaty flavors from Islay. Dewar's blends can contain up to 40 different single malts and grain whiskys (a whisky that contains some grains other than malted barley, such as corn, rye or wheat) to attain the perfection the blender seeks.
Father's Day Gift Guide — Mommin' It Up! Last year I posted about how I can never find the right Father's Day gift, so this year I decided to take matters into my own hands and make a gift guide!
Here are some of our tested-and-true Father's Day gift ideas: Kodak Gallery Photo Book You really just can't go wrong with a photo book for any gift-giving opportunity, but what I like about the Kodak Gallery version is all the options they have. Depending on the size, number of pages, and cover material, the books range from $9.99 to $69.99, so you can personalize the price as much as the book! They have tons of options for covers, including one designed like The Hungry Caterpillar, which makes me thing of Kate and Joshua's babyhood, because of the line of Carter's clothes out at the time.
Wellnessmats - Gift Ideas From Gifts.com. Food Blog - Best Food Blogs - Gourmet Food Blog. If Dad has a hobby (or job) that keeps him on his feet, he may deem a WellnessMat to be the best gift he's ever received.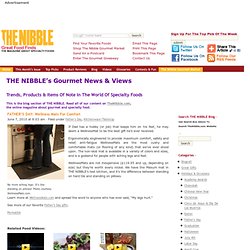 Ergonomically engineered to provide maximum comfort, safety and relief, anti-fatigue WellnessMats are the most cushy and comfortable mats (or flooring of any kind) that we've ever stood upon. The non-skid mat is available in a variety of colors and sizes, and is a godsend for people with aching legs and feet. WellnessMats are not inexpensive ($119.95 and up, depending on size) but they're worth every nickel.
We have the Maxum mat in THE NIBBLE's test kitchen, and it's the difference between standing on hard tile and standing on pillows. Don Schacter + Associates. Push Down Standing is believing… Best in class…you stand on it, we stand behind it. 7 Year Warranty! Take a Stand...on WellnessMats, the best anti-fatiguemat on the market today. Ergonomicallyengineered with our Advanced Polyurethane Technology (APT), Wellness Mats provide 50% more comfort,safety, and relief than other leading mats and providewell-being while you stand, whereveryou stand.
Advocated by healthcare professionals, medically proven to promote proper circulation and reduce fatigue, WellnessMats are the mat-of-choice for the Department of Homeland Security, TSA and Disney, as well as the "industry favorite" with hotels/casinos, airports, professional kitchens, salons and hundreds of retailers everywhere. Black Wellnessmats Antifatigue Kitchen Mats - 2' X 3' Bella - Rugs.
---