Philosophy
The Chaos Hypertextbook™
On Truth and Lies in a Nonmoral Sense (1873) Available at: http://www.publicappeal.org/library/nietzsche/Nietzsche_various/on_truth_and_lies.htm Other works by Nietzsche: http://www.publicappeal.org/library/nietzsche/select.htm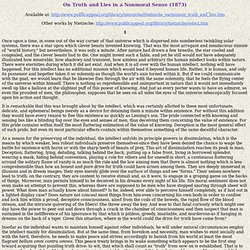 On Truth and Lies in a Nonmoral Sense
The gods had condemned Sisyphus to ceaselessly rolling a rock to the top of a mountain, whence the stone would fall back of its own weight. They had thought with some reason that there is no more dreadful punishment than futile and hopeless labor. If one believes Homer, Sisyphus was the wisest and most prudent of mortals. According to another tradition, however, he was disposed to practice the profession of highwayman. I see no contradiction in this.
The Myth of Sisyphus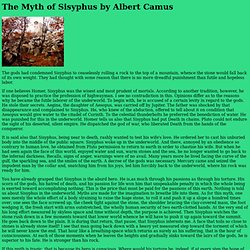 http://www.econ.umn.edu/~elami001/will%20to%20power.pdf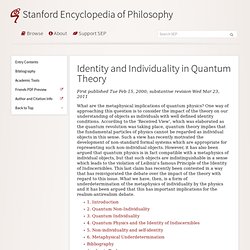 First published Tue Feb 15, 2000; substantive revision Wed Mar 23, 2011 What are the metaphysical implications of quantum physics? One way of approaching this question is to consider the impact of the theory on our understanding of objects as individuals with well defined identity conditions. According to the 'Received View', which was elaborated as the quantum revolution was taking place, quantum theory implies that the fundamental particles of physics cannot be regarded as individual objects in this sense. Such a view has recently motivated the development of non-standard formal systems which are appropriate for representing such non-individual objects. However, it has also been argued that quantum physics is in fact compatible with a metaphysics of individual objects, but that such objects are indistinguishable in a sense which leads to the violation of Leibniz's famous Principle of the Identity of Indiscernibles.
Identity and Individuality in Quantum Theory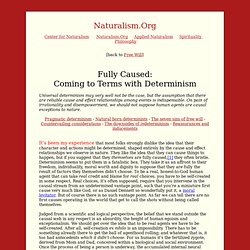 Fully Caused
Center for Naturalism Naturalism.Org Applied Naturalism Spirituality Philosophy [back to Free Will ] Fully Caused: Coming to Terms with Determinism Universal determinism may very well not be the case, but the assumption that there are reliable cause and effect relationships among events is indispensable. On pain of irrationality and disempowerment, we should not suppose human agents are causal exceptions to nature. Pragmatic determinism - Natural born determinists - The seven sins of free will - Countervailing considerations - The downsides of in determinism - Reassurances and inducements