Tech Tips, Tools and Blogs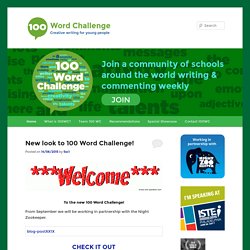 100WC is taking a short break. Week#29 prompt will be published on 20th April Too many posts are still not being correct linked. Please, please, please check yours as it is wasting Team100′s time! Please make sure you put christian name / nickname, school and location on the link not a title Here in the UK we have gone into 'British Summer Time'. This means that we had to put our clocks forward which meant that we 'lost' an hour!
The Educator's PLN - The personal learning network for educators
A Screencast and tutorial on Navigating this site is available here and on the Video Pagehttp://edupln.ning.com/video/a-screencast-on-how-to-1 Please feel free to make suggestions for improvement of this site. Profile PictureTo add a picture to your profile simply use any picture you have filed.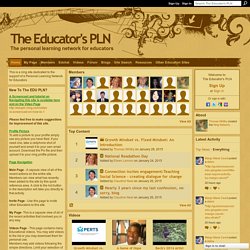 Make a personal website or a portfolio website to present your work with images. Very useful for visual artists, photographers, craftsmen, professionals and small businesses. Websites are viewed on mobile devices more often than ever and this is the main reason why you should consider making a website that works best on a mobile device. By mid 2013, it is predicted that all websites will be viewed more on mobile devices than regular desktop and laptop computers.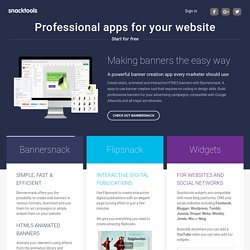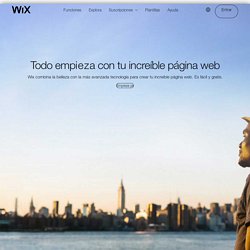 Inspírate con el del día! Todos los días te presentamos un increíble sitio creado con Wix. ¿Quieres que tu sitio aparezca aquí?
Salt Lake City, UT (PRWEB) December 19, 2011 PD developer School Improvement Network has added yet another tool to its premiere professional development platform, PD 360. The new addition, called My Portfolio, is a groundbreaking function within the PD 360 platform that gives educators the opportunity to create, share, and implement personalized professional learning plans. With My Portfolio, teachers and administrators alike have the ability to create professional learning plans and share them with anyone in their network across departments, schools, and the entire district.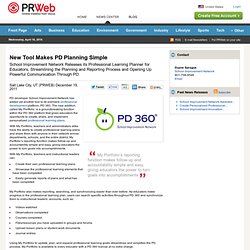 New Tool Makes PD Planning Simple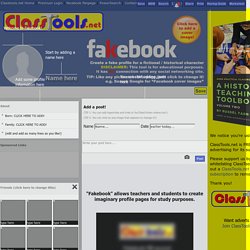 "Fakebook" allows teachers and students to create imaginary profile pages for study purposes. Use "Fakebook" to chart the plot of a book, the development of a character, a series of historical events, the debates and relationships between people, and so on! Get started by entering a name at the top of the page. Then proceed to add friends, posts, comments and profile information. You can save your work and edit it again later.
2011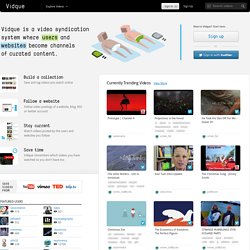 About Vidque is a free curation platform designed to help discover, filter and archive online video content. Controlled and curated by its users, Vidque aims to simplify the discovery of quality video content through the joint effort of the online community.
Download free and premium stock photos and illustrations for websites, advertising materials, newspapers, magazines, ebooks, book covers and pages, music artwork, software applications and much more. All our free images are of high quality, produced by our community of professional stock photographers and digital illustrators. Royalty free photos for business and personal use Our free photos and illustrations are ideal for business, personal and educational use.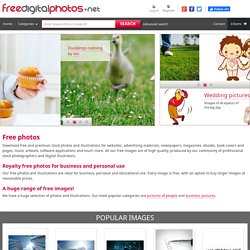 Mind Mapping with Mindomo Mind Mapping is a fantastic tool that helps students (and teachers) to visualise thinking in an organised way. Personally, mind maps have helped me to learn a vast amount amount of information without needing to read through pages of endless notes. Tony Buzan's Mind Map strategy has helped educators around the world to break down the concept into simple rules to help students understand how they can organise their ideas in an effective way. Mind maps that are drawn by hand allow you the flexibilty to control various aspects of the map and until now, I have struggled to find a software program that allows you to manage various features in the same way. Other programs such as Inspiration provide the users with the ability to create concept maps, but not true, authentic Mind Maps.
Engaging Thinking |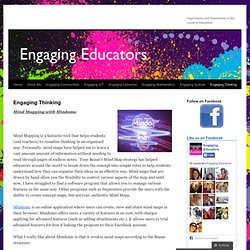 Seinfeld ran for nine seasons on NBC and became famous as a "show about nothing." Basically, the show allows viewers to follow the antics of Jerry, George, Elaine, and Kramer as they move through their daily lives, often encountering interesting people or dealing with special circumstances. It is the simplicity of Seinfeld that makes it so appropriate for use in economics courses. Using these clips (as well as clips from other television shows or movies) makes economic concepts come alive, making them more real for students. Ultimately, students will start seeing economics everywhere – in other TV shows, in popular music, and most importantly, in their own lives.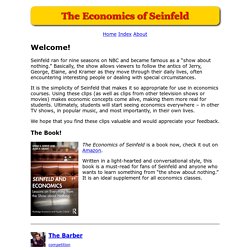 The Economics of Seinfeld
Tutorials on social media
A roundup of guides on how to use blogs, Facebook, Twitter & more Here are tutorials our team has created to help show nonprofits, cause organizations, businesses and individuals how to effectively use social media, divided by subject area. For even more, see the Sharing Center, our posts on resources, tools and video interviews.
Wordle is a toy for generating "word clouds" from text that you provide. The clouds give greater prominence to words that appear more frequently in the source text. You can tweak your clouds with different fonts, layouts, and color schemes.
| Inspirations and Innovations in the world of Education
Today and yesterday, I was lucky enough to attend the Melbourne Google Summit. Two days of inspirations and innovations in the world of Google Apps. Our school has been using Google Apps for about three years, and whilst we would not quite call ourselves 'Google Ningas' (as per the common term), we have been really proud of the ways in which we have grown and developed our use of Google Apps both in Leadership and Management and Learning and Teaching.
Fried Technology
I heard a significant amount of talk this week at TCEA14 (Texas Computer Education Association 2014 conference) about what I would describe as poor etiquette (self-promotion, self-aggrandizing) among EdTech gurus. I've got to admit. It really made me reflect. Luckily, I have a great, humble, wonderful friend who is herself honest and aware, and by her example, I strive to also be kind and humble. Yet many times, I fall woefully short of her excellent example.
Signup
The Super Book of Web Tools for Educators A comprehensive introduction to using technology in all K-12 classrooms. There are teachers around the world who want to use technology in their classrooms, but they're just not sure where to start. That's why eleven prominent bloggers, teachers, and school administrators got together to create this free ebook. Introduction: pages 2-3 An Administrator's View: pages 4-7 Elementary School: pages 8-25 Middle School: pages 26-35 High School: pages 36-42 ESL/ELL: pages 43-46 Teaching Online: pages 47-50 Connect Via Skype: pages 51-61 Elementary School Blogging: pages 62-65 Alternative Ed Tech: pages 66-68 Social Media for Educators: pages 69-71 Contributors Steven Anderson Adam Bellow Richard Byrne George Couros Larry Ferlazzo Lee Kolbert Patrick Larkin Cory Plough Beth Still Kelly Tenkely Silvia Rosenthal Tolisano
The Super Book of Web Tools for Educators
The 25 Worst Passwords of 2011
11 Techy Things for Teachers to Try This Year
2 Extensions That Improve The Speed & Functionality Of Google Docs [Chrome]