Tech Tips, Tools and Blogs
The Educator's PLN - The personal learning network for educators
Apple jumps into digital textbooks fray
Oops! Sorry, the page you requested either doesn't exist or isn't available right now! Please check the URL for proper spelling and capitalization. If you're having trouble locating a destination on Yahoo!
Salt Lake City, UT (PRWEB) December 19, 2011 PD developer School Improvement Network has added yet another tool to its premiere professional development platform, PD 360. The new addition, called My Portfolio, is a groundbreaking function within the PD 360 platform that gives educators the opportunity to create, share, and implement personalized professional learning plans . With My Portfolio, teachers and administrators alike have the ability to create professional learning plans and share them with anyone in their network across departments, schools, and the entire district.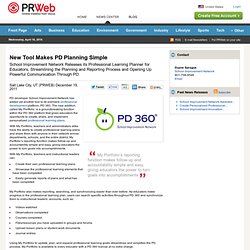 New Tool Makes PD Planning Simple
2011
Mind Mapping with Mindomo Mind Mapping is a fantastic tool that helps students (and teachers) to visualise thinking in an organised way.
Engaging Thinking |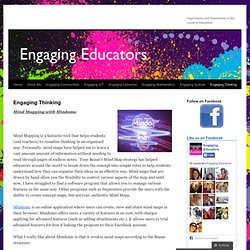 The Economics of Seinfeld
Tutorials on social media
A roundup of guides on how to use blogs, Facebook, Twitter & more H ere are tutorials our team has created to help show nonprofits, cause organizations, businesses and individuals how to effectively use social media, divided by subject area. For even more, see the Sharing Center , our posts on resources , tools and video interviews .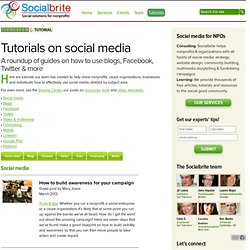 | Inspirations and Innovations in the world of Education
Fried Technology
Signup
The Super Book of Web Tools for Educators A comprehensive introduction to using technology in all K-12 classrooms.
The Super Book of Web Tools for Educators The annual list of the 25 worst passwords is out, based on actual compromises. After all these years, why are "monkey" and "qwerty" still on this list? November 15, 2011 03:00pm EST
The 25 Worst Passwords of 2011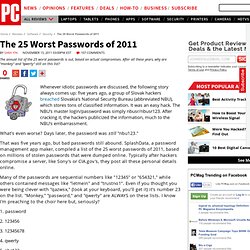 The new school year is here for many teachers. For those who haven't started school yet, the new school year will be here soon. If you've set the goal of trying something new in your classroom this year (shouldn't that always be one of our goals), here are eleven techy things teachers should try this year. 1. Build a Blog or Build a Better Blog Blogs can serve many purposes for teachers.
11 Techy Things for Teachers to Try This Year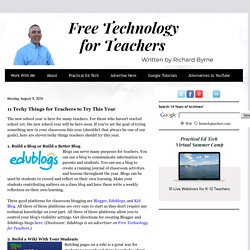 Google Docs is without a doubt one of the easiest ways to collaborate with multiple people on a single document. Instead of having to share a file in the cloud or keep emailing each other with changes, you can simply work on one document and have the luxury of having it save automatically and be visible to all the other people working on the document. Google Docs offers a slew of features that make it easy to collaborate with others.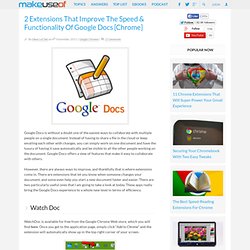 2 Extensions That Improve The Speed & Functionality Of Google Docs [Chrome]