Paleo Food
Healthier Halloween Candy. My new favorite go-to recipe site for Paleo friendly dishes is Elana's Pantry.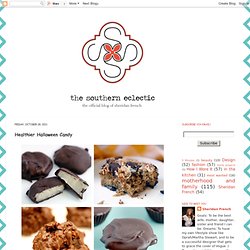 Y'all - oh my goodness. Elana might get the biggest heartsies from me ever. I found about her at a wedding of some friends who did the entire thing Paleo - even the CAKE! Paleo Banana Bread - Healthy Gluten Free Banana Bread Recipe. Naturally sweetened Paleo banana bread is easy to make with low carb gluten free ingredients including almond flour.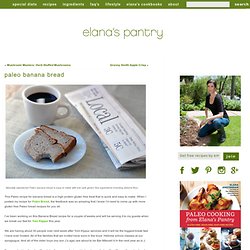 This Paleo recipe for banana bread is a high protein gluten free treat that is quick and easy to make. When I posted my recipe for Paleo Bread, the feedback was so amazing that I knew I'd need to come up with more gluten free Paleo bread recipes for you all. I've been working on this Banana Bread recipe for a couple of weeks and will be serving it to my guests when we break our fast for Yom Kippur this year. Recipes index. Paleo recipes index You can call them paleo recipes, but around our house, we call it dino-chow.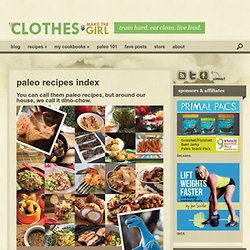 I don't (generally) consume grains, sugar, dairy, legumes, caffeine, or alcohol, so almost all of my dino-chow recipes are squeaky clean and paleo/Whole30/primal-approved. But there are a few big-time treats in the list, so use your noggin while reading. Speaking of treats, you won't find a lot of recipes for "paleo treats"… my goal is to give you tasty food you can eat every day. Dig in! 5-Spice Slow-Cooker Pork Ribs. Feb 23, 2012 Posted by Mel on Feb 23, 2012 in Blog, Meats/Eggs, Recipes, Soups | 109 comments 5-Spice Slow-Cooker Pork Ribs As much as I enjoy playing in the kitchen, I like to balance "project recipes" (I'm looking at you, Paleo Chicken Bastila.) and dead-simple dishes that require almost no work with a big flavor payoff.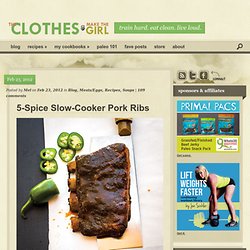 Deconstructed Gyro Salad. Jan 13, 2012 Posted by Mel on Jan 13, 2012 in Blog, Meats/Eggs, Recipes | 86 comments Deconstructed Gyro Salad One of my favorite recipes is Stovetop Pork Carnitas (updated and renamed in Well Fed as Citrus Carnitas).
Whole9 | Paleo Nutrition, Nutrition Workshops, Nutrition for Health and Fitness Facilities, and the Original Whole30 Program, Designed to Change Your Life in 30 Days. Gallery - chowstalker. Silver Dollar Pancakes | Gluten Free Pancake Recipe.
Everyone likes pancakes.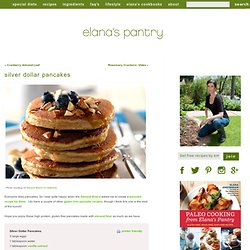 So I was quite happy when the Almond Board asked me to create a pancake recipe for them. I do have a couple of other gluten free pancake recipes, though I think this one is the best of the bunch! Hope you enjoy these high protein, gluten free pancakes made with almond flour as much as we have. Gallery - dessertstalker. $1.99 Pre Orders. I've got some bad news for you: Try going back and seeing where you went wrong.
Before you get as steamed as John McEnroe, please do me a quick favor. Toadally Primal Smoothies — Unique, mouth-watering, healthy smoothie recipes and more!
---