Celebrity quotes
1. "I urge you to please notice when you are happy, and exclaim or murmur or think at some point, 'If this isn't nice, I don't know what is.'"The actual advice here is technically a quote from Kurt Vonnegut's "good uncle" Alex, but Vonnegut was nice enough to pass it on at speeches and in A Man Without A Country.
15 Things Kurt Vonnegut Said Better Than Anyone Else Ever Has Or Will | Music | Inventory | The A.V. Club - StumbleUpon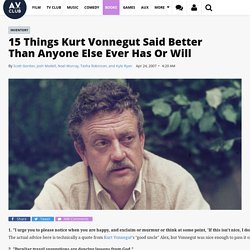 Johnny Depp Once Said & Thinksquad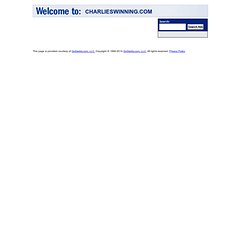 "I am on a drug – it's called Charlie Sheen. It's not available because if you try it, you will die. Your face will melt off and your children will weep over your exploded body." "I'm different. I have a different constitution, I have a different brain, I have a different heart. I got tiger blood, man."
Charlie Sheen quotes | The Greatest Website on Earth.
Colbert quote on Bordom.net - StumbleUpon
Megan Fox Quotes: Dumb or Awesome? - Photo Gallery