The best&worst
Kristen Wiigs Best Characters Pictures - Garth and Kat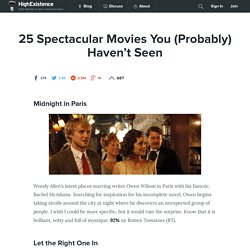 Midnight in Paris Woody Allen's latest places starving writer Owen Wilson in Paris with his fiancée, Rachel McAdams.
50 Greatest Chick Flicks of All Time - Here's Looking at You, Kid - mom.me
Top 10 Colorado Films | Colorado Movies | The Adventurous 500
1. (Lionsgate): $33.5 million in 4,137 theaters [Week 3] Nostalgia for the 1990s couldn't hold Katniss and the rest of the tributes back. For the third straight week has dominated the box office, bringing in $12 million more than , and $15 million more than . The movie has grossed over $400 million globally, and we're only at week 3.
Katniss Cannot Be Stopped - Entertainment - The Atlantic Wire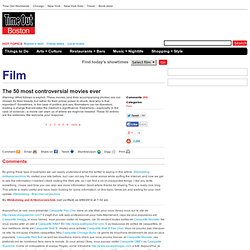 Warning: What follows is explicit. These movies (and their accompanying photos) are not chosen for their beauty, but rather for their primal power to shock.
10 Movies I Wish Were Based on True Stories | Jinni Blog - StumbleUpon
The Men Who Stare at Goats , starring George Clooney , Kevin Spacey , Jeff Bridges and Ewan McGregor , is about a secret, psychic military unit. Just a few things this unit does: Attempt to kill goats by staring at them and examine the use of Barney the Dinosaur's theme tune on Iraqi POWs.
Top 20 worst movies of 2011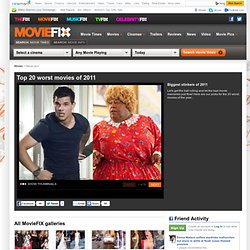 What is Movie Buzz?
I've seen a lot stupid movies in mi life, but some moments are just too stupid.
10 Dumbest Moments In Movies | Interesting Movies - StumbleUpon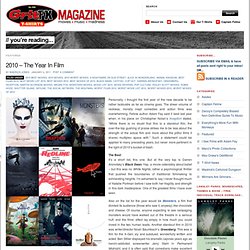 2010 - The Year In Film | GritFX T-Shirts Magazine
Personally, I thought the first year of the new decade to be rather lacklustre as far as cinema goes. The sheer volume of reckless, morally inept comedies and action films was overwhelming. Fellow author Adam Fay said it best last year when, in his piece on Christopher Nolan's Inception stated, "While there is no doubt that this is a standout film, the over-the-top gushing of praise strikes me to be less about the strength of the actual film and more about the pitiful films it shares multiplex space with."
25 Greatest Unscripted Scenes in Films | The Good, The Better, & The Funny | ShortForm