Patterns
Antipatterns
Testez le design de votre site dans différents navigateurs - Browsershots. Software As She's Developed » Blog Archive » AJAX Patterns: Design Patterns for AJAX Usability. I've been putting together some AJAX design patterns.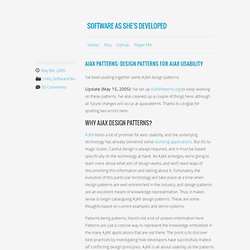 Update (May 15, 2005): I've set up AJAXPatterns.org to keep working on these patterns. I've also cleaned up a couple of things here, although all future changes will occur at ajaxpatterns. Thanks to Leoglas for spotting two errors here. Why AJAX Design Patterns? UI-patterns.com. Tripoli - a CSS standard for HTML rendering. About the Book - Designing Interfaces. Welie.com - Patterns in Interaction Design. Web Patterns: A UC Berkeley Resource for Building User Interfaces. User Interface Design Patterns: Introduction. Interaction Design Patterns -- maintained by Tom Erickson.
This page contains information about resources related to pattern languages for interaction design (of which user interface design is a subset), and a few links to more general papers that may be of use to interaction designers.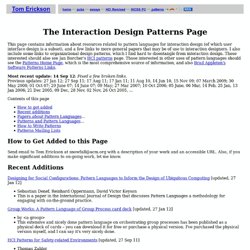 I also include some links to organizational design patterns, which I find hard to disentangle from interaction design. Those interested should also see Jan Borcher's HCI patterns page. Building Standards Compliant Web Sites. J2EE DESIGN PATTERNS. Intercepting Filter : Facilitates preprocessing and post-processing of a request.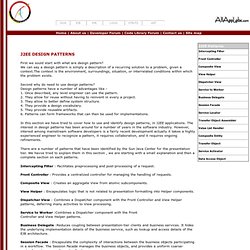 Front Controller : Provides a centralized controller for managing the handling of requests. Composite View : Creates an aggregate View from atomic subcomponents. View Helper : Encapsulates logic that is not related to presentation formatting into Helper components. Dispatcher View : Combines a Dispatcher component with the Front Controller and View Helper patterns, deferring many activities to View processing. Service to Worker :Combines a Dispatcher component with the Front Controller and View Helper patterns. Code Generation Network. Stephen J Mellor is an independent teacher and consultant focussed on methods for the construction of real-time and embedded systems.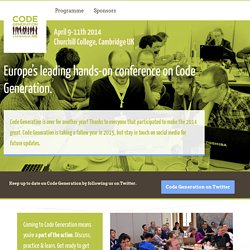 He is the author of Structured Development for Real-Time Systems (way back in 1985), Object Lifecycles, Executable UML, and MDA Distilled. He is also (perhaps surprisingly) a signatory to the Agile Manifesto. Until recently, he was Chief Scientist of the Embedded Software Division at Mentor Graphics, and founder and some-time president of Project Technology, Inc., before its acquisition. He participates in multiple UML/modeling related activities at the Object Management Group, and was a member of the OMG's Architecture Board, which is the final technical gateway for all OMG standards. Mr Mellor was the Chairman of the Advisory Board to IEEE Software for ten years and a two-time Guest Editor of the magazine, most recently for an issue on Model-Driven Development.
JAVA DESIGN PATTERNS. Prashant Satarkar He has a good experience into Java and J2EE designing and development.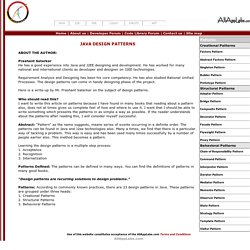 He has worked for many national and international clients as developer and designer on J2EE technologies. Requirement Analysis and Designing has been his core competency. He has also studied Rational Unified Processes. The design patterns can come in handy designing phase of the project. §. Web Patterns: A UC Berkeley Resource for Building User Interfaces. Architecture Patterns. Introduction | US Treasury Architecture Development Guidance (TADG) | IBM Patterns for e-Business | Some Pattern Resources This chapter provides guidelines for using architecture patterns.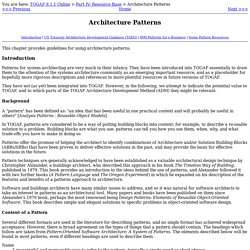 Introduction. Design pattern (computer science) There are many types of design patterns, for instance Algorithm strategy patterns addressing concerns related to high-level strategies describing how to exploit application characteristics on a computing platform.Computational design patterns addressing concerns related to key computation identification.Execution patterns that address concerns related to supporting application execution, including strategies in executing streams of tasks and building blocks to support task synchronization.Implementation strategy patterns addressing concerns related to implementing source code to support program organization, andthe common data structures specific to parallel programming.Structural design patterns addressing concerns related to high-level structures of applications being developed.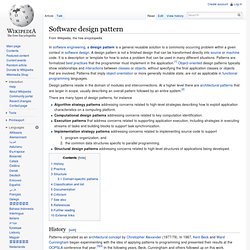 History[edit] In Relation To... Dex Reference Architecture - GovDex Reference - GovDex Collaborative Workspace. The Design Patterns Java Companion. Web Design References.
---