Patterns
Introduction The past five to ten years have seen a fundamental shift in the way that developers represent persistent entities in enterprise applications. Early enterprise applications used database tables and foreign-key relationships between them to model entities. Applications were seen as a way to view and query the database's underlying model. The trend in recent years is to move away from modeling entities in the database toward modeling them in the application's object model. The database is now perceived simply as a mechanism for storing the persistent information defined by the object structure.
Patterns of persistence, Part 1: Strategies and best practices for modern ORM tools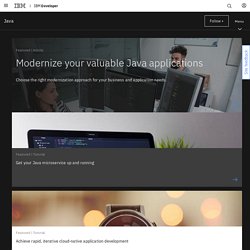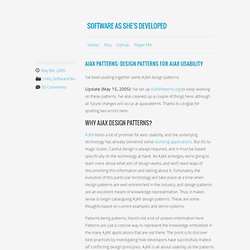 I've been putting together some AJAX design patterns. Update (May 15, 2005): I've set up AJAXPatterns.org to keep working on these patterns. I've also cleaned up a couple of things here, although all future changes will occur at ajaxpatterns. Thanks to Leoglas for spotting two errors here. Why AJAX Design Patterns?
Software As She's Developed » Blog Archive » AJAX Patterns: Design Patterns for AJAX Usability
Web Patterns: A UC Berkeley Resource for Building User Interfaces
User Interface Design Patterns: Introduction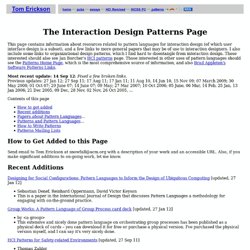 Interaction Design Patterns -- maintained by Tom Erickson
This page contains information about resources related to pattern languages for interaction design (of which user interface design is a subset), and a few links to more general papers that may be of use to interaction designers. I also include some links to organizational design patterns, which I find hard to disentangle from interaction design. Those interested should also see Jan Borcher's HCI patterns page.
Building Standards Compliant Web Sites
Intercepting Filter : Facilitates preprocessing and post-processing of a request. Front Controller : Provides a centralized controller for managing the handling of requests. Composite View : Creates an aggregate View from atomic subcomponents. View Helper : Encapsulates logic that is not related to presentation formatting into Helper components. Dispatcher View : Combines a Dispatcher component with the Front Controller and View Helper patterns, deferring many activities to View processing. Service to Worker :Combines a Dispatcher component with the Front Controller and View Helper patterns.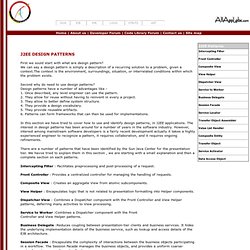 J2EE DESIGN PATTERNS
Code Generation Network
Huston Design Patterns
JAVA DESIGN PATTERNS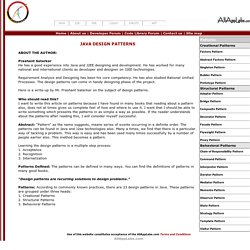 Prashant Satarkar He has a good experience into Java and J2EE designing and development. He has worked for many national and international clients as developer and designer on J2EE technologies. Requirement Analysis and Designing has been his core competency. He has also studied Rational Unified Processes. The design patterns can come in handy designing phase of the project.
Web Patterns: A UC Berkeley Resource for Building User Interfaces
Introduction | US Treasury Architecture Development Guidance (TADG) | IBM Patterns for e-Business | Some Pattern Resources This chapter provides guidelines for using architecture patterns. Introduction
Architecture Patterns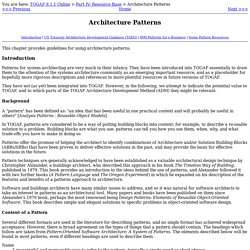 In software engineering , a design pattern is a general reusable solution to a commonly occurring problem within a given context in software design . A design pattern is not a finished design that can be transformed directly into source or machine code. It is a description or template for how to solve a problem that can be used in many different situations.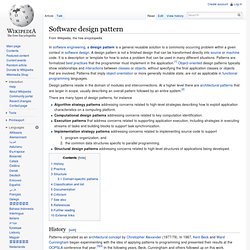 In Relation To...
Dex Reference Architecture - GovDex Reference - GovDex Collaborative Workspace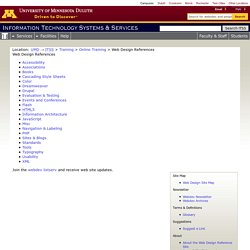 Search | People | Departments Location: UMD > ITSS > Training > Online Training > Web Design References Web Design References Join the webdev listserv and receive web site updates. Site Map
Web Design References