Patterns
Browsershots makes screenshots of your web design in different operating systems and browsers. It is a free open-source online web application providing developers a convenient way to test their website's browser compatibility in one place. When you submit your web address, it will be added to the job queue. A number of distributed computers will open your website in their browser. Then they will make screenshots and upload them to our central dedicated server for your review.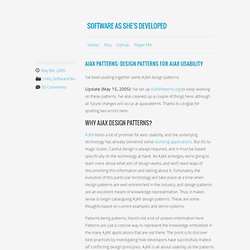 I've been putting together some AJAX design patterns. Update (May 15, 2005): I've set up AJAXPatterns.org to keep working on these patterns. I've also cleaned up a couple of things here, although all future changes will occur at ajaxpatterns. Thanks to Leoglas for spotting two errors here. Why AJAX Design Patterns?
Software As She's Developed » Blog Archive » AJAX Patterns: Design Patterns for AJAX Usability

Galleria has been serving top-quality image galleries to millions of web sites during the last years. We coulnd't be happier with all the positive response we recieved. Now, we are about to launch the next generation gallery service that makes it even easier for anyone to create, administrate and publish beautiful image galleries on any web site. We call it Galleria Display. We are now accepting a limited number of beta testers for our new service. In order to join us and get a free account, simply enter your email at galleriadisplay.com and we'll put you on our list.
This site contains a lot of best practices in Interaction Design. Over the years I have collected examples and insight on their applicability that I share with you here on this. So there is really no 'original' design to be found here, sorry. It has all been done before...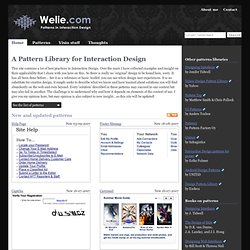 Web Patterns: A UC Berkeley Resource for Building User Interfaces
User Interface Design Patterns: Introduction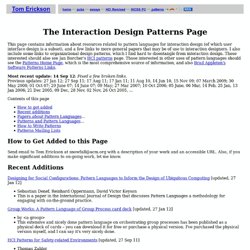 Interaction Design Patterns -- maintained by Tom Erickson
This page contains information about resources related to pattern languages for interaction design (of which user interface design is a subset), and a few links to more general papers that may be of use to interaction designers. I also include some links to organizational design patterns, which I find hard to disentangle from interaction design. Those interested should also see Jan Borcher's HCI patterns page.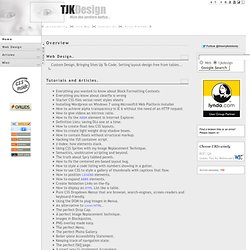 Building Standards Compliant Web Sites
Web Design. Custom Design, Bringing Sites Up To Code, Setting layout-design free from tables... Tutorials and Articles.
Intercepting Filter : Facilitates preprocessing and post-processing of a request. Front Controller : Provides a centralized controller for managing the handling of requests. Composite View : Creates an aggregate View from atomic subcomponents. View Helper : Encapsulates logic that is not related to presentation formatting into Helper components. Dispatcher View : Combines a Dispatcher component with the Front Controller and View Helper patterns, deferring many activities to View processing. Service to Worker :Combines a Dispatcher component with the Front Controller and View Helper patterns.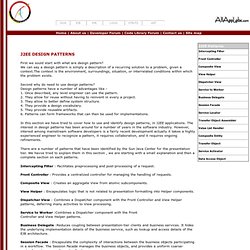 J2EE DESIGN PATTERNS
Code Generation Network
JAVA DESIGN PATTERNS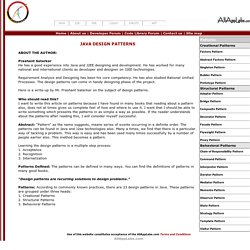 Prashant Satarkar He has a good experience into Java and J2EE designing and development. He has worked for many national and international clients as developer and designer on J2EE technologies. Requirement Analysis and Designing has been his core competency. He has also studied Rational Unified Processes. The design patterns can come in handy designing phase of the project.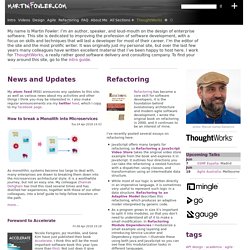 Privacy Protects Bothersome People …and isn't about me (or probably you) An important debate in politics is the importance of privacy - in particular when or if privacy should be traded off in order to combat terrorism.
Web Patterns: A UC Berkeley Resource for Building User Interfaces
Introduction | US Treasury Architecture Development Guidance (TADG) | IBM Patterns for e-Business | Some Pattern Resources This chapter provides guidelines for using architecture patterns. Introduction
Architecture Patterns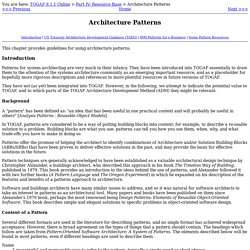 There are many types of design patterns, for instance Algorithm strategy patterns addressing concerns related to high-level strategies describing how to exploit application characteristics on a computing platform.Computational design patterns addressing concerns related to key computation identification.Execution patterns that address concerns related to supporting application execution, including strategies in executing streams of tasks and building blocks to support task synchronization.Implementation strategy patterns addressing concerns related to implementing source code to support program organization, andthe common data structures specific to parallel programming.Structural design patterns addressing concerns related to high-level structures of applications being developed. History[edit]
In Relation To...
Dex Reference Architecture - GovDex Reference - GovDex Collaborative Workspace
Web Design References