Music <3
Find Songs You Heard in Movies @ what-song. Hip Hop Elements Bboy DJ MC Grafitti Battles Events Clothing. Roll it up, light it, pass it around! | magicegg | 8tracks - StumbleUpon. Songs for the Dirty Dirty. | CookieCrispsss | 8tracks - StumbleUpon. All you have to do is cry. | haysquared | 8tracks - StumbleUpon. FindNewJams.com. Grooveshark - Listen to Free Music Online - Internet Radio - Free MP3 Streaming. How does anger exist when there is music like this? | gamble | 8tracks - StumbleUpon. Stereomood – emotional internet radio - music for my mood and activities. The List | guilty | 8tracks - StumbleUpon. The Happiest Playlist EVER!!! | heikidd17 | 8tracks - StumbleUpon. Musicovery. Classic Rock Dubstep&47;Electro Remixes | K3RCH | 8tracks.
20 fantastic ways to find new music that you like (no Last.fm & Pandora... OK, everybody knows that Last.fm & Pandora are great services, but there are a lot of other tools that can help us to find new cool music.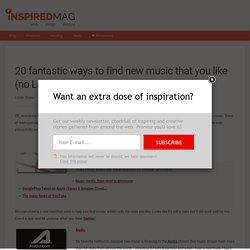 Some of them just expose daily musical goodies, others make recommendations based on your very own preferences, and others take the web interactivity ever further. Explore the best 20 ways to discover new music in a web 2.0 world. How to Make Google Translate Beatbox. Not sure if this falls in the category of Easter Egg or clever manipulation, but either way, there go our afternoons: Redditor harrichr has devised a scheme for turning Google Translate into a makeshift beatbox machine. 1) Go to [1] Google Translate2) Set the translator to translate German to German3) Copy + paste the following into the translate box: pv zk pv pv zk pv zk kz zk pv pv pv zk pv zk zk pzk pzk pvzkpkzvpvzk kkkkkk bsch4) Click "listen"5) Be amazed :) For the lazy, just click this link and it'll be done for you.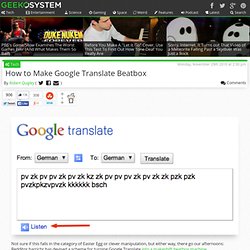 There's nothing magical about this particular sequence, and there's tons of room for experimentation: In German, anyway, "pv" and "zk" make complementary breathy sounds and clicks, respectively. Spaces add pauses. Stormy_night_beach - StumbleUpon. 1.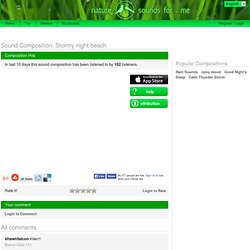 Choose a sound In order for nature sounds to start playing choose a sound from drop-down box for one channel and drag the volume slider up. 2. Add more sounds You can add more nature sounds to composition by choosing other sounds in other channels. Beautiful "Someone Like You" Duet [VIDEO] - StumbleUpon. Concert Tickets, Reviews, Concert Tours and Live Music Shows. Go See Live Music > JamBase. Dubstep Dance France.
---