Fashion
Seablanket. Gold dots dress (and gathered dress tutorial) I love this dots fabric.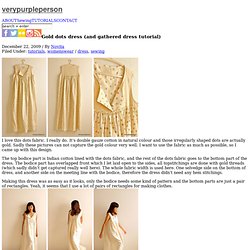 I really do. It's double gauze cotton in natural colour and those irregularly shaped dots are actually gold. Sadly these pictures can not capture the gold colour very well. I want to use the fabric as much as possible, so I came up with this design. Bleach on fabric tutorial - Stencil Revolution. Here is my Bleaching Tutorial, exclusively for Stencil Revolution members.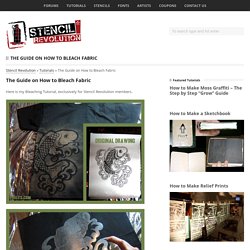 In 2002, I was hired by a small clothing company to invent a process by which we could produce images on garments that would be more "tattooed" into the fabric than screened on. I immediately thought about bleach and began two years of research and testing. I worked with chemists, fabric manufacturers, and artists. Blog | Parasol Co. A cloche hat in boiled wool (with tutorial) Hi everyone!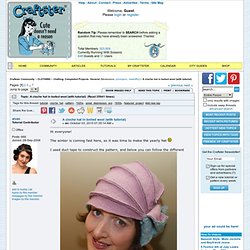 The winter is coming fast here, so it was time to make the yearly hat I used duct tape to construct the pattern, and below you can follow the different steps. ...love Maegan. T-Shirt Refashion: Jersey Necklace | IS•LY | I Still Love you. Sometimes I feel like I ride on the coattails of creative people.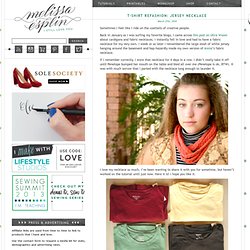 Back in January as I was surfing my favorite blogs, I came across this post on Ultra Vroom about cardigans and fabric necklaces. I instantly fell in love and had to have a fabric necklace for my very own. Five Minute Brimmed Beanie. I have a fun quick tutorial for you today.
It started out as an experiment. I saw $1 cuffed beanies at Walmart and wondered if I could add a brim to them to make them look a little bit like these Colombia brand ones. 48 Yard Petticoat/Crinoline Tute. Tutorial: Easy Buttoned Legwarmers « Laupre. Tutorial: Easy Buttoned Legwarmers With Spring right around the corner I've been eying my favorite skirts and dresses and looking forward to getting a chance to wear them comfortably.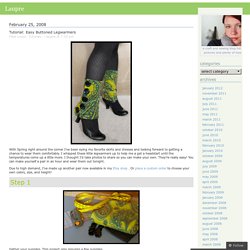 I whipped these little legwarmers up to help me a get a headstart until the temperatures come up a little more. Woolfiller - Heleen Klopper. Woolfiller is een uitvinding van Heleen Klopper, product- ontwerper en sinds jaren gefascineerd door wol en vilt en hun specifieke eigen- schappen.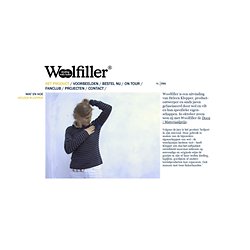 In oktober 2009 won zij met Woolfiller de Doen | Materiaalprijs. Volgens de jury is het product 'briljant in zijn eenvoud. Door gebruik te maken van de bijzondere eigenschappen van wol - de weerhaakjes hechten vast - heeft Klopper een doe-het-zelfpakket ontwikkeld waarmee iedereen op eenvoudige en originele wijze de gaatjes in zijn of haar wollen kleding, tapijten, gordijnen of andere textielproducten kan repareren. The Convertible "Infinity" Dress: How it almost defeated me, and what you need to make one.
I made this thing.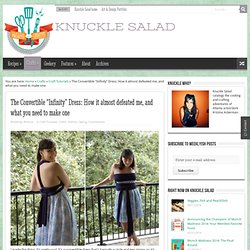 It's pretty cool. It's a convertible dress that's basically a circle and two straps, so it's really easy, inexpensive, and crazy versatile. It's been around forever and everyone seems to love it (in fact, part of the reason I'm posting this is to answer some questions for people I've run into), and I can hardly believe how close I came to not making it at all. I first found the instructions at a blog called rostitchery, and then I came across a second set at Cut Out + Keep. .MY DIY PROJECTS AND TUTORIALS. Rostitchery: convertible/infinity dress.
(this post was originally published on 29 june, 2006, with the title "one seam convertible dress".) have a question?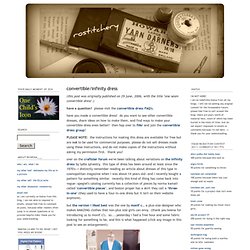 Please visit the convertible dress FAQ's. have you made a convertible dress? How to Make a Super Simple 15 Minute T-Shirt Tote | Apartment Therapy San Francisco. Techniques. Make a Dress from a Button-Down Shirt. If you don't already have an old shirt you can recycle for this purpose, you should be able to find one easily at a thrift store.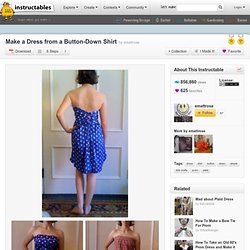 Hold the collar under your arms, and make sure it's long enough that you'll be comfortable wearing it as a dress. Short sleeves are ok, but make sure they're long to reach around your chest and overlap in the back. Also, try and find a shirt that has darts in the middle of the back. Circle Skirt From An Old Sheet. Wear Palettes. Recycle Your Wardrobe.
---