Useful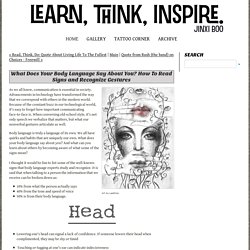 What Does Your Body Language Say About You? How To Read Signs and... - StumbleUpon
Art by LaetitziaAs we all know, communication is essential in society. Advancements in technology have transformed the way that we correspond with others in the modern world. Because of the constant buzz in our technological world, it's easy to forget how important communicating face-to-face is.
There are as many introverts as extraverts, but you'd never know it by looking around. Introverts would rather be entertained by what's going on in their heads than in seeking happiness. Their big challenge is not to feel like outsiders in their own culture. by Laurie Helgoe, Ph.D. After ten years as a psychologist practicing psychodynamic psychotherapy , I reclined on the couch of my own analyst feeling burdened by my chosen work.
Revenge of the Introvert - StumbleUpon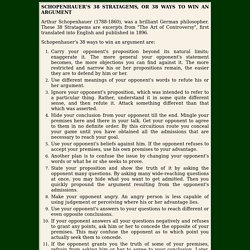 SCHOPENHAUERS 38 STRATAGEMS, OR 38 WAYS TO WIN AN ARGUMENT - StumbleUpon
Arthur Schopenhauer (1788-1860), was a brilliant German philosopher. These 38 Stratagems are excerpts from "The Art of Controversy", first translated into English and published in 1896. Carry your opponent's proposition beyond its natural limits; exaggerate it. The more general your opponent's statement becomes, the more objections you can find against it. The more restricted and narrow his or her propositions remain, the easier they are to defend by him or her.
Much of the brain is still mysterious to modern science, possibly because modern science itself is using brains to analyze it. There are probably secrets the brain simply doesn't want us to know. But by no means should that stop us from tinkering around in there, using somewhat questionable and possibly dangerous techniques to make our brains do what we want. We can't vouch for any of these, either their effectiveness or safety. All we can say is that they sound awesome, since apparently you can make your brain... Think You Got a Good Night's Sleep (After Only Two Hours of Actual Sleep)
5 Ways To Hack Your Brain Into Awesomeness | Cracked.com - StumbleUpon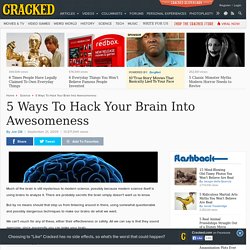 What Does Your Body Language Say About You? How To Read Signs and... - StumbleUpon