The Blass Bead Game
Get flash to fully experience Pearltrees
Jeff Clearwater Jeff Clearwater has been working and creating in the field of intentional community for 32 years with a special passion for how communities create and share wealth. Jeff serves on the Council for the Ecovillage Network of the Americas (ENA) and was Ecovillage Director at Sirius Community for 6 years.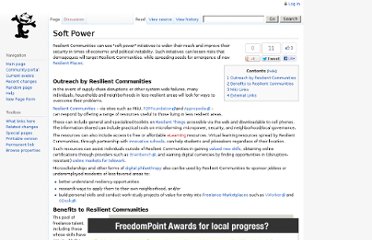 From Miiu.org Resilient Communities can use "soft power" initiatives to widen their reach and improve their security in times of economic and political instability. Such initiatives can lessen risks that demagogues will target Resilient Communities, while spreading seeds for emergence of new Resilient Places . Outreach by Resilient Communities In the event of supply chain disruptions or other system-wide failures, many individuals, households and neighborhoods in less-resilient areas will look for ways to overcome their problems. Resilient Communities – via sites such as MiiU, P2PFoundation and Appropedia – can respond by offering a range of resources useful to those living in less resilient areas.
Beneficiaries of Seeds of Change challenge offers Individuals Learning Circles eAcademy Partners (entrepreneurial schools and Internet Centers) Neighborhood Partners Community Partners Country Partners The FreedomPoint Award System (multiplying the value of initial Seeds of Change challenge offers) Openworld is preparing a "FreedomPoints" reputation-building system to enable recipients of Seeds of Change resources to multiply the value of the resources available, based on the progress of their work to advance sustainable freedom-creating opportunities in actual and/or virtual realms. (Click here for a full size display of the visual below). An online form to request Seeds of Change challenge resources is here .
Resilient Things From Miiu.org Jump to: navigation , search "Localize production – virtualize everything else" -John Robb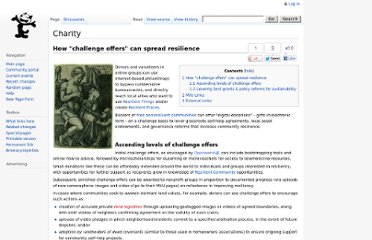 From Miiu.org How "challenge offers" can spread resilience Donors and volunteers in online groups can use Internet-based philanthropy to bypass cumbersome bureaucracies, and directly reach local allies who want to use Resilient Things and/or create Resilient Places . Backers of free and resilient communities can offer "digital donations" – gifts in electronic form – on a challenge basis to lever grassroots self-help agreements, local asset endowments, and governance reforms that increase community resilience. Ascending levels of challenge offers
Our minds are wired to select and interpret evidence supporting the hypothesis "I'm OK". A variety of mechanisms: conscious, unconscious, and social direct our attention to ignore the bad and highlight the good to increase our hope and reduce our anxiety . We work hard to retain the belief that "I'm OK" even when faced with significant losses.
Chris Lucas "The philosophy which is so important in each of us is not a technical matter; it is our more or less dumb sense of what life honestly and deeply means. It is only partly got from books; it is our individual way of just seeing and feeling the total push and pressure of the cosmos."