Learn
«В России не распространен билингвизм из-за комплекса империи»: полиглот Григорий Казаков о том, как выучить много языков
В весеннем сезоне 2013 года в Русской школе перевода ожидается открытие студии самостоятельного изучения языков. Руководить студией будет Григорий Казаков, преподаватель Факультета иностранных языков и регионоведения МГУ. «Теории и практики» публикуют расшифровку лекции ученого о том, как стать полиглотом и не сойти с ума. Кто, собственно, такой полиглот? Сколько языков должен знать человек, чтобы он мог без сомнений себя так назвать?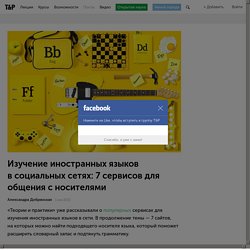 Изучение иностранных языков в социальных сетях: 7 сервисов для общения с носителями
«Теории и практики» уже рассказывали о популярных сервисах для изучения иностранных языков в сети.
Is Chariots of Fire a good running track?
13 July 2012Last updated at 11:06 ET By Caroline Hocking BBC News Magazine Vangelis's title track for the re-released 1981 film Chariots of Fire says "running" in a way few pieces of music do. But do upbeat tunes help motivate joggers? It's hard not to think of people running in slow motion with beatific looks on their faces. On a windswept beach. In olden days shorts.