General Teaching
Welcome to The Teacher's Corner Printable Worksheets! We have developed several completely free generators for you to use to make your own worksheets quick and easy. Most of them you can simply choose from our premade lists and get a worksheet in mere seconds, otherwise you can customize them with your own subjects to make completely unique puzzles. From crossword puzzle generators and word search makers to cloze sentence, money worksheets, brain teasers and sudoku puzzles.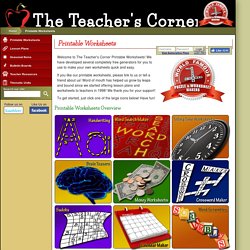 Event Time Announcer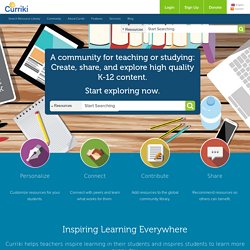 Donate There are a lots of ways to get involved with Curriki from contributing resources to sponsoring content. Curriki's non-profit Tax ID # is 203478467. You can also help us with tax deductible donations: Volunteer If you are looking for meaningful volunteer opportunities, we would love to hear from you. We need educators to help curate content, organize educational collections and rate our resources. Please click the button below and fill out the contact form and we will follow up with you right away. Partner with Curriki Curriki's Partners have generously supported our efforts with funding, educational content, and/or technology.
Classroom Stacking Baskets Medium Neon Colors
Welcome to MLKDay.gov
What is the MLK Day of Service? Dr. Martin Luther King Jr. once said, "Life's most persistent and urgent question is: 'What are you doing for others?'" Each year, Americans across the country answer that question by coming together on the King Holiday to serve their neighbors and communities. The MLK Day of Service is a part of United We Serve, the President's national call to service initiative.
Word Scrambler
"I stumbled upon your fun interactive geography games from a link on the Massachusetts Geographic Alliance Website. Since then, your games have become quite a hit with my competitive colleagues!" --Candice Gomes, Education Outreach Coordinator, Boston Public Library (Sheppard Software's geography games were featured in the Boston Public Library's 2006 Exhibition on Mapping)