Gardening Techniques
Get flash to fully experience Pearltrees
The last time I forgot to water my outdoor potted plants and discovered them completely wilted and hanging on the cusp of near death, I decided it was time to take action.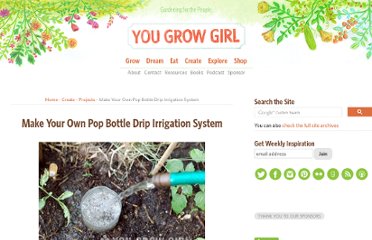 The keys to a weedless organic garden are limited tilling, permanent beds and paths, organic mulch and drip irrigation. Story and Photos by Lee Reich June/July 2007 Weedless gardening! That's an oxymoron, an impossibility, right? Well, my gardens may not be 100 percent weed-free, but they are 100 percent free of weed problems.
By Barbara Pleasant February/March 2007 My first tries with tunnels led to long tramps through the woods to retrieve windblown sheets of plastic, but not anymore. After trying edge-weights from bricks to warped landscaping timbers, I've settled on angular (rather than round) pieces of firewood, wrapped over twice with the plastic. When cutting plastic for a tunnel, allow a generous 2-foot overhang on both sides so you'll have enough to wrap around whatever weights you decide to use to secure your tunnel's edges.
You can grow bigger, better cukes, beans, tomatoes and cantaloupes with simple, sturdy trellises. By Barbara Pleasant December 2010/January 2011 Whether your garden is large or small, you can make better use of every square inch by using vertical gardening techniques to grow upright crops. Pole beans typically produce twice as many beans as bush varieties, and the right trellis can double cucumber yields.
It took over 20 years of gardening to realize that I didn't have to work so hard to achieve a fruitful harvest. As the limitless energy of my youth gradually gave way to the physical realities of mid-life, the slow accretion of experience eventually led to an awareness that less work can result in greater crop yields . Inspired in part by Masanobu Fukuoka's book, One Straw Revolution , my family experimented with gardening methods which could increase yields with less effort.
While it may seem like a lot of work to get the beds established for planting, this can be done in stages.
Brachonids,Chalcids and Ichneumon Wasps These small beneficial insects destroy leaf-eating caterpillars. You can attract them to your garden by planting carrots, celery, parsley, caraway and Queen Anne's lace, all members of the Umbelliferae family. These plants are easy to grow, and some should be left to flower.
Interplant flowers with your food crops to promote a balanced insect ecology and achieve natural insect control without toxic pesticides. By Harvey Ussery June/July 2010 I've always been an organic gardener. Early on, I thought natural insect control meant using an "organically approved" insecticide, such as rotenone, to defeat leaf-eating insects — especially my arch-nemesis, the Colorado potato beetle. I dusted my potato patch several times a season in a struggle to keep the beetle's exploding population in check, barely managing to bring in the crop. But as I learned more about the ecology of insects such as ladybeetles, lacewings, praying mantises and assassin bugs — what some call "the good guys" — I worried that blasting away with a powder intended to kill might not be doing them any good either.