Fitness/Health
Skinny Mashed Potatoes. Mashed potatoes are one of my favorite things to eat on Thanksgiving, but this year since I am pregnant and on a really strict low carb diet (for my diabetes) real mashed potatoes are out (bummer).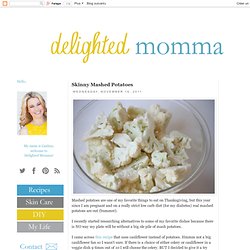 I recently started researching alternatives to some of my favorite dishes because there is NO way my plate will be without a big ole pile of mash potatoes. I came across this recipe that uses cauliflower instead of potatoes. Hmmm not a big cauliflower fan so I wasn't sure. If there is a choice of either celery or cauliflower in a veggie dish 9 times out of 10 I will choose the celery.
BUT I decided to give it a try since the reviews were outstanding. Bye Bye Beehive: Hair Styles. Full Length Workout Videos, Fitness Blender.
The Can-Do Updo | Spark. Arms: Table top press - Get Toned in 10 Minutes. Your passion for healthy living brought you here - let's keep talking!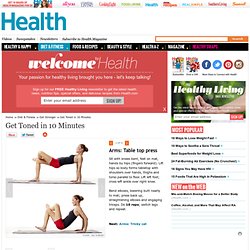 Sit with knees bent, feet on mat, hands by hips (fingers forward). Lift hips so body forms tabletop with shoulders over hands, thighs and torso parallel to floor. & What is your acne telling you? The Beauty Gypsy. Designing a Resistance Training Program - McKinley Health Center - University of Illinois. Your fitness goal The first step to designing a resistance training program is establishing your fitness goal.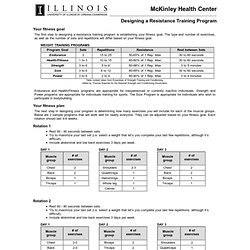 The type and number of exercises, as well as the number of sets and repetitions will differ based on your fitness goal. Table content taken from Essentials of Strength Training and Conditioning, edited by Thomas Baechle for the National Strength and Conditioning Association. Endurance and Health/Fitness programs are appropriate for inexperienced or currently inactive individuals. Strength and Power programs are appropriate for individuals training for sports. You Know You Want Sexy Abs! | healthkicker. The next month or two of work on Xanga 2.0 is going to be busy, so I wanted to share with everyone a roadmap of how we're thinking about things!
We're dividing the work on this project into four basic phases. Phase 1. Data migration As described here, we've imported over every account that we have on Xanga over to the new system so that anyone who could sign into Xanga can still sign into Xanga 2.0. The 29 Hardest Ab Exercises Slideshow. We get it.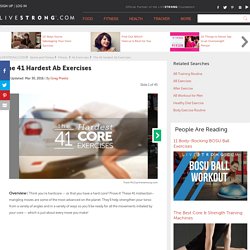 You want lean body. And while no single exercise will ever flatten your belly or give you a six-pack (you need to adjust your diet for that), there are ways to work your abs even harder so that as you lose fat, you uncover a hard body. We asked Jim Smith, C.S.C.S, a strength coach at Diesel Strength & Conditioning, to identify the hardest core exercises. Try these and your abs will never look or feel the same.
---