Fitness/Health
Mashed potatoes are one of my favorite things to eat on Thanksgiving, but this year since I am pregnant and on a really strict low carb diet (for my diabetes) real mashed potatoes are out (bummer). I recently started researching alternatives to some of my favorite dishes because there is NO way my plate will be without a big ole pile of mash potatoes. I came across this recipe that uses cauliflower instead of potatoes. Hmmm not a big cauliflower fan so I wasn't sure. If there is a choice of either celery or cauliflower in a veggie dish 9 times out of 10 I will choose the celery. BUT I decided to give it a try since the reviews were outstanding.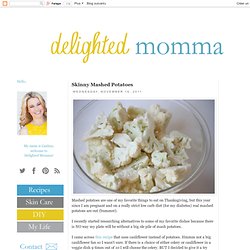 Fitness for every body; Fitness Blender has full length workout videos for every fitness level, completely free of charge. Fitness Blender offers a wide range of workout videos built by professionals, including full body workout routines, Pilates, strength training, cardio, stretching, toning, weight loss, tabata, sports specific training, and rehabilitation for injuries and physical conditions. No gimmicks, no garbage, no fine print; maybe there is such a thing as a free lunch. Full Length Workout Videos List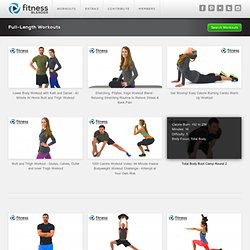 I always knew that the once-monthly spots that overtook my chin were the result of not-so-stable hormones. However, when my dermatologist took one look at the sudden outcrop of angry zits on my nose and asked me to get my blood pressure checked, it introduced me to a whole new (actually old) science of face mapping, which is pretty much the key to unlocking the mysteries behind problem skin. Face mapping, which is fast taking centre stage at most clinics nowadays, combines Ayurveda and ancient Chinese medicine with cutting edge dermatologists' prescriptions to explain how certain parts of your face are connected to other areas of your body.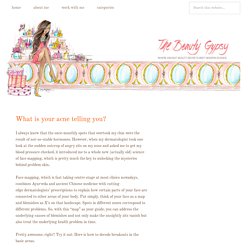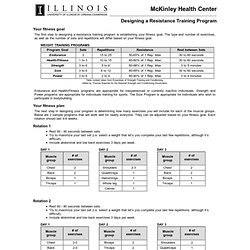 Your fitness goal The first step to designing a resistance training program is establishing your fitness goal. The type and number of exercises, as well as the number of sets and repetitions will differ based on your fitness goal. Table content taken from Essentials of Strength Training and Conditioning, edited by Thomas Baechle for the National Strength and Conditioning Association. Endurance and Health/Fitness programs are appropriate for inexperienced or currently inactive individuals. Strength and Power programs are appropriate for individuals training for sports.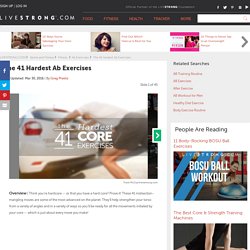 W e get it. You want lean body. And while no single exercise will ever flatten your belly or give you a six-pack (you need to adjust your diet for that), there are ways to work your abs even harder so that as you lose fat, you uncover a hard body. We asked Jim Smith, C.S.C.S, a strength coach at Diesel Strength & Conditioning, to identify the hardest core exercises. Try these and your abs will never look or feel the same.