Wiriting
Oxymoron Finder.
Inspiration. Edit. Character Motivations. Tips. Exercises. Instructor: Jim Manis Email: jdm12@psu.edu Exercises to Generate Creativity Copyright @ 2001 The Pennsylvania State University This site is devoted to offering as many exercises (and general good advise) for creative writing students who wish to avail themselves of them.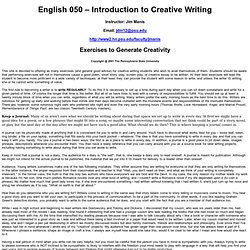 Oneword.com. B-Rhymes - The Rhyme and Slant Rhyme Dictionary. Characters. If you're enjoying the content here, check out our new site, Thoughtcrime Games.
Thanks for visiting! If you're new here, you may want to subscribe to my RSS feed. Thanks for visiting! I don't know about you but when I sit down for a one-shot game with a pregen character, I can't always come up with a unique and interesting personality on the fly. Sometimes the class, race and skill combo strikes a chord, but usually it's just numbers. The Kama Sutra of Kindness: Position Number 3 by Mary Mackey.
---