Book Recommendations
5 Young Adult Novels That You'll Never Outgrow. Nishant Choksi This was a strange and wonderful year for young adult fiction — but also a confused and divisive one.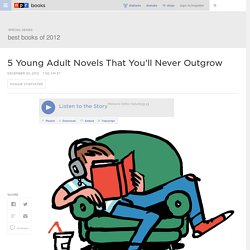 We learned that 55 percent of young adult fiction was read by adults. Debates raged over what constituted a young adult novel versus an adult novel. Apologetic grown-ups sneaked into the teen section of the bookstore, passing subversive teens pattering into the adult paranormal and literature and mystery shelves. Amazon's top 10 bestselling books of the year - 'The Innocent,' by David Baldacci. 101 Books To Read This Summer Instead of '50 Shades of Grey' 10 best books of 2012. 1.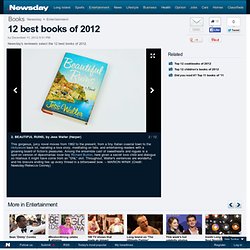 WILD: From Lost to Found on the Pacific Crest Trail, by Cheryl Strayed (Alfred A. Knopf) There are dumber things you could do, I guess. When Cheryl Strayed was 26, and her life was spinning out of control, she set out to hike 1,100 miles of the rugged Pacific Crest Trail, from California through Oregon to Washington -- an attractive young woman in the wilderness, alone. The Last Policeman: solving a murder before an asteroid wipes out life on Earth. Last year I read Bedbugs , Ben Winters' psychological thriller/horror novel about a woman who was certain that her apartment was filled with bedbugs, while her husband was telling her that she was imagining them.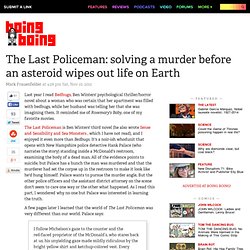 It reminded me of Rosemary's Baby, one of my favorite movies. The Last Policeman is Ben Winters' third novel (he also wrote Sense and Sensibility and Sea Monsters , which I have not read), and I enjoyed it even more than Bedbugs. Trust Me: Three Books With (In)credible Narrators. iStockphoto Many of my all-time favorite novels have a common (if slightly unsettling) thread: They feature an unreliable narrator at the helm.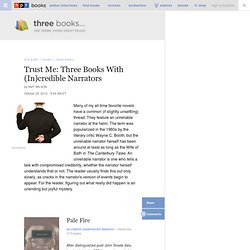 The term was popularized in the 1960s by the literary critic Wayne C. Booth, but the unreliable narrator herself has been around at least as long as the Wife of Bath in The Canterbury Tales. An unreliable narrator is one who tells a tale with compromised credibility, whether the narrator herself understands that or not. The reader usually finds this out only slowly, as cracks in the narrator's version of events begin to appear. 10 Novels That Are Scarier Than Most Horror Movies. Teen Tearjerkers « Reading Rants! Out of the Ordinary Teen Booklists! "Boys do not have a monopoly on the Staring Business, after all.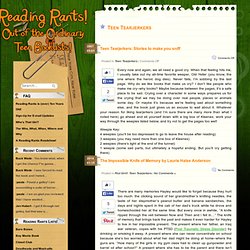 So I looked him over…and soon it was a staring contest. After a while the boy smiled, and then finally his blue eyes glanced away. When he looked back at me, I flicked my eyebrows up to say, I win." So begins the tragic comedy of Hazel and Augustus's love affair. Markus Zusak. 10 Essential Books for Book Nerds. What makes a book nerd?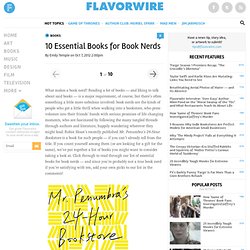 Reading a lot of books — and liking to talk about said books — is a major requirement, of course, but there's often something a little more nebulous involved: book nerds are the kinds of people who get a little thrill when walking into a bookstore, who press volumes into their friends' hands with serious promises of life changing moments, who are fascinated by following the many tangled threads through authors and literature, happily wandering wherever they might lead. Robin Sloan's recently published Mr.
Penumbra's 24-Hour Bookstore is a book for such people — if you can't already tell from the title. Join the Community | Online Book Clubs | Epic Reads. Victor LaValle On Mental Illness, Monsters, Survival. In Victor LaValle's new novel, The Devil in Silver, a man is mistakenly committed to a mental hospital where a buffalo-headed monster stalks patients at night.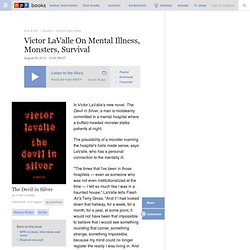 The plausibility of a monster roaming the hospital's halls made sense, says LaValle, who has a personal connection to the mentally ill. "The times that I've been in those hospitals — even as someone who was not even institutionalized at the time — I felt so much like I was in a haunted house," LaValle tells Fresh Air's Terry Gross. "And if I had looked down that hallway, for a week, for a month, for a year, at some point, it would not have been that impossible to believe that I would see something rounding that corner, something strange, something impossible, because my mind could no longer register the reality I was living in. Five Books That Changed My Life | Remy Carreiro. I was incredibly lucky that my Mom owned a beautiful second-hand book store throughout my adolescence, because I constantly got to reap the reward of having amazing literature at my finger tips.
Whatever I wanted to read, I was lucky enough to get to read. And as a result of the store taking second-hand books, can you even grasp how many amazing books must I got to read, that I never would have known about otherwise? Every few days, I was switching out. I never kept a book, so she never lost a cent, but I was always reading, always taking in knowledge.
Here are five wildly different books that genuinely affected my being. Wolfsbane by Andrea Cremer: 25 Must-Read Summer Books: Industry Insider. Short stories at east of the web. 10 Naughty Books That'll Make You Want to Have Sex. Magical Thinking: True Stories (9780312315948): Augusten Burroughs. The Top 10 Banned books of all time - ShortLists. 10 books to read after the 'Hunger Games' trilogy - "Divergent," by Veronica Roth. The Age of Miracles by Karen Thompson Walker (Ha. Shipping and Delivery estimates During Checkout and in your Order Acknowledgement Email you will see an estimated delivery date range.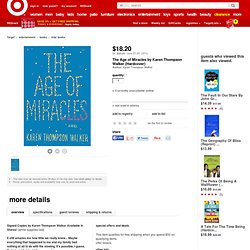 Estimated delivery date range is calculated by: Laughing Matters: Five Funny Books With Substance. Harriet Russell It's great to laugh, but so much of what is labeled "entertainment" is, well, toothless.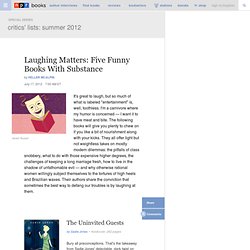 I'm a carnivore where my humor is concerned — I want it to have meat and bite. The following books will give you plenty to chew on if you like a bit of nourishment along with your kicks. Discover Literary Oddities in the Weird Book Room on AbeBooks. Welcome to AbeBooks' Weird Book Room - heralded by the New York Times, Canada's Globe and Mail, The Times of London, and The Guardian (UK) as the finest source of everything that's bizarre, odd and downright weird in books.
Everyone's talking about it - author Neil Gaiman is even tweeting about it, posting a link and suggesting his followers: "Go to this link and gaze on the titles and be made happy. Trust me. It'll work". With new titles added periodically - including five recently-added, delightfully odd books about tractors - we have an excellent selection of crazy and strange titles for sale by our booksellers, about every oddball aspect of life you could possibly imagine (and a few things you couldn't). Share Book Recommendations With Your Friends, Join Book Clubs, Answer Trivia. Ten Social Networks For Readers - AppNewser. Books are not the only parts of reading that have gone digital. Just as eBooks have gone taken off, social communities around reading are popping up online, in apps and on devices. The latest that we've heard about is called inReads. Here is a list of ten social networks for readers: 1. 30 Very Funny Books--Seriously.
It's a dreary day, so I thought I'd indulge myself and come up with a list of my favorite comedies. A caveat, however: this is not a fancy English-professor-y list of the finest, most exquisitely crafted, most erudite or intellectually sophisticated works on paper in the language. This is a list of the books that make me laugh until my mascara starts to run. American Gods | Top 10 Novels of the 2000s. It's natural for a child to assume that his or her own childhood is unremarkable. That's one reason it takes Kathy, the narrator of Never Let Me Go, so long to twig that the very exclusive English boarding school she attends with her friends Ruth and Tommy is not quite ordinary.
No responsible reviewer would reveal the exact nature of the horror that lurks there, but suffice to say that it's thoroughly horrific. Book recommendations from readers like you. Books "At - Ago. Fairly Sexy, A little Funny, Fairly Beautiful + Definitely Happy. The Book Seer | What should I read next. Summer reading 2012: 50 books that aren't 'Fifty Shades of Grey' Book recommendations for people who like Maximum Ride: The Angel Experiment by James Patterson.
---