Book Recommendations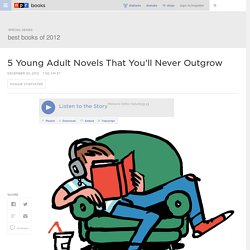 Nishant Choksi
5 Young Adult Novels That You'll Never Outgrow
Amazon's top 10 bestselling books of the year - 'The Innocent,' by David Baldacci
101 Books To Read This Summer Instead of '50 Shades of Grey'
10 best books of 2012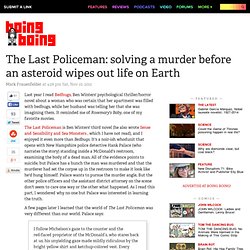 The Last Policeman: solving a murder before an asteroid wipes out life on Earth
Last year I read Bedbugs , Ben Winters' psychological thriller/horror novel about a woman who was certain that her apartment was filled with bedbugs, while her husband was telling her that she was imagining them.
iStockphoto Many of my all-time favorite novels have a common (if slightly unsettling) thread: They feature an unreliable narrator at the helm.
Trust Me: Three Books With (In)credible Narrators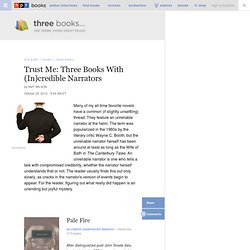 10 Novels That Are Scarier Than Most Horror Movies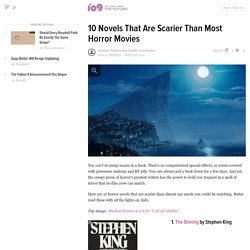 SExpand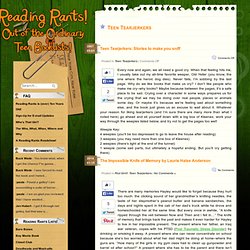 Seventeen-year-old Lennie has felt completely lost since her older sister Bailey, aspiring actress and all around amazing gal, died suddenly from a heart arrhythmia right in the middle of play practice.
Teen Tearjerkers « Reading Rants! Out of the Ordinary Teen Booklists!
Markus Zusak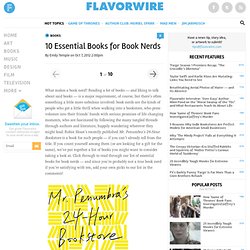 What makes a book nerd?
10 Essential Books for Book Nerds
Join the Community | Online Book Clubs | Epic Reads
Victor LaValle On Mental Illness, Monsters, Survival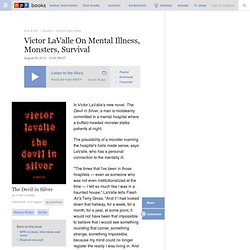 In Victor LaValle's new novel, The Devil in Silver, a man is mistakenly committed to a mental hospital where a buffalo-headed monster stalks patients at night.
I was incredibly lucky that my Mom owned a beautiful second-hand book store throughout my adolescence, because I constantly got to reap the reward of having amazing literature at my finger tips. Whatever I wanted to read, I was lucky enough to get to read.
Five Books That Changed My Life | Remy Carreiro
Wolfsbane by Andrea Cremer: 25 Must-Read Summer Books: Industry Insider
short stories at east of the web
10 Naughty Books That'll Make You Want to Have Sex
Magical Thinking: True Stories (9780312315948): Augusten Burroughs
The Top 10 Banned books of all time - ShortLists
So you've finished the "Hunger Games" trilogy and you are now officially addicted to dystopian novels with strong female heroines and absorbing plots. You need something to fill that hole pronto, and it had better be an action-packed story about teens in a dystopian society who must rely on their intelligence, courage, and friendships in order to survive as they fight menacing and oppressive social systems.
10 books to read after the 'Hunger Games' trilogy - "Divergent," by Veronica Roth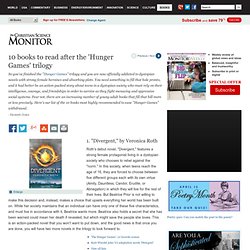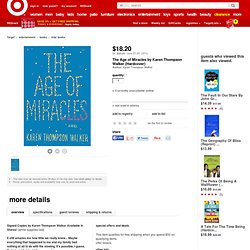 Signed Copies by Karen Thompson Walker Available In Stores! (while supplies last) It still amazes me how little we really knew...
The Age of Miracles by Karen Thompson Walker (Ha
Laughing Matters: Five Funny Books With Substance
Harriet Russell
Discover Literary Oddities in the Weird Book Room on AbeBooks
Welcome to AbeBooks' Weird Book Room - heralded by the New York Times, Canada's Globe and Mail, The Times of London, and The Guardian (UK) as the finest source of everything that's bizarre, odd and downright weird in books. Everyone's talking about it - author Neil Gaiman is even tweeting about it, posting a link and suggesting his followers: "Go to this link and gaze on the titles and be made happy. Trust me. It'll work". With new titles added periodically - including five recently-added, delightfully odd books about tractors - we have an excellent selection of crazy and strange titles for sale by our booksellers, about every oddball aspect of life you could possibly imagine (and a few things you couldn't).
Seven books you HAVE to read before you finish university » GoodbyeBoredom.com
Many of us think of university as the great opening-up of our lives – a time to explore new ideas and new ways of thinking.
Share Book Recommendations With Your Friends, Join Book Clubs, Answer Trivia
Ten Social Networks For Readers - AppNewser
30 Very Funny Books--Seriously
American Gods | Top 10 Novels of the 2000s
Book recommendations from readers like you
Books "At - Ago
Fairly Sexy, A little Funny, Fairly Beautiful + Definitely Happy
The Book Seer | What should I read next
Summer reading 2012: 50 books that aren't 'Fifty Shades of Grey'
Book recommendations for people who like Maximum Ride: The Angel Experiment by James Patterson