Alcoholic Drinks
Naughty Shirley Temple Jello Shots. Ingredients: Cherry jelly powder Orange jelly powder Maraschino cherries with stems* Lemon lime pop Vodka Grenadine (optional) Mix 1 cup of boiling water with the cherry jelly powder.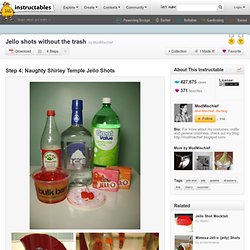 Stir until completely dissolved. Skittles Vodka (with instructions) Lava Lamps Recipe. Chocolate Guinness Goodness Recipe at Epicurious. Editor's note: This recipe was developed by Shane Philip Coffey, the chef at Alias restaurant on New York City's Lower East Side.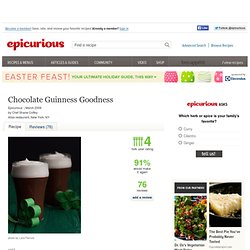 This rich and luscious dessert came about because I needed a special dessert for a St. Patrick's Day tasting menu. I was on a mission to use my favorite beer, Guinness, something I consider to be one of Ireland's gifts to the world. As the 17th of March drew closer, I looked for inspiration at my favorite Irish pub in Manhattan. The Drinks Every Man Should Know. ...stumbled upon yesterday was a list of interesting drinks. | So, one of the things I... I told you guys that I'm wasting a lot of time nowadays looking at pretty pictures and interesting ideas on Pinterest.I already have a bunch of different boards for all kinds of stuff - be it food or interior design.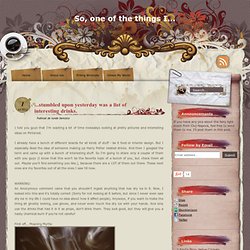 But I especially liked the idea of someone making up Harry Potter related drinks. And then I googled the term and came up with a bunch of interesting stuff. So I'm going to share only a couple of them with you guys (I know that this won't be the favorite topic of a bunch of you, but check them all out. Watermelon Limeade. How to Make Caramel Apple Shots. Photo: Michelle Oddis Once in a while, a party trick comes along that grabs our attention.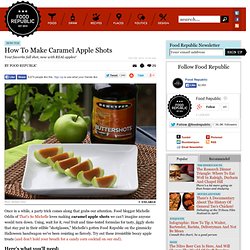 Food blogger Michelle Oddis of That's So Michelle loves making caramel apple shots we can't imagine anyone would turn down. Using, wait for it, real fruit and time-tested formulas for tasty, jiggly shots that stay put in their edible "shotglasses," Michelle's gotten Food Republic on the gimmicky Halloween bandwagon we've been resisting so fiercely. Try out these irresistible boozy apple treats (and don't hold your breath for a candy corn cocktail on our end). Here's what you'll need: 10 Jello Shots Worth the Hangover. S'moretini Shooters.
Me again.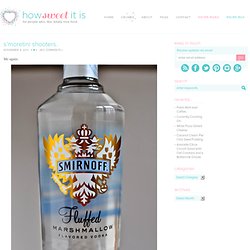 Here to convince you that you need yet another trendy, insanely-flavored bottle of booze. I do what I can. I know what you're thinking. "Does marshmallow vodka really taste that different from that whipped cream vodka you already insisted that I buy? Pink Panty Droppers Recipe at Epicurious. This makes a great fizzy pink lemonade.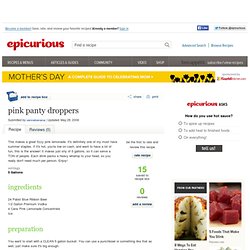 It's definitely one of my must have summer staples. If it's hot, you're low on cash, and want to have a lot of fun, this is the answer! It makes just shy of 5 gallons, so it can serve a TON of people. Each drink packs a heavy whallop to your head, so you really don't need much per person. Enjoy! Cocktail Friday ~ M&M Shooter. I know some of you all might be "cocktailed out" after the New Year.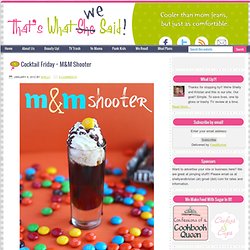 All the holiday parties, New Years Eve and, of course, the drinking to drown out annoying relatives…well, it can do a number on your liver. So that's why today I bring you a small drink. Cocktails Inspired by Evolutionary Stages of Pokémon. The sophisticated Pokémon trainer demands a beverage that will meet the needs of his or her discerning palate.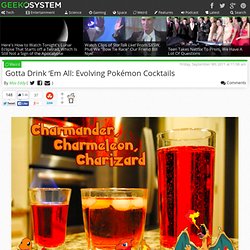 The Pokémon cocktails developed by the author(s) of the Drunken Moogle blog do just that, with a series that include three separate drinks inspired by each of the evolutionary stages of various pocket monsters. Each series begins with a shot, moves on to a midsize drink served in a tumbler, and then a highball-sized cocktail. It's notable that each drink builds on the previous, so the Charmeleon contains the ingredients from the Charizard, and so on. The Charmander series looks particularly interesting, partly because it uses the truly excellent Fireball cinnamon whiskey, but also because you can light them on fire.
See that weird blue haze above the shot glass? Jello shots without the trash. Ingredients: Strawberries (the biggest ones you can find) Strawberry jelly powder Creme de cacao Vodka Chocolate chips (optional) Wash the strawberries and pick out the nicest ones.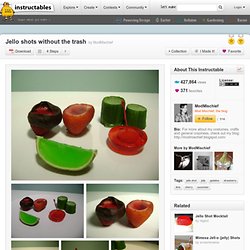 ---