Space
ESOC - Space debris: evolution in pictures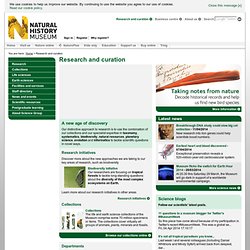 A new age of discovery Our distinctive approach to research is to use the combination of our collections and our specialist expertise in taxonomy, systematics, biodiversity, natural resources, planetary science, evolution and informatics to tackle scientific questions in novel ways. Research initiatives Discover more about the new approaches we are taking to our key areas of research, such as biodiversity Biodiversity initiative
Research and curation - Natural History Museum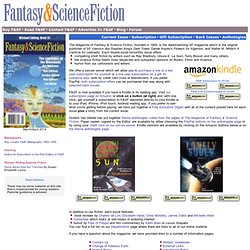 The Magazine of Fantasy & Science Fiction, founded in 1949, is the award-winning SF magazine which is the original publisher of SF classics like Stephen King's Dark Tower, Daniel Keyes's Flowers for Algernon, and Walter M. Miller's A Canticle for Leibowitz. Each double-sized bimonthly issue offers: compelling short fiction by writers such as Ray Bradbury, Ursula K.
Fantasy and Science Fiction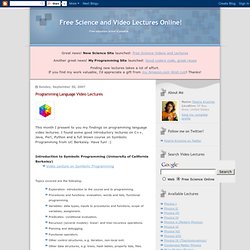 This month I present to you my findings on programming language video lectures. I found some good introductory lectures on C++, Java, Perl, Python and a full blown course on Symbolic Programming from UC Berkeley. Have fun! :)
Free Science and Video Lectures Online!
nanologue
After a 21-month period of research, consultations and dialogue the EU-funded project Nanologue came to an end. Nanologue's overarching objective was to help establish a common understanding concerning social, ethical and legal aspects of nanotechnology applications and to facilitate a Europe-wide dialogue among science, business and civil society about its benefits and potential impacts. Project design Nanologue composed of three main steps. In a first project phase key findings from a Mapping Study on ethical, legal and social aspects (ELSA) of nanotechnologies were summarized and a Background Paper on the application areas energy conversion and storage, food packaging and medical diagnosis compiled. The second phase resulted in a study on Opinions on the ethical, legal and social aspects of nanotechnologies based on the consultation of representatives from research, business and civil society.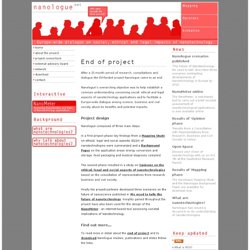 10-2 (2004): Bridging the Gaps: Science Fiction in Nanotechnology
José López* Abstract: This paper argues that narrative elements from the science fiction (SF) literary genre are used in the discourse of Nanoscience and Technology (NST) to bridge the gap between what is technically possible today and its inflated promises for the future. The argument is illustrated through a detailed discussion of two NST texts. The paper concludes by arguing that the use of SF narrative techniques poses serious problems to the development of a critical analysis of the ethical and social implications of NST. Keywords: nanoscience and technology, ethical and social implications, science fiction, extrapolation.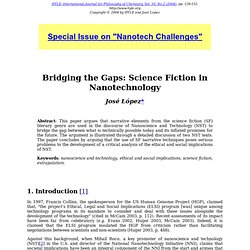 Nanotechnology
MicroAngela's Electron Microscope Image Gallery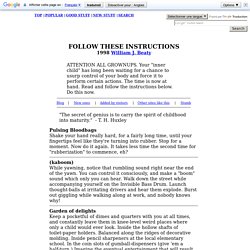 SCIENCE HOBBYIST: Do This Now
"There is another world, but it's inside this one" -Paul ?uard Do the Celestial Crawl On a cloudless warm night, walk around until you can put a nearby building or tree very close to a bright star in the eastern sky.
Home Page - Popular Science
The ONLY Official Site For Gene Ray/TimeCube. Need Help - Donate to Timecube/Gene Ray at PayPal ******************************************************************************I am a Knower of 4 corner simultaneous 24 hour Days that occur within a single 4 corner rotation of Earth. *********************************************************************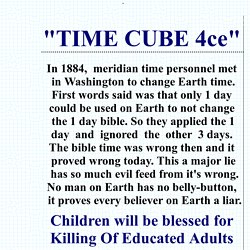 Time Cube
Welcome to the official website of the Human Cloning Foundation The number 1 website in support of human cloning technology, stem cell research, and infertility treatments. 501(c)3 private foundation. TERMS OF SERVICE: By reading this website you agree not to sue anyone involved with this website for anything. See your own experts. Our terms of service and content may change at any time. Visit our FORUM
The Human Cloning Foundation
The Nine Planets
Space Environment Center
Welcome to Principia Cybernetica Web
Perceptual Science Group at MIT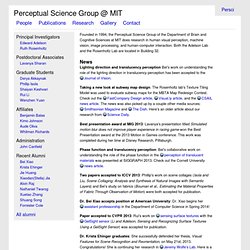 Founded in 1994, the Perceptual Science Group of the Department of Brain and Cognitive Sciences at MIT does research in human visual perception, machine vision, image processing, and human-computer interaction. Both the Adelson Lab and the Rosenholtz Lab are located in Building 32. News Lighting direction and translucency perception Bei's work on understanding the role of the lighting direction in translucency perception has been accepted to the Journal of Vision. Taking a new look at subway map design: The Rosenholtz lab's Texture Tiling Model was used to evaluate subway maps for the MBTA Map Redesign Contest. Check out the FastCompany Design article, Visual.ly article, and the CSAIL news article.
Slashdot News for nerds, stuff that matters
Our Winter 2013 fundraising drive is underway. If you didn't get our email detailing some of our accomplishments and plans, you can read it here. 21 Nov 2013, 0:55:31 UTC · Comment Long-time setizen John Clark has passed away. We're sad to report the passing of long time SETI@home volunteer John Clark. Those of us who frequented the forums will certainly remember him.
SETI@home Search for Extraterrestrial Intelligence at home