Law
If you arrived here from another website or search engine then the information that you want may still be available on this website . Please try searching or using these links to popular pages: Forms for the Charity Tribunal have moved to the Court Form Finder . For older documents, reports, publications and previous versions of this website , visit The National Archives where you will find website archives from 2012 going back to 2007. If you have an urgent enquiry use the website queries page .
New offence of possession of extreme pornographic images - Ministry of Justice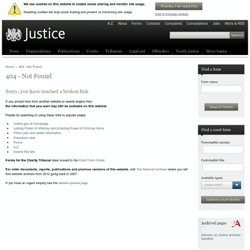 Statutory Instrument 1998 No. 1833
Your guide to the Working Time Regulations: sections 1 - 4 - BERR
Website of the UK government : Directgov
Employment Law 35 - Disciplinary Procedures
Employment law can be daunting, particularly for small to medium sized employers, who may not have a specialised personnel department. In these regular features Your Consortium endeavours to put forward the main issues of current or new legislation, identifying changes to the law, the implications of those changes and what employers should be doing to stay on the right side of the law. Just use the search box (below) to enter what subject you are interested in and we will try to help. Every legal problem is different and accurate advice can only be given on the basis of the individual facts of each case.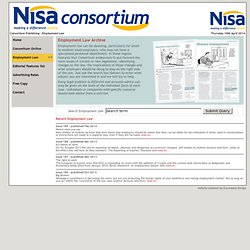 How to Complain
Department for Constitutional Affairs - Home Page
ACAS