Christianity
Philokalia - OrthodoxWiki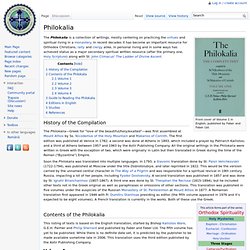 Front cover of Volume 1 in English, published by Faber and Faber Ltd. The Philokalia is a collection of writings, mostly centering on practicing the virtues and spiritual living in a monastery . In recent decades it has become an important resource for Orthodox Christians, laity and clergy alike, in personal living and in some ways has achieved status as a major secondary spiritual written resource (after the primary one, Holy Scripture ) along with St.
The atheist delusion | Review | guardian.co.uk Books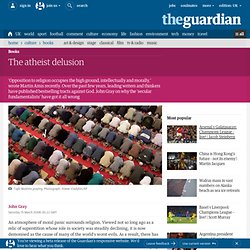 An atmosphere of moral panic surrounds religion. Viewed not so long ago as a relic of superstition whose role in society was steadily declining, it is now demonised as the cause of many of the world's worst evils. As a result, there has been a sudden explosion in the literature of proselytising atheism.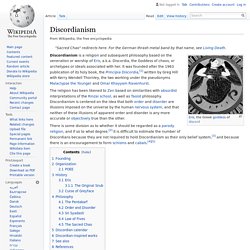 Discordianism is a religion and subsequent philosophy based on the veneration or worship of Eris (also known as Discordia), the Greco-Roman goddess of chaos, or archetypes or ideals associated with her. It was founded circa 1958–1959 after the publication of its (first) holy book, the Principia Discordia , written by two individuals working under the pseudonyms Malaclypse the Younger and Omar Khayyam Ravenhurst . The religion has been likened to Zen , based on similarities with absurdist interpretations of the Rinzai school , as well as Taoist philosophy. Discordianism is centered on the idea that both order and disorder are illusions imposed on the universe by the human nervous system , and that neither of these illusions of apparent order and disorder is any more accurate or objectively true than the other.
The Nag Hammadi Library
{*style:<b>First, a few words of welcome. All right, more than a few. </b>*}
The Cynic's Sanctuary