Ipad Apps for Education
Apps in Education. Free Technology for Teachers. Science Apps. Science apps are the most abundant in iTunes.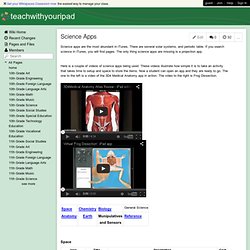 There are several solar systems, and periodic table. If you search science in iTunes, you will find pages. The only thing science apps are missing is a projection app. Here is a couple of videos of science apps being used. These videos illustrate how simple it is to take an activity that takes time to setup and space to store the items. 47 Interesting Ways* to use an iPad in the Classroom. iPads in Schools.
Top 50 Free Education Apps | iPad, iPhone and iPod Touch App Store App Reviews. ISTE iPad in Education - iPad in Education. 40 Most Awesome iPad Apps for Science Students | Best Colleges Online. Posted on Wednesday June 15, 2011 by Staff Writers The iPad has found its way into hospitals, retail stores and homes across the nation, but it's also making a big splash in the classroom, even with some of the best online colleges.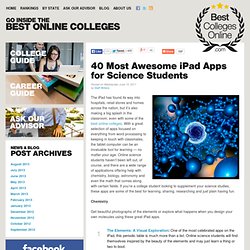 With a great selection of apps focused on everything from word processing to keeping in touch with classmates, the tablet computer can be an invaluable tool for learning — no matter your age. iPad Apps. Best iPad 2 Apps for Education. iPad in Education. I had a reasonably extended play with the iPad and I am very impressed.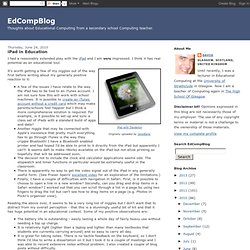 I think it has real potential as an educational tool. It's worth getting a few of my niggles out of the way first before writing about my generally positive reaction to it:A few of the issues I have relate to the way the iPad has to be tied to an iTunes account. I am not sure how this will work with school machines. It is possible to create an iTunes account without a credit card which may make parents/schools feel happier but I think a more comprehensive solution is required.
For example, is it possible to set-up and sync a class set of iPads with a standard build of apps and data? Top 200 best iPad apps 2011. If you've got yourself an iPad Air or new iPad mini, you'll want to start downloading the best iPad apps straight away.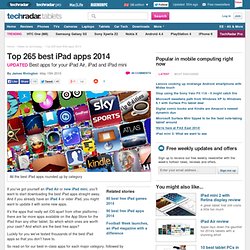 And if you already have an iPad 4 or older iPad, you might want to update it with some new apps. It's the apps that really set iOS apart from other platforms - there are far more apps available on the App Store for the iPad than any other tablet. So which which ones are worth your cash? And which are the best free apps? Thoughts on the iPad2 in Teaching. By Shelly Blake-Plock Picked up my own iPad2 about three weeks ago and, as an experiment, I have set my laptop aside and have used nothing but the Apple in the classroom ever since.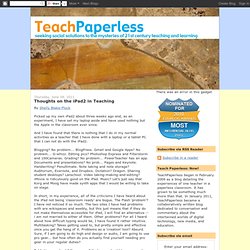 And I have found that there is nothing that I do in my normal activities as a teacher that I have done with a laptop or a tablet PC that I can not do with the iPad2. Blogging? Technology and Education | Box of Tricks. Latest update 4th June 2013 - These are some of the best free internet resources for education.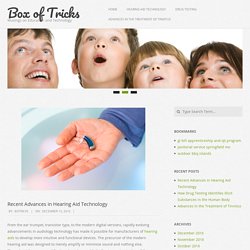 This page is constantly updated; every time I come across a new piece of software or an exciting website, I list it here. This list is not exhaustive in any way. In fact, if you think there is a tool or application for use in education that should be added to this list, please don't hesitate to get in touch and suggest it! List of Educational Apps. List of Great Apps for Education: ELA: Poetry Magnets Kindle Tales2go Shakespeare Pro Greek Mythology Shel Silverstein Instant Poetry Jules Verne Collection Poetry Jam MaxJournal Mad Libs LitCharts Vocab Free iBooks Free Books Math: Science: Add 10 Brain Pop Addition Under the Sea Compass Alien Kids Math Frog Dissection Math Bingo Google Earth Financial Football Go Sky Watch Hot Potato Algebra Molecules Lobster Diver NASA My Student Budget Oceans and Seas Rocket Math Planets Tangram Video Science Quick Graph Particle Zoo Data Analysis 3D Sun Calculator HD 3D Brain Sudoku iOrtho ifactor Geared HD Convert Units Stat Viz Pageonce.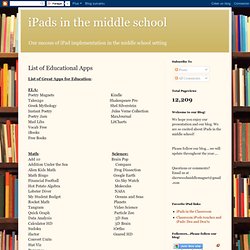 ---