Learning
Get flash to fully experience Pearltrees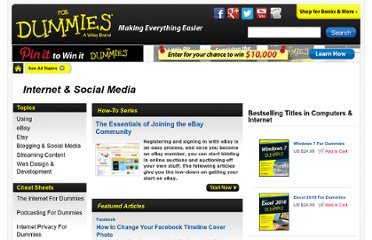 Facebook How to Change Your Facebook Timeline Cover Photo Your Facebook timeline cover photo is the large photo that serves as a background to your Profile.
Blogs , or Web logs, are online journals that are updated frequently, sometimes even daily.
Management Setting Smart Management Goals You can find all kinds of goals in all kinds of organizations.
Singing Breathing Basics for Singing Normal breathing involves a shallow inhalation and an even exhalation followed by a pause before it all starts again. But when you sing, breath control means taking your breathing off autopilot. You not [more…] Drawing
Editing Digital Photos
Personal Finance How to Have Fun without Spending Money
Psychology Hypnotizing Yourself When you think of hypnosis, two images probably come to mind.