Street arts
Impressive Graffiti by Shok 1. Super Sprayer. Mindblowing Video Mapping: Countdown to Prague's Astronomical Clock. 20 awesome examples of street art. Mark Jenkins // Glazed Paradise. Beautiful/Decay Artist & Design.
I couldn't help but direct everyone to fellow public art loving blog Street Art Utopia as they have compiled a pretty decent list of the best street art of 2011.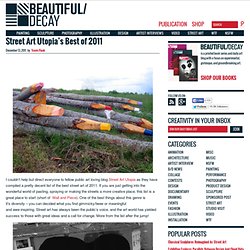 If you are just getting into the wonderful world of pasting, spraying or making the streets a more creative place, this list is a great place to start (short of Wall and Piece). One of the best things about this genre is it's diversity – you can decided what you find gimmicky/twee or meaningful and awe-inspiring. Street art has always been the public's voice, and the art world has yielded success to those with great ideas and a call for change. More from the list after the jump!
---