Gestion Réseaux sociaux
À quoi sert Google Analytics ? Il s'agit d'un service de mesure et d'analyse d'audience vous permettant de connaître : le nombre de visiteurs sur votre blog la fréquence des visites sur votre blog vos billets les plus populaires les mots-clés utilisés pour vous trouver la provenance de vos visiteurs Comment ajouter Google Analytics au thème de mon blog ? Certains thèmes permettent d'intégrer très simplement votre identifiant Google Analytics à partir du menu Apparence de la page "Personnaliser le thème". Dans le cas contraire, vous pourrez ajouter Google Analytics de la façon suivante :
Configurer Google Analytics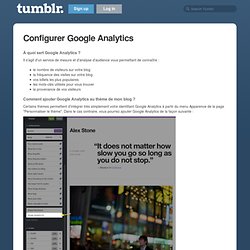 Sur Twitter, l'émotion compte pour gagner en audience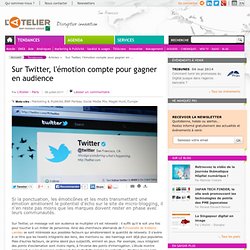 Si la ponctuation, les émoticônes et les mots transmettant une émotion améliorent le potentiel d'écho sur le site de micro-blogging, il n'en reste pas moins que les marques doivent rester en phase avec leurs communautés. Sur Twitter, un message voit son audience se multiplier s'il est retweeté : il suffit qu'il le soit une fois pour toucher à un millier de personnes. Ainsi des chercheurs allemands de l' Université de Koblenz-Landau se sont intéressés aux possibles facteurs qui amélioreraient la quantité de retweets. Il s'avère à ce titre que les tweets intégrants des liens, des mentions ou des hashtags sont déjà plus populaires.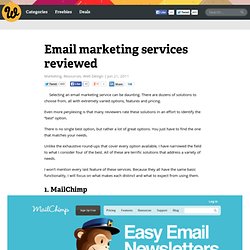 Selecting an email marketing service can be daunting. There are dozens of solutions to choose from, all with extremely varied options, features and pricing. Even more perplexing is that many reviewers rate these solutions in an effort to identify the "best" option.
Email marketing services reviewed
La gestion des réseaux sociaux : un véritable challenge et enjeu pour les Universités | Le blog de Brigitte Fournier Aujourd'hui, quand un étudiant veut s'informer sur une Université, il recherche des fils de discussions sur des forums, s'intéresse aux pages dédiés sur FaceBook, lance des requêtes sur les moteurs de recherche. Ensuite il visionne les vidéos sur YouTube, afin de se faire une idée de l'atmosphère, de l'ambiance et de la culture de l'Université. Tout cela plutôt que de simplement contacter l'Université directement. Les Universités vivent désormais dans l'ère des médias sociaux et la maîtrise de leur e-réputation leur échappe peu à peu. Les enjeux sont pourtant très lourds car la réputation des Universités et plus importante que jamais en raison des frais de scolarité de plus en plus élevés et d'une concurrence mondiale, souvent à portée de clic.