Gestion Réseaux sociaux
Which Social Media Platforms Are Best for Your Startup? | Nibletz
From Tailwind In this new age of social media marketing, many make the mistake of posting the same type of content on all of the different forms of social media platforms. In actuality, the different social media platforms have differentspecialties and setbacks that make them unique.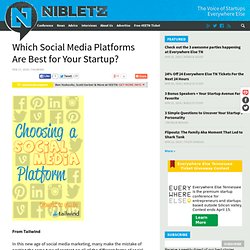 À quoi sert Google Analytics ? Il s'agit d'un service de mesure et d'analyse d'audience vous permettant de connaître : le nombre de visiteurs sur votre blogla fréquence des visites sur votre blogvos billets les plus populairesles mots-clés utilisés pour vous trouverla provenance de vos visiteurs Comment ajouter Google Analytics au thème de mon blog ? Certains thèmes permettent d'intégrer très simplement votre identifiant Google Analytics à partir du menu Apparence de la page "Personnaliser le thème". Dans le cas contraire, vous pourrez ajouter Google Analytics de la façon suivante :
Configurer Google Analytics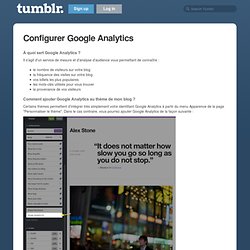 Sur Twitter, l'émotion compte pour gagner en audience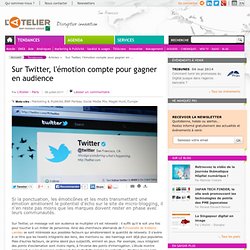 Si la ponctuation, les émoticônes et les mots transmettant une émotion améliorent le potentiel d'écho sur le site de micro-blogging, il n'en reste pas moins que les marques doivent rester en phase avec leurs communautés. Sur Twitter, un message voit son audience se multiplier s'il est retweeté : il suffit qu'il le soit une fois pour toucher à un millier de personnes. Ainsi des chercheurs allemands de l'Université de Koblenz-Landau se sont intéressés aux possibles facteurs qui amélioreraient la quantité de retweets. Il s'avère à ce titre que les tweets intégrants des liens, des mentions ou des hashtags sont déjà plus populaires.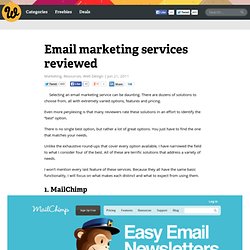 Selecting an email marketing service can be daunting. There are dozens of solutions to choose from, all with extremely varied options, features and pricing. Even more perplexing is that many reviewers rate these solutions in an effort to identify the "best" option.
Email marketing services reviewed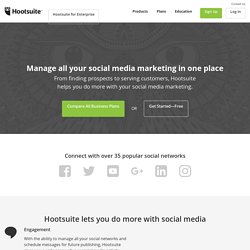 Seesmic has been acquired by HootSuite and as of March 2013, the Seesmic website is no longer supported. But HootSuite welcomes all Seesmic users into our nest! Here's how you can start using HootSuite today. Making the transition to HootSuite: Getting started is easy. Just click the button below or learn more about HootSuite here.