Linux
17 Best Conky Configs for Linux Desktops | Desktop Spotting. 15+ Beautiful Conky Configs for Linux Desktops Whether you are a Fedora, Ubuntu, Arch Linux or any other Linux distribution user you probably have used the lovable system monitor software, Conky.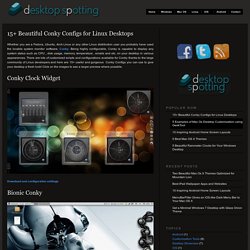 Being highly configurable, Conky is capable to display any system status such as CPU , disk usage, memory, temperature , emails and etc. on your desktop in various appearances. There are lots of customized scripts and configurations available for Conky thanks to the large community of Linux developers and here are 15+ useful and gorgeous Conky Configs you can use to give your desktop a fresh look! Click on the images to see a larger preview where possible. Using Unix Computers. Homepage. New Dev Release of Linux Hardware Monitor 'Psensor' A new development release of Psensor -a small utility for monitoring hardware temperature in Linux – is now available for download.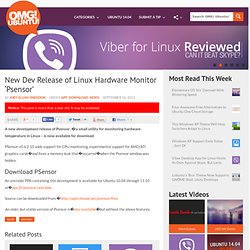 PSensor v0.6.2.10 adds support for CPU monitoring, experimental support for AMD/ATi graphics cardsand fixes a memory leak thatoccurredwhen the Psensor window was hidden. Download PSensor. How You Know When It's Time to Switch to Linux - PCWorld Business Center. It's easy to be content with your computer installation as long as it keeps doing what you want it to without too much trouble.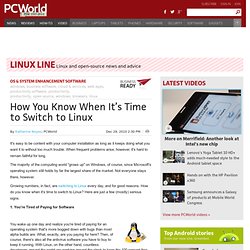 When frequent problems arise, however, it's hard to remain faithful for long. The majority of the computing world "grows up" on Windows, of course, since Microsoft's operating system still holds by far the largest share of the market. Not everyone stays there, however.
---