M&J Media Share
Get flash to fully experience Pearltrees
North Carolina voters go to the polls Tuesday to decide whether to add a measure banning gay marriage, civil unions and domestic partnerships to the state's constitution, in addition to the state's statutory prohibition against recognition of same-sex marriage. The text of the amendment reads, "Marriage between one man and one woman is the only domestic legal union that shall be valid or recognized in this state."
July 20, 2012 | 11:13 am
In the nearly four decades since the Supreme Court ruled that women have a fundamental right to decide to have an abortion, the opposition to legal abortion has increased dramatically.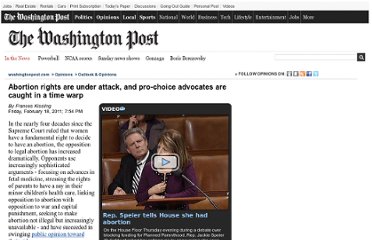 In Vitro Fertilization (Leah Sakoda)
From Debatepedia
There are usually unintended consequences to activist campaigns like those pressed by the Humane Society of the United States. Here's one. Last weekend a series of devastating tornadoes tore through northern Indiana and Ohio, bringing 170-mph winds and leaving little in their wake but twisted barns, ripped-up roads, and uprooted trees.
News/Culture >> Browse Articles >> Food Writing Featured Author:
It's been six years since the US Congress outlawed "illegal online gambling" without ever defining what the term meant. Congress did say what it wasn't however: it is not illegal for a state to license online gambling provided that the games are conducted solely inside a state's boundaries. There are as many as 20 states considering legalization of online gambling in some form, and there is at least some interest in legalizing some gambling at the federal level.