Home design
img alt="" data-credit="Emma Chapman [<span pearltreesdevid="PTD1261" class="skimlinks-unlinked">http://www.abeautifulmess.com/2014/04/our-homemade-rope-light-sign.html</span>]" height="420" src="<span pearltreesdevid="PTD1264" class="skimlinks-unlinked">http://assets.curbly.com/photos/0000/0017/0792/6a00d8358081ff69e201a3fcebe498970b-800wi_large_jpg.jpg?1397755178</span>" width="550"> I've been seeing neon signs popping up all over the place on Pinterest lately, indoors as wall art especially, but they can be pricey to get custom made. So, when I found this DIY version, that you can make pretty easily on your now, I thought I better… Continue Reading
Curbly | DIY Design Community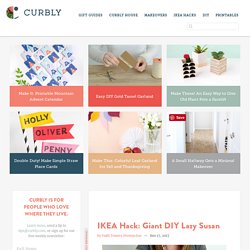 Kitchen & Tabletop Items, Dishware, Aprons, Placemats & More
Creating a Comfy Home
The story of 3 wine bottles…..that just wanted to be pretty…. Ahhh…aren't they pretty now…..here's what I did…. I gathered 3 bottles…1 was a bit taller than the other 2…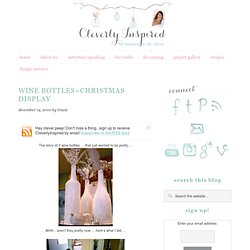 Wine bottles=Christmas display
Tea Light Wall Art
This is my featured post this week over at moms fun money! So I was on Pinterest the other day, when I should have been completing one of my other projects, and came across this. I had no plans to do this project soon, but I knew I had to do it!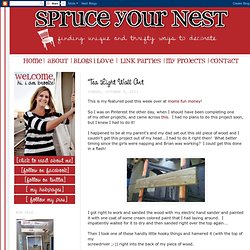 Garage Sale Frame = My favorite piece of ART !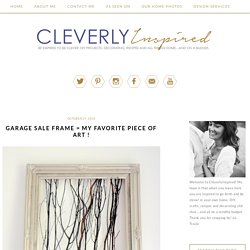 I love to wake up on a lovely Fall morning…before everyone else is awake. I sneak downstairs–make some coffee, grab a granola bar and the paper and hit the streets—looking for garage sales. I LOVE it!
DIY News, Photos and Videos - Stylelist
Home Design, Decorating and Remodeling Ideas and Inspiration, Kitchen and Bathroom Design
DIY Idea: Make Your Own Tufted Headboard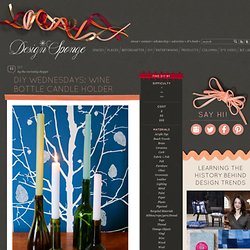 regardless of how crazy our lives get, we always need to spend time with friends and family. we've recently started hosting a regular sunday dinner at our apartment, where we invite a couple friends over to hang out, catch up and eat some homecooked food. all these guests mean a lot of empty wine bottles. but instead of recycling them, we decided to recycle a project we posted last year. using the same technique we showed you to make the bud vase trio, we simply cut these bottles at different heights to create a bunch of new vases, and some great new candle holders. and there it is. an entire tablescape for next sundays dinner. click here for the full project instructions, or just click "read more" below. have fun!derek & lauren editor's note: i just wanted to extend a big congratulations to derek and lauren on their new book, show me how: 500 things you should know: instructions for life from the everyday to the exotic! it's full of fantastic practical advice- check it out here!
diy wednesdays: wine bottle candle holder
diy wednesdays: scrap lumber coffee table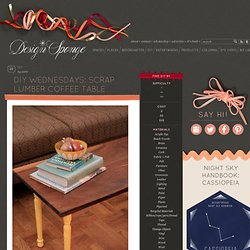 since we just got back from a wonderful trip to savannah, (congratulations again grace and aaron!) this week's project needed to be super easy and super quick—something we could crank out after working all day at the shoppe. looking around our apartment, we spotted a scrap piece of walnut that we had picked up at a neighbor's sidewalk sale a few days before we left. we had no idea what we'd do with it, but we've learned to never say no to pretty lumber. a quick trip to the hardware store for legs and paint, and voila, we've got ourselves a lovely new coffee table. have fun!derek & lauren
abigail's cork trivet and coaster set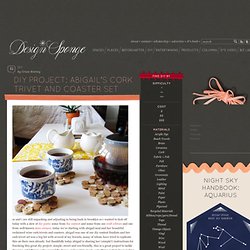 ac and i are still unpacking and adjusting to being back in brooklyn so i wanted to kick off today with a slew of diy posts- some from the contest and some from our craft editors and one from well-known store owners. today we're starting with abigail neal and her beautiful reclaimed wine cork trivets and coasters. abigail was one of our diy contest finalists and her cork trivet set was a big hit with several of my friends, many of whom have tried to replicate this on their own already. but thankfully today abigail is sharing her (simple!) instructions for finishing this great diy project. simple, sweet and eco-friendly, this is a great project to tackle if you've got leftover corks around the house and want to create something custom by recycling materials. click here for the full post or just click "read more" below. thanks abigail! Reclaimed Cork Trivet and Coaster Set
upholstery basics: upholstered walls, part 1
When we gathered here last time, we turned an uninspired coffee table into a boxed ottoman, and January brought us boxed cushion sewing. This month, I thought we'd think inside the box for a change and tackle one of the biggest upholstery projects to cross my path: upholstered walls! About a month ago, I moved into a house that my hubby and I have been renovating for over a year. There's still a lot left to finish, but my current project is transforming the master suite into a serene, shimmery boudoir.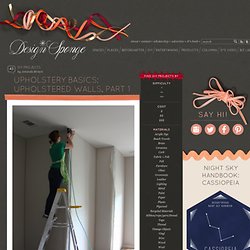 Thanks for joining me again as we wrap up wall upholstery and enjoy the finished room. If you're just joining us, be sure to refer to wall upholstery, part 1 before reading on. Last time, we padded, stretched and stapled our walls. Now it's time to sew, glue and assemble our way to the finish line.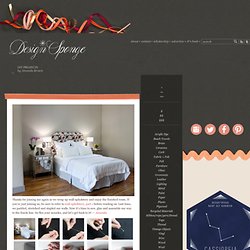 upholstery basics: wall upholstery, part 2
today's first diy project (of 4!) belongs to brooklynite maggi pattillo. she created this simple but stunning desk with a few boards from lowes and a whole lot of crafty-ness. her instructions are easy-to-follow and make for a fantastic weekend project if you're looking to create a custom desk area. click here for maggi's instructions or just click "read more" below. [thanks, maggi!] Maggi's Minimalist Oak Desk Materials: * two 6-ft. oak boards cut into two 5-ft. long sections and two 5-in. long sections * three 4-inch metal L brackets * stud finder * electric drill with drill bits and screwdriver bit * twelve 2 in. long wood screws * (optional) tung oil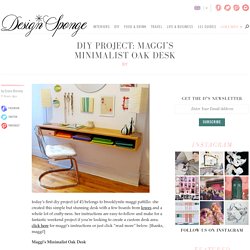 maggi's minimalist oak desk
there's nothing better than emptying your pockets as soon as you get home after a long day, but we find that we leave little piles of change, keys, and bills all over the house unless we have a designated place to put them. this ubiquitous wooden magazine holder from ikea turned out to be the perfect catch-all shelf for our stuff, and all we had to do was put a coat of stain on it, turn it on its side and mount it in the corner of our entryway. problem solved! CLICK HERE for the full project and instructions or just click "read more" below. happy crafting!derek & lauren
diy wednesdays: catch-all shelf
recycled cardboard kitty pad
in honor of a brand new year, the common 'material' for this month's projects will be a theme: new year's resolutions! we all make them, we all break them, but you have to try right? this week's resolution is "waste not, want not". every few months i purchase my cat a scratch pad from trader joe's and he loves it…but if you look closely, it's just a box full of corrugated cardboard! why spend the money when i can use all my old shipping boxes (from december's online gifting spree) to make him a stylish scratch pad for free?
this fun diy project comes from berlin-based d*s reader (and molecular biologist!) morgane rouault. when she's not busy with her job in research science, morgane like to draw, work with pottery and sew all sorts of craft projects. so i was thrilled to hear from her about this fun DIY project she recently finished- a wall hanger installation that uses boards designed to look like drawers (you could use real drawer fronts as well). morgane was kind enough to share her full project instructions with us, so i hope you'll enjoy her project! thanks, morgane! CLICK HERE for the full project instructions after the jump! [have a diy project you'd like to share on d*s?
morgane's drawer hangers
Par papelhilo , le 27/07/2011 dans A la une , Des lectures , Livres , Techniques & tutos Brett Bara du blog Manhattan Craftroom, vient de sortir un livre de couture facile mais élégante. Pour l'occasion, elle partage une réalisation extraite de son livre sous forme de vidéo, le panier rond entièrement réalisé avec des coutures droites !
Sewing in a Straight Line
Curbly | DIY Design Community
This year we're lucky to be a part of Sherwin-Williams National Painting Week! It's great fun joining a bunch of other awesome bloggers to show off the amazing impact paint has on a home. In the past, we've played it a little safe with our National Painting Week projects, sticking to neutral grays. But this year, our project packed a punch and is anything but safe. Here's a sneak peek of some of the colors we worked with:
Fabulous free printables
craftgawker | look to inspire
Painting the Cabinets
Knotted Pillow Cover
Our Dining Chairs
Wood Handle Purse {Tutorial}
Diy Burlap Fabric Planter
Faux Milk Glass | house of earnest
Design*Sponge | Your home for all things Design. Home Tours, DIY Project, City Guides, Shopping Guides, Before & Afters and much more