Benefits/opportunities of MOOC's
Success in a MOOC. Flipped Classroom Infographic #flippedclassroom #blendedlearning #edtech. MOOC – A solution to Higher Education and Future Learning. Is MOOC the solution to future learning, especially online education and learning in Higher Education?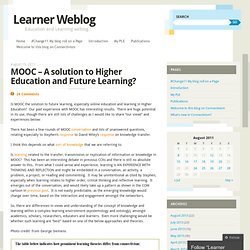 Our past experience with MOOC has interesting results. There are huge potential in its use, though there are still lots of challenges as I would like to share "our views" and experiences below: There has been a few rounds of MOOC conversation and lots of unanswered questions, relating especially to Stephen's response to David Wiley's response on knowledge transfer. I think this depends on what sort of knowledge that we are referring to. Is learning related to the transfer, transmission or replication of information or knowledge in MOOC?
Major Players in the MOOC Universe - The Digital Campus 2013. Millions of students have signed up for massive open online courses, and hundreds of universities are offering some form of Web-based curriculum.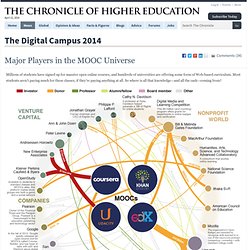 Most students aren't paying much for these classes, if they're paying anything at all. So where is all that knowledge—and all the cash—coming from? Graphic by XARISSA HOLDAWAY; illustration by NIGEL HAWTIN Sources: THE CHRONICLE OF HIGHER EDUCATION, FINANCIAL TIMES, NATIONAL SCIENCE FOUNDATION, THE NEW YORK TIMES, TECHCRUNCH, CNN, WIRED, AND YAHOO FINANCE.
Massive Open Online Courses, aka MOOCs, Transform Higher Education and Science. When campus president Wallace Loh walked into Juan Uriagereka's office last August, he got right to the point.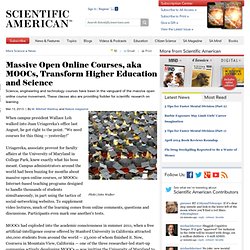 "We need courses for this thing — yesterday!" Uriagereka, associate provost for faculty affairs at the University of Maryland in College Park, knew exactly what his boss meant. Campus administrators around the world had been buzzing for months about massive open online courses, or MOOCs: Internet-based teaching programs designed to handle thousands of students simultaneously, in part using the tactics of social-networking websites. To supplement video lectures, much of the learning comes from online comments, questions and discussions. Evolving Education Technology: From Chalkboards to MOOCs.
Joshua Wyner: What Can MOOCs Do for American Higher Education? MOOCs--that is, massively open online courses--are only two years old.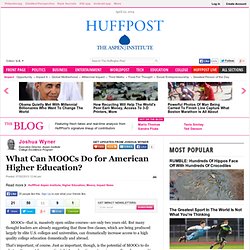 But many thought leaders are already suggesting that these free classes, which are being produced largely by elite U.S. colleges and universities, can dramatically increase access to a high quality college education domestically and abroad. That's important, of course. Just as important, though, is the potential of MOOCs to do what matters most for our nation's higher education system: improve the value proposition of college, by making it cheaper for students to earn a valuable degree and more likely that they will do so. In the face of state budget cuts, colleges have continued to jack up tuition at a rate that far exceeds inflation, driving American student debt above $1 trillion.
---