Philosophy
The Net: The Unabomber, LSD and the Internet (1/12)
Last November 4, I wasn't the only election-night viewer discomfited by CNN's "beaming" of correspondent Jessica Yellin from the Chicago Convention Center into the studio with anchor Wolf Blitzer.
CNN, Holograms, and Baudrillard « The Hands of Bresson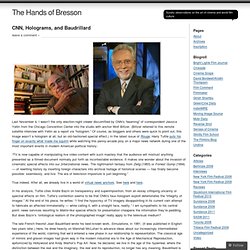 Thelema ( pron.: / θ ə ˈ l iː m ə / ; Koine Greek: [θélima] ) is a religion [ 1 ] that was developed [ 2 ] by the early 20th century British writer and ceremonial magician , Aleister Crowley .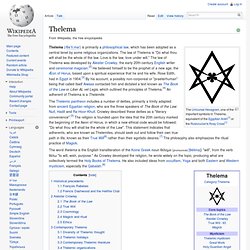 Mimesis ( Ancient Greek : μίμησις ( mīmēsis ), from μιμεῖσθαι ( mīmeisthai ), "to imitate," from μῖμος ( mimos ), "imitator, actor") is a critical and philosophical term that carries a wide range of meanings, which include imitation , representation , mimicry , imitatio , receptivity, nonsensuous similarity, the act of resembling, the act of expression, and the presentation of the self . [ 1 ] In ancient Greece , mimesis was an idea that governed the creation of works of art, in particular, with correspondence to the physical world understood as a model for beauty , truth , and the good. Plato contrasted mimesis, or imitation, with diegesis , or narrative.
Mimesis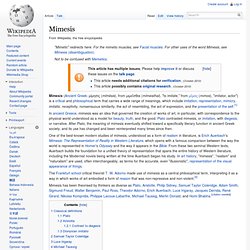 Infinitism is the view that knowledge may be justified by an infinite chain of reasons.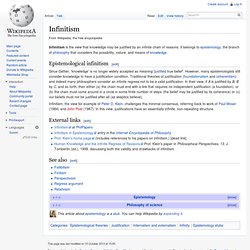 Infinitism
Beginnings of Mysticism.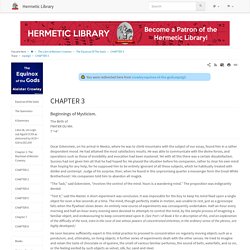 Beginnings of Mysticism - Chapter 3 - The Equinox of the Gods
Den betydelsefulla obetydligheten (kapitel I ur Raoul Vaneigem: Om konsten att leva, manual för de unga ) Genom att banaliseras har vardagslivet gradvis intagit den centrala platsen i våra tankar (1). – Ingen illusion, vare sig helig eller profan (2), – kollektiv eller individuell, kan längre dölja utarmningen av våra vardagliga handlingar (3). – Livets ökade rikedom kräver att den nya fattigdomen analyseras och att de gamla motståndsvapnen fulländas, och det utan alla undanflykter (4).
Raoul Vaneigem: Den betydelsefulla obetydligheten Intentionalitet är en filosofisk fackterm för fenomenet att medvetandetillstånd "handlar om" eller "är riktade mot" någonting.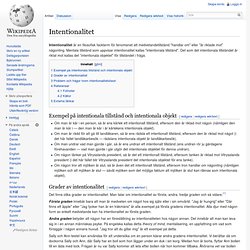 Intentionalitet
Münchhausen Trilemma
Baron Münchhausen pulls himself out of a mire by his own hair (illustration by Oskar Herrfurth) The Münchhausen Trilemma (after Baron Münchhausen , who allegedly pulled himself and the horse on which he was sitting out of a swamp by his own hair ), also called Agrippa's Trilemma (after Agrippa the Skeptic ), is a philosophical term coined to stress the purported impossibility to prove any truth even in the fields of logic and mathematics. It is the name of an argument in the theory of knowledge going back to the German philosopher Hans Albert , and more traditionally, in the name of Agrippa. [ citation needed ] [ edit ] Trilemma If we ask of any knowledge: " How do I know that it's true?", we may provide proof; yet that same question can be asked of the proof, and any subsequent proof.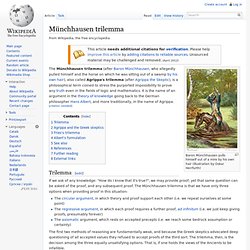 Fallibilism (from medieval Latin fallibilis , "liable to err") is the philosophical principle that human beings could be wrong about their beliefs, expectations, or their understanding of the world, and yet still be justified in holding their incorrect beliefs.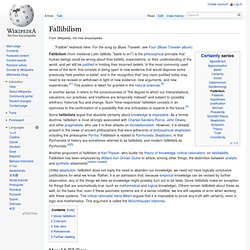 Fallibilism
An infinite regress in a series of propositions arises if the truth of proposition P 1 requires the support of proposition P 2 , the truth of proposition P 2 requires the support of proposition P 3 , ... , and the truth of proposition P n-1 requires the support of proposition P n and n approaches infinity.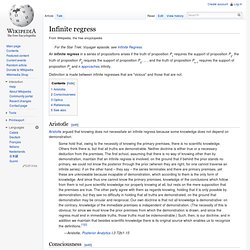 Infinite regress
A Public Space | Reality Is a Bananaskin on Which We Must Step
We first encountered Julian Gough in an essay for Prospect magazine, as part of his campaign to bring comedy back to fiction: "Two and a half thousand years ago, at the time of Aristophanes, the Greeks believed that comedy was superior to tragedy: tragedy was the merely human view of life (we sicken, we die). But comedy was the gods' view, from on high: our endless and repetitive cycle of suffering, our horror of it, our inability to escape it. The big, drunk, flawed, horny Greek gods watched us for entertainment, like a dirty, funny, violent, repetitive cartoon.
Thomas Hobbes
Thomas Hobbes (1588-1679)
JIM GOAD
This page, much like this site and my self-esteem, are undergoing a constantly unfolding and blossoming process of change and revision. For now, all the hyperlinks below will lead you to articles rendered in the much spat-upon and unfairly maligned PDF format. Each of these articles will all eventually also have its own HTML page, and I'll be adding maybe a hundred OTHER articles that are HTML-only.
Jean Baudrillard
Jean Baudrillard, 2004. Jean Baudrillard , född 27 juli 1929 i Reims , död 6 mars 2007 i Paris , var en fransk sociolog och filosof . Hans verk blir ofta knutna till postmodernismen samt poststrukturalismen .