Serious games
Improving human performance through Serious Games This year's Serious Games Showcase & Challenge (SGS&C) winners were announced at an award ceremony the final day of the Interservice/Industry Training, Simulation and Education Conference (I/ITSEC), early December.
Zooming In On 2011 Serious Games Showcase & Challenge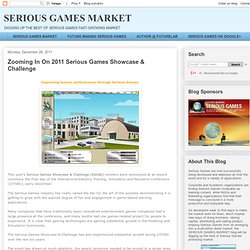 Quelques jeux d'entreprise réalisés par le département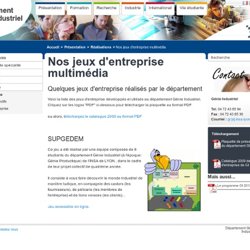 Nos jeux d'entreprise multimédia | Département Génie Industriel
Movement aims to get serious about games
Anyone interested in the field of games and social impact - from game developers to researchers, educators to governments, commercial to non-profit interests.
Games for Change 8th Annual Festival, New York City, June 20-22, 2011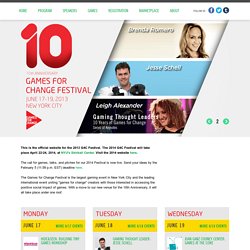 FGo - Accueil
Pendant deux jours, des conférences et papiers de grande qualité ont été présentés à Future Game On. Retrouvez ci-dessous les slides des intervenants et les photos de la manifestation !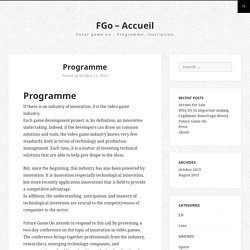 Serious Games for Healthcare - BreakAway, Ltd - Award-Winning Developer of Numerous Real-Time Strategy Games and Technologically Advanced Desktop Development Software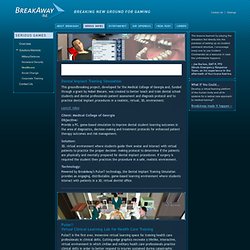 This groundbreaking project, developed for the Medical College of Georgia and, funded through a grant by Nobel Biocare, was created to better teach and train dental school students and dental professionals patient assessment and diagnosis protocol and to practice dental implant procedures in a realistic, virtual, 3D, environment. Launch video
e l e v a t o r m o o d s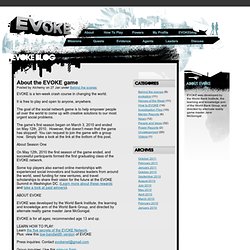 Posted by Alchemy on 27 Jan under Behind the scenes
Surclassez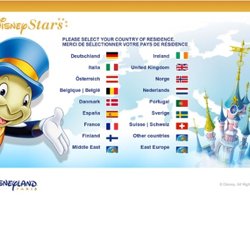 Disney Stars Nouvelle Version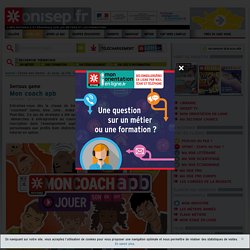 Entrainez-vous dès la classe de 1e à bien préparer votre orientation post-bac, en "coachant" Samia, Alex, June... Aidez-les à réussir les étapes de la procédure Admission Post-Bac. Ce jeu de stratégie a été spécialement conçu pour vous permettre de suivre les démarches à entreprendre au cours d'une année de terminale afin de réussir votre inscription dans l'enseignement supérieur.
Auteur de nombreux ouvrages sur les jeux vidéo et la programmation, Ben Sawyer est le président de Digitalmill, Inc, l'organisateur du premier Serious Games Summit en 2004 et le co-directeur du Serious Games Initiative.
Ben Sawyer
Introduction au Serious Game (Diffusion de nos travaux)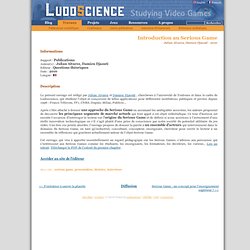 Informations
Papo & Yo est un jeu PS3 pour le moins original.
Consulting and Research: Telecoms, Internet, Media
Serious Games 09/07/2010 Un marché de 10 milliards d'euros en 2015Serious Games
Jouer et philosopher
J'ai déjà eu de nombreuses occasions de vous parler des social games et de leur impact sur le secteur des jeux en ligne (la valorisation d'un éditeur comme Zynga dépasse ainsi celle d'Electronic Arts).
Tour d'horizon des social games | Marketing Virtuel
par Sonia Mandin * Les jeux sérieux sont des jeux vidéo qui allient divertissement et apprentissage.
L'Agence nationale des Usages des TICE - Jeux sérieux : quels apprentissages ?