Entrepreneurship
Infographics & Data Visualization | Visual.ly. The most watched and most highly-rated TED talks at the moment. You've read several posts already.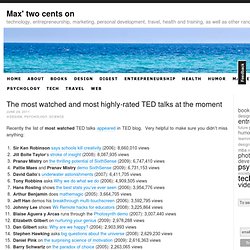 It's very flattering to know that somebody is interested in what I write over here. :) I just wanted to let you know, that you can also subscribe via email to receive blog updates. I usually post once a month or so. 10 YouTube Videos Every Entrepreneur Should Watch. This YouTube video seeks to help aspiring executives prepare themselves to be strong CEO candidates in the future.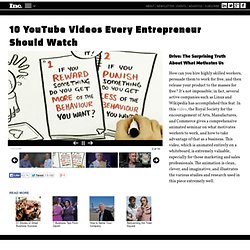 Professor Joseph Bower from the Harvard Business School believes anyone hoping to hold a corner office someday should be able to ask serious questions—and answer them objectively—about their own work and the work produced by the company. Becoming a CEO is all about constantly learning and improving oneself—and later, others—to establish a true role within a company, instead of merely being a placeholder. Bower also recommends that CEOs-in-training take an interdisciplinary approach to networking, thus promoting innovation within the company. How can you hire highly skilled workers, persuade them to work for free, and then release your product to the masses for free? It's not impossible; in fact, several active companies such as Linux and Wikipedia has accomplished this feat.
Bryan Eisenberg: Succeeding with PPC Ads on Search and Social. Bryan Eisenberg at Fusion Marketing Experience At the Fusion Marketing Experience Antwerp 2012 conference, Bryan Eisenberg gave a hands-on workshop the second day, on optimizing PPC (Pay Per Click) ads.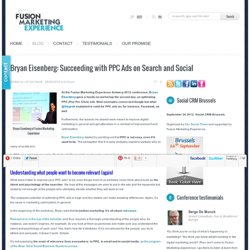 Most examples concerned Google but what @thegrok explained is valid for PPC ads on, for instance, Facebook, as well. Furthermore, the lessons he shared were meant to improve digital marketing in general and get attendees in a mindset of improvement and optimization. Bryan Eisenberg started by pointing out that PPC is not easy, even if it used to be . The perception that it is easy probably explains partially why so many of us fail at it. Quick Practical, Tactical Tips for Presentations. In the past I've given some tips for handling meetings effectively, covering topics like: - How not to let your meeting go down a rat hole; - Dealing with the elephant in the room; - Dealing with skeletons in your closet; - How to make meetings discussions, not "pitches" - A tale of two pitches (I eventually invested in the first company that pitched) Today's post is a subtle one about positioning yourself in a presentation.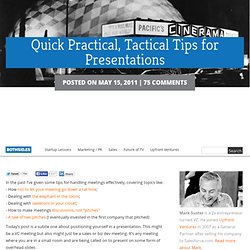 This might be a VC meeting but also might just be a sales or biz dev meeting. The 10 People You Need To Know To Open Doors In Silicon Valley. 5 Tips for making sure you don't screw up your social media strategy. It's simple.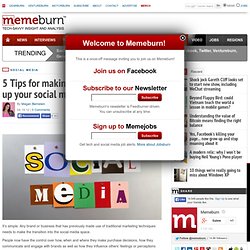 Any brand or business that has previously made use of traditional marketing techniques needs to make the transition into the social media space. People now have the control over how, when and where they make purchase decisions, how they communicate and engage with brands as well as how they influence others' feelings or perceptions about a brand. Social media plays a pinnacle role in terms of helping companies get into their consumer's mindset, understand how they want to be communicated with and actively engage with them. 5 Hot Industries Every Small Business Owner Should Know About. Want to know what industries are heating up?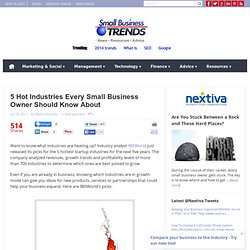 Industry analyst IBISWorld just released its picks for the 5 hottest startup industries for the next five years. The company analyzed revenues, growth trends and profitability levels of more than 700 industries to determine which ones are best poised to grow. Even if you are already in business, knowing which industries are in growth mode can give you ideas for new products, services or partnerships that could help your business expand. Here are IBISWorld's picks: Testing and Educational Support: High school graduates are going on to college, college students are clinging to their college years instead of facing the tough job market, and laid-off employees are heading back to school. 13 Business Books That Will Blow Your Mind. Having never taken a business class in college I find that I read and listen to a lot of business books to round out my education.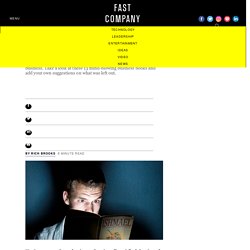 The books usually aren't "How to Manage Your Cash Flow" but rather get me to rethink the way I run my business, which--despite no business classes or diploma--continues to be in business 13 plus years after I started it. In that time, here are 13 of the books that had the biggest impact on how I run my business (in no particular order): Drive: The Surprising Truth About What Motivates Us by Daniel Pink: If you supervise anyone in your business, this book is a must read. What is the first document I should put in front of a VC? Twenty-seventh in a series of weekly posts by myself and Nicholas Lovell of Gamesbrief which answer the fifty questions you should ask before raising venture capital.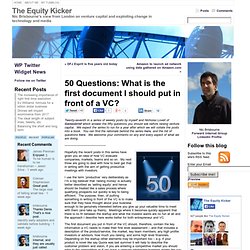 We expect the series to run for a year after which we will collate the posts into a book. You can find the rationale behind the series here, and the list of questions here. We welcome your comments on any and every aspect of what we are doing. Hopefully the recent posts in this series have given you an idea of how VC evaluate companies, markets, teams and so on. 7 Ways To Promote Your Business Online For Free.
77 Business Improvements in 77 Days. Business improvement is the basis for competitive advantage.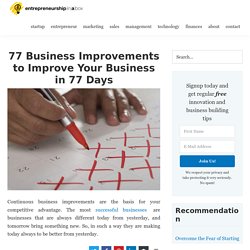 The most successful businesses are businesses that are different today from yesterday, and tomorrow bring something new and in that way make today always to be better from yesterday. In this post, you can find the list of 77 items that you can improve for 77 days. Of course, the list is not final, we can go with more fields for improvements. However, it is limited to the 77 most important elements. You can use at once, but my recommendation is to use it in cycles.
---